Some of the links in this post are affiliate links. This means if you click on the link and purchase the item, I will receive an affiliate commission at no extra cost to you. All opinions remain my own.
Producing Juicy and colorful berries can be hard work, especially when it comes to blueberries.
Using the right fertilizers and foods for your blueberries will help to improve their colors, fruits, and growth.
In this article, we take a look at some of the best fertilizers for blueberries that are specifically suited to them.

---
When Should Your Fertilize Blueberries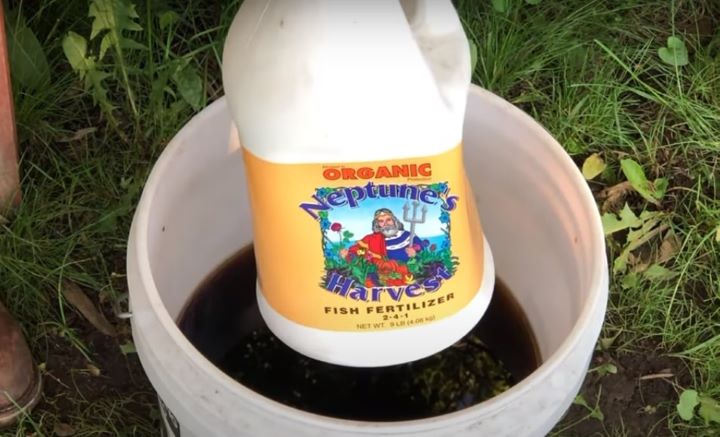 When fertilizing blueberries, fertilize them, and how much is almost just as important as the fertilizer you are using.
Blueberries and blackberries generally have different needs in fertilization.
The timing of fertilization is based on the growth of the blueberry plant. Blueberries usually respond well to being fertilized three times at separate applications.
In spring, when new growth begins, they need to be fertilized first, then again six weeks later, and lastly, just after being harvested.
---
What to use and How Much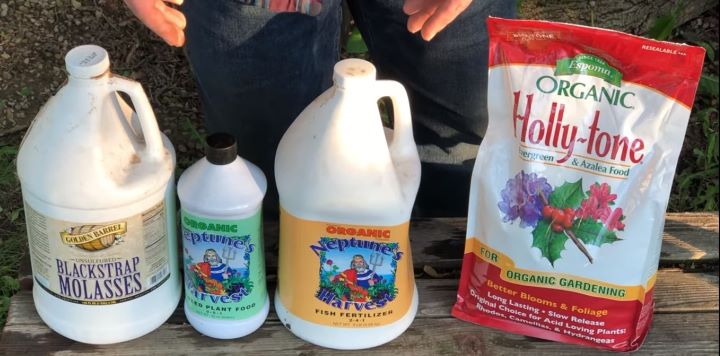 You will need to get the right fertilizer and know exactly how much of it to use on your blueberries;
Fertilizer Type – Blueberries require small amounts of nitrogen to support their root and shoot growth and for healthy foliage and fruits. They need a slow-release nitrogen source to prevent loss through water leaching. They need smaller amounts of Phosphorus and potassium. Generally, fertilizers that work well for azaleas and rhododendrons also work for blueberries as blueberries require more acidic conditions.
Applying Fertilizer – Blueberries take up nutrients through their root. Therefore the fertilizer needs to be raked into the soil around the plant without touching the stems. You only need to loosen the surface soil to fertilize and sprinkle a small amount. Work the fertilizer into the soil and water the soil for absorption.
How Much Fertilizer Should You Use – Stay clear of excess nitrogen for blueberries as it can actually kill them. You will also need to lessen the amounts for younger blueberries. It is always advised to follow the instructions on the package. Different amounts of fertilizer are stipulated for the different ages and stages of your blueberries' growth. Keep in mind to keep the ph levels of the soil for Blueberries more acidic as they prefer this.
---
Features of a Good Fertilizer for Blueberries
Blueberries generally like more acidic soil, and for this reason, you will need high acid fertilizers.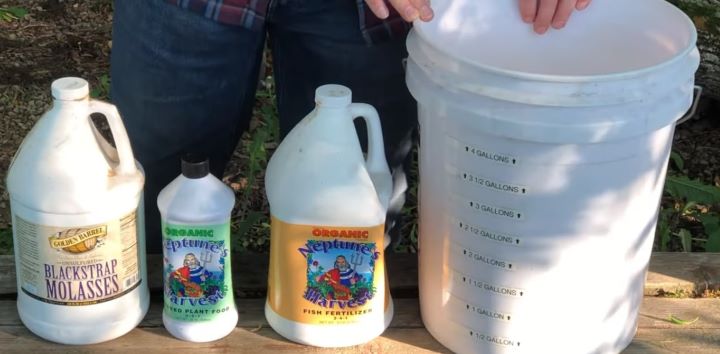 Here are a few tips on choosing the best fertilizers for your blueberries;
Get the Soil to a More Acidic PH – Look for Fertilizers that contain ammonium sulfate or Sulphur Coated Urea. These have a lower PH levels and high acidic levels.
High Nitrogen Levels – You will need a fertilizer with High nitrogen, but very high levels of nitrogen generally for blueberries. Ye,t, at all cost,s avoid fertilizers that contain nitrates such as calcium nitrate or calcium chloride. Nitrates can kill some blueberry plant species.
Magnesium and Iron – Blueberries are many times susceptible to magnesium deficiency. Therefore, you may need to supplement the fertilizer with magnesium. If your blueberry leaves turn a reddish color on the leaves, particularly towards the leaves' edges, magnesium deficiency is most likely.
Natural Fertilizers – There are some natural fertilizer alternatives that you can use for your blueberries.
Fish Meal or Blood meal can be used for Nitrogen, while sphagnum peat will provide acidity, and bone meal and powdered seaweed will ensure enough potassium and phosphorus. While organic Fertilizers may make fertilizing your blueberries slightly more tedious, they will help keep the soil at the best PH levels and make sure that the nutrient mixes are up to standard.
---
Reviews: The Best Fertilizer for Blueberries
Below we have some of the best available fertilizers especially designed for growing and flourishing blueberries;
We hope you love the products we recommend!
So that you know, We may collect a share of sales or other compensation from the links on this page.
---
1
From Down to Eart,h we have an all-natural acidic fertilizer mix, especially for blueberries.
The natural fertilizer is blended especially for plants such as rhododendrons, azaleas, camellias, hydrangeas, evergreens, blueberries, raspberries, strawberries, potatoes, and other plants that require a low pH balance.
The fertilizer comes in a 5-pound generous box.
It is a 4-3-6 formulation.
There are also more size options available.
---
2
This is an organic and natural food and fertilizer ideal for blueberries and a variety of fruits.
The Fruit and Berry food is blueberry food and fertilizer in one.
It is completely organic, natural, and designed specifically for berries.
The formulation is a 4-3-4.
The size is 4lb.
---
3
From EcoScrap,s we have a natural and organic fertilizer and food for blueberries.
This is an organic fertilizer formulated for blueberry, raspberry, strawberry, and many other berry plants.
There is an all-in-one particle design for easy application that is not messy.
It contains recycled leftovers from different plants at different life stages.
Ideal for organic gardens.
---
4
The Jobe's organics fertilizer is a natural and organic soil acidifier ideal for blueberries.
An organic granular design fertilizer.
The fertilizer is ideal for all acid-loving plant types such as blueberries.
OMRI listed organic for gardening with USDA; certified organic means, so no synthetic chemicals are added.
It promotes darker green growth in leaves and has no chemicals that can burn your plants.
The bag has an easy pour design and comes in a 6-pound option.
---
5
The Winchester Gardens Select is a premium fertilizer for blueberries that is natural and organic.
The fertilizer is ideal for indoor and outdoor blueberry plants.
It encourages all-year-round growth and is ideal for berries of all types and sorts.
The 3lb bag comes complete with a measuring spoon for easy application.
Ideal and organic in nature, so it is also safe and environmentally friendly.
---
6
The Fertrell Berry ix is designed for all types of berries, and it is all-natural and organic.
The Berry fertilizer is available in a 5lb, 50lb, and 25 lb bag, from which you can choose as you require.
A natural and fully organic fertilizer mix for a variety of berry types and grapes.
It is very safe and easy to use, also safe for pets and the environment.
It will increase your yields and give you larger and much more tasty berries in turn.
---
7
From true Organic, we have a berry and fruit fertilizer for blueberries.
The fertilizer is versatile enough for a variety of fruits and berries.
It also comes in more variations.
The fertilizer is completely natural and organic.
---
8
An organic Fertilizer for Blueberries.
Multipurpose for all types of berries.
Slow-release design for complete nutrition.
Completely organic fertilizer for berries.
---
9
From Bloom Booster, we have the Incredible bulk fertilizer,
It is organic and OMRI listed.
The plant food works for all types of fruits and plants, including Blueberries.
There are also different bag size options.
---
10
The EB Stone Blueberry fertilizer is ideal for berries and grapes.
The 7.3.3. blends contain organic and natural ingredients.
It is ideal for berries, fruit trees, and vines.
The fertilizer is rich in nitrogen and phosphate, plus potash.
---
Index Table: Top Rated Fertilizer for Blueberries
---
---