Some of the links in this post are affiliate links. This means if you click on the link and purchase the item, I will receive an affiliate commission at no extra cost to you. All opinions remain my own.
Fertilizer spreaders are an excellent device for spreading fertilizer over your lawn or large areas of garden or bedding.
You get two basic fertilizer spreaders, the push spreader, a larger device for larger areas, and a handheld spreader ideal for smaller areas.
Today we will look at the best fertilizer spreaders in both these categories.

---
Drop Spreaders VS Broadcast Spreaders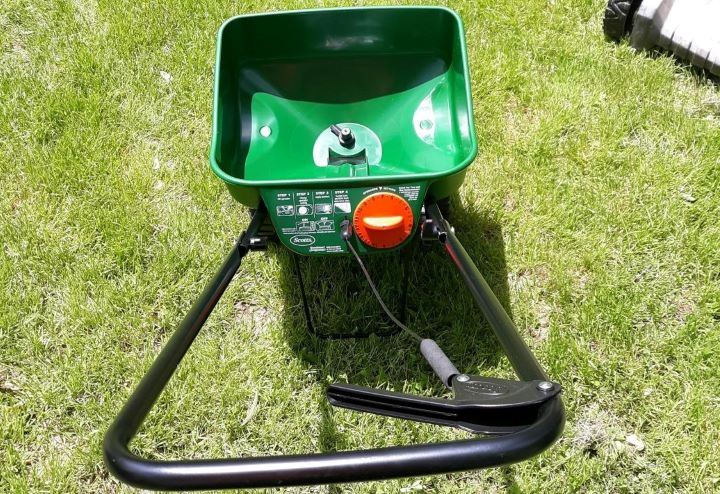 Looking at the drop and broadcast fertilizer spreaders, here are their differences and functions;
Broadcast Spreaders – Broadcast spreads fertilizers in a fan-like pattern in all directions and will cover an extensive area evenly. The rate you walk and the hole size of the drop spreader will determine how much fertilizer is distributed. Broadcast spreaders cover large areas and are available in push and handheld options. They also usually have a shield to cover some or all of the holes to control the area where fertilizer is being spread, preventing overspreading on pavements and other areas.
Drop Spreaders – Drop Spreaders are very accurate and spread only smaller, even rows of fertilizer exactly where you need it. They work well for smaller lawns and gardens and are very easy to operate. Drop fertilizer spreaders are easy to navigate around tight spots and obstacles, and the wind generally does not impact distribution. You will have much less wasted product with a drop spreader than with a broadcast spreader. However, they take longer and cover only small areas.
---
Are Fertilizer Spreaders Necessary
Do You need Fertilizer Spreader?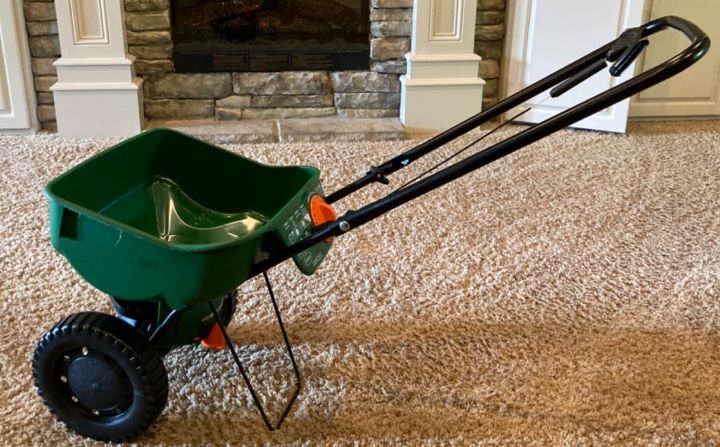 If you frequently need to fertilize your lawn or a larger garden area, you may need to invest in a fertilizer spreader.
Fertilizing your lawn or plants may be time-consuming, and a fertilizer spreader can help you cut down on time and fertilizer evenly and properly.
The Broadcast fertilizer Spreader is the perfect tool for persons who need to fertilize large lawn areas or large beddings and gardens that need fertilizer evenly spread and a faster job done.
However, if you have a small lawn or area that needs fertilizing, opt for the drop fertilizer, which is much neater and more even.
Then, handheld fertilizer spreader versions are excellent for spreading fertilizer quickly and evenly in smaller amounts without pushing around a large device.
---
Features of a Good Fertilizer Spreaders
There are many brands and designs to choose from regarding Fertilizer Spreaders. Here are a few considerations to keep in mind.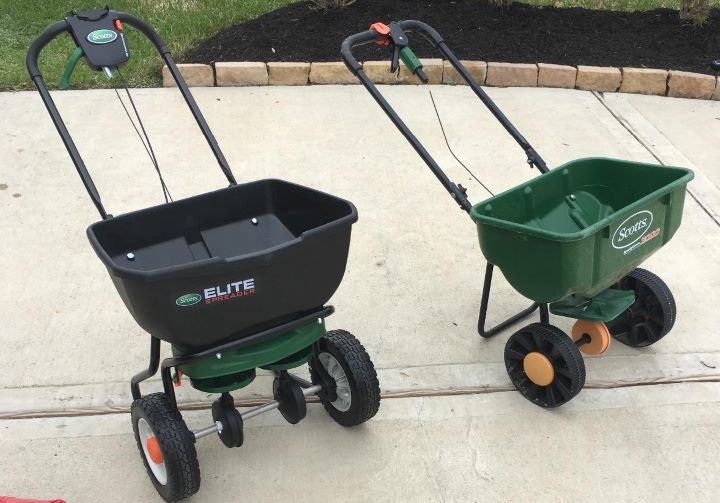 User Control – Look for controls and designs that are easy to handle. Dials are quite easy and effective. Some designs with wheels have sturdy parts for rough uses and terrains and larger tires for easier traveling.
Fencing and Building Constructions – Ensure that the shape, size, and design of fertilizer can easily get in and out of the areas you need to get to t fertilize. Consider the proximity to buildings and other structures. Some spreaders block the fertilizer flow from one direction to the next to avoid wasting and over-fertilization.
Seasonal Uses – Many spreaders can be used for other functions besides spreading fertilizer on lawns and beddings. Some can be used to spread salt on snow, others to plant grass seeds, and even to spread certain mulches and composts.
The Square Footage Available – You need to consider the square measurements in the size of your lawn, how much time you have available to fertilize, and how hard you want to work. For larger lawns and beddings, you need to opt for a larger-sized Lawn Spreader, whereas a simple handheld lawn spreader may suffice for small beddings and pieces of the lawn.
---
Reviews: The Best Fertilizer Spreaders
Listed below are the best available Fertilizer spreaders that you can invest in for your garden;
We hope you love the products we recommend!
So that you know, We may collect a share of sales or other compensation from the links on this page.
---
1
A smaller-sized fertilizer spreader with EdgeGuard technology and more available options.
The spreader and turf builder is an easy-to-use mini size.
It has EdgeGuard technology that keeps products off landscaping and driveways.
It can be used for salting Ice, fertilizing, and treating smaller areas.
The design is sturdy and durable.
---
2
Because the adjustable design and the multiple openings of the handheld fertilizer spreader from TIPU have many versatile uses.
This is a multifunctional spreader for fertilizer.
It is small and compact, and lightweight to use.
Use it to spread salt to melt snow, spread fertilizer, grass seeds, and plant foods.
Very easy to use and comes with an ergonomic handle.
It is fully durable and highly versatile.
---
3
This is a large capacity Tow Broadcast spreader for your fertilizer from Agri-Fab.
This is a two-broadcaster fertilizer spreader.
It can spread an area of up to 10 feet easily.
There are wheels with pneumatic tires.
The steel frame is strong, and there s a poly hopper and a spreader plate.
The gearbox is safe and enclosed.
---
4
The Scotts Whirl is an easy handheld device that io spreads fertilizer.
A great handheld fertilizer spreader device for easy use.
Lightweight and very easy to handle.
It is engineered for smooth and even coverage ad can hold up to 1500 square feet of products.
Use it for fertilizer and seeds.
---
5
You can use the Scotts Wizz handheld fertilizer spreader to fertilize and control.
This is a battery-powered fertilizer spreader for easy use.
I can spread fertilizer and grass seeds easily.
There is a five-foot broadcast design with EdgeGuard technology control.
It s one of the most advanced and larger-sized fertilizer and seed spreaders.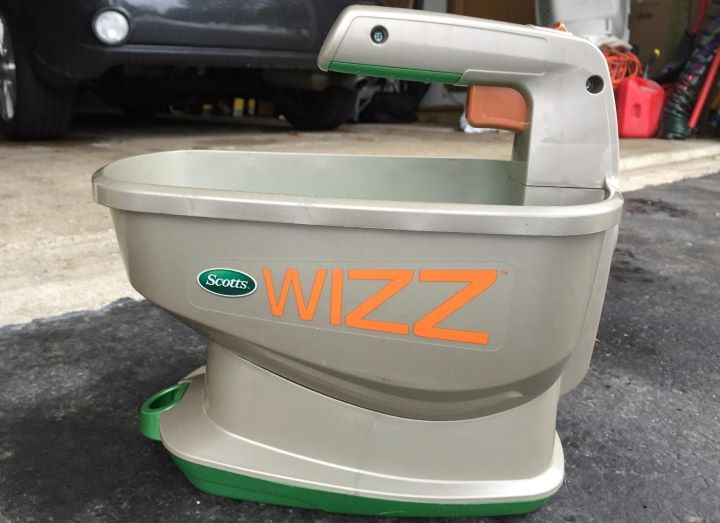 ---
6
The Agri-fab is a commercial design push fertilizer spreader.
The fertilizer spreader has a 25 000 square foot capacity.
It has tuff tread pneumatic wheels with durable tires.
The construction is durable steel with a poly hopper, spreader plate, and an enclosed durable gearbox.
More accessories, including a hopper cover, grate, and deflector kit, are included in the set.
---
7
The Scotts Spreader is a single-pack fertilizer spreader model.
It is a dual rotor technology design and is accurate with six feet spread pattern.
The spreader holds around 20 000 square feet of lawn product.
It never has flat plastic tires and is very durable.
---
8
From Titan, we have a high-quality lawn fertilizer spreader.
It is durable and will not require constant repair.
The spreader has quality axle tires and large-capacity drums that hold 50 lbs.
It is also ideal for a variety of terrains.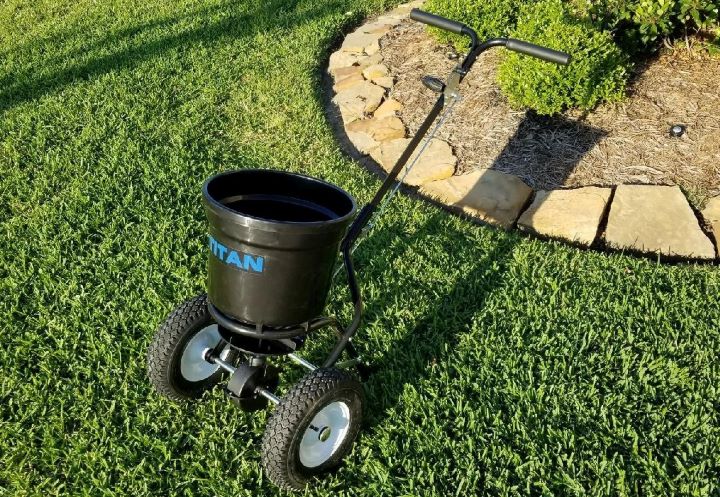 ---
9
The Agri-Fab is a push broadcast fertilizer spreader.
It is rustproof and has a solid rod gate control.
There is an enclosed taper and a bevel gearbox.
The optional Pro-Kit with a shield is also available.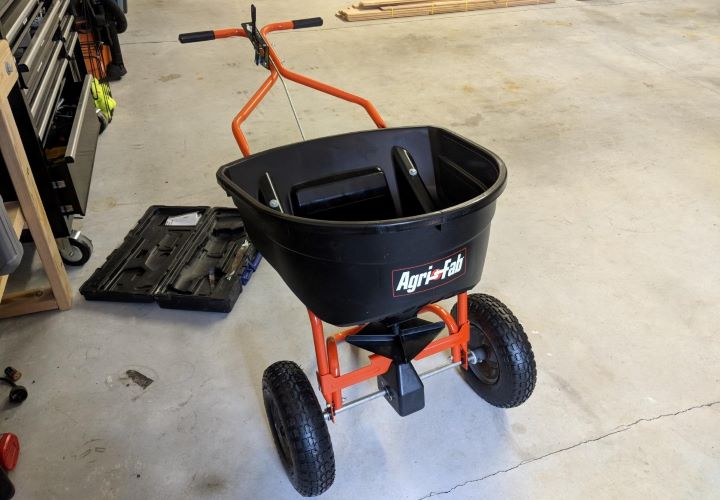 ---
10
The Scott's Wizz is another superb Fertilizer spreader.
This model is battery-powered and spreads a variety of products.
It can cover up to 2500 square feet and has a five-feed broadcast.
The spreader also has EdgeGuard technology.
---
Index Table: Top Rated Fertilizer Spreaders
---
---