Some of the links in this post are affiliate links. This means if you click on the link and purchase the item, I will receive an affiliate commission at no extra cost to you. All opinions remain my own.
Most of us are familiar to some degree with the subject of artificial grass. Artificial grass provides the look and feels of natural grass without maintenance or stationary qualities.
Here are a few tips on the best available artificial grass for those interested in getting Artificial grass.
---
---
Why You May Need Artificial Grass
Artificial grass is used in more than just sports fields and public gardens today. Surprisingly, many people will benefit from artificial grass.
People living in major metropolitan cities with pets like dogs may greatly benefit from artificial grass.
Homes and offices in urban areas are usually paved in the majority, except for a few small select pockets. These areas can be spruced up and made pet-friendly using a few pieces of artificial grass.
Also, people living in drought-stricken areas with water use limits may benefit greatly from artificial grass that will not require watering.
Once you have decided that artificial grass is right for you, figuring out which one is right to purchase could be confusing.
So many options are available, so it may take a bit of research to determine which will be best for you. So below, we have a few tips for you to make the right choice.
---
Choosing Your Artificial Grass
Here are the most important factors to consider when choosing Artificial Grass;
Pile – The Pile of Artificial Grass Refers to the length and shape of the blades of grass. Generally speaking, the longer the fibers of grass, the better. If you are looking for functional grass rather than grass for a show, it is advised to opt for shorter fibers. Long and Straight Grass Pile Fibers are more natural-looking and look great from a distance, yet when you get closer, the uniformity of the pile gives it away, and it looks more artificial. A Short and Curly Pile is the lower-grade pile type and tends to remain flat and curled even when laid flat and brushed. This type of artificial grass is ideal for practical use or to cover a bare area without much emphasis on aesthetics. A Blended Pile is considered the highest grade of artificial grass, ultimately just a blend of long, short, and curly grass blades. Because of the long dark green fibers and the curly lighter fibers, the grass will have a much more natural appeal from close and further inspection. The Blended Pile is also the most durable and responds better to heavy traffic.
Color – The Color of your artificial grass is important, depending on what the purp[ose of the grass is. If you want a more realistic and natural appeal, then the grass's color and quality are crucial, though if you want something functional for pets or other uses, the color could be anything in general. Artificial grass with fibers of varying colors makes it look more natural because of the natural color variance of real grass. However, more solid and uniform colors may look less natural. Most artificial grass fibers are shiny, which is a dead giveaway that it is not natural.
Backing – The backing is the material the fibers are fastened to; thus, it is important for durability and underfoot feel. The firmer the backing, the more durable, and the softer the backing, the better it feels. Urethane is the most common material used for backing and the most durable, so it can handle heavy traffic and is also quite water-resistant. Rubber is less common than Urethane, although it is less durable. Rubber is the softest backing material and is naturally biodegradable; rubber is also responsive to water; make sure there are large drainage holes. The Blended Rubber and Urethane Option is the highest grade of artificial grass backing, which is generally more durable, water-resistant, and not as hard as Urethane by itself.
Fiber Materails – The material used to create the fibers of your artificial grass can make it softer, pricklier, more durable, or more realistic looking. However, you must know that there is no fiber type that into fiber type is perfect in all regards. Nylon is a premium fiber of artificial grass that is very durable and can handle heavy traffic. Nylon is more susceptible to UV damage and may change color in the sunlight unless protection is applied. Nylon takes a long to dry out and is the least water-resistant material. Polyethylene or PE materials are similar to Polypropylene in appearance yet respond better over time than Polypropylene or Nylon and are more resistant to sunlight; polyethylene is much softer and quite water-resistant. Polypropylene or PP is considered the lowest quality Artificial Grass, although it is better than Polyethylene. Polypropylene has a natural luster and looks more fake than other fiber materials; it is also very soft and prickly. However, Polypropylene is the best artificial grass for areas that often get wet.
---
Features of a Good Artificial Grass
Here is a checklist of features that you can look for when inspecting an Artificial Grass product;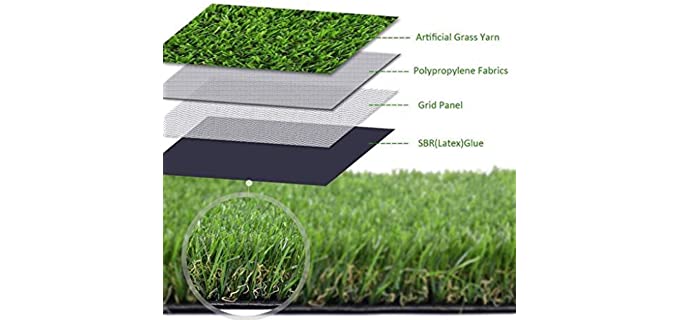 Sizes – The Pile should be at least 1 and 1/3 inches in height. You can look for Artificial grass with a wide availability of sizes from which you can choose.
Quality – Premium versions of artificial grass are usually better options and better quality than the budget types.
Materails – Look for backing with proper water drainage holes. The Grass fibers should be soft and look natural. Ensure that the artificial grass has UV protection and is flame retarding and 100% Olefin UV stabilized. Check for Artificial Grass that also has some form of mold and mildew resistance.
Color – The Blades should have four tones to look more natural.
Stain resistance – Also, consider grass resistant to staining.
---
Reviews: The Best Artificial Grass
Following our tips and checklist, here are the best available optiosoptionsn when it comes to Artificial grass;
---
1
The Lita 7ft x13ft realistic Deluxe Artificial Grass is a thick Turf Carpet lawn for indoor and outdoor use.
Artificial grass consists of high-quality synthetic materials that are very resilient and durable.
The materials are likewise UV resistant, containing Polyethylene and Polypropylene yarn.
The blades have a four-tone color which has the most realistic appearance to it.
The pieces are very easy to install; just lay them down.
---
2
From iCustom Rug, we have the Thick Turf Rugs and Runners in different size option sizes.
The synthetic 1.24-inch high pile looks and feels exactly like natural grass.
The pieces are finished with carpet binding tape for a more authentic rug-like appeal and prevent t fraying.
The grass blades are soft under your feet with 100% Olefin UV stabilized with a two-year fade warranty.
The Grass is also extremely stain resistant and very easy to clean.
There are Custom sizes available in this top-quality artificial grass.
---
3
The Zen Garden PZG Premium Artificial Grass offers an excellent outdoor option for wet climates.
The Extra lush synthetic grass is spongy, lightweight, and toxins-free.
The Grass has a gorgeous realistic appeal, with four-tone fescue blades.
The Base is durable rubber with proper drainage holes, making it perfect for outdoor use.
The Artificial grass is low maintenance and very easy to clean.
You can likewise choose between different size options.
---
4
From Realistic Thick, we have thick Artificial Turf Grass for indoor and outdoor use.
The Artificial Grass is very thick and lush looking, with a 1.38-inch height in eth blades.
The materials used are high-quality and UV-resistant Polyethelyne and Poly Polypropylene.
The materials can withstand high heat and are extremely durable in heavy traffic areas.
The materials are eco-friendly, non-toxic, and perfect for pets and children.
---
5
Synturfmats are smaller Artificial Grass mats ideal for small apartments and homes if you have pets.
The synthetic Turf Grass mats are ideal as decorative pieces for your garden or pet use.
The seven-tone blades look extremely natural. and have a soft and lush texture.
The rubber backi9ng is durable with ample drainage holes.
There are different size options from which you can select for your needs.
---
6
The Amasky Artificial Grass Turf is a four Tone natural look Artificial Grass.
The Grass Blades are 1.37 inches high with a fourth tone color that is very natural looking.
Artificial grass offers you a large variety of indoor and outdoor uses.
It consists of high-quality and durable Polythelyne and polypropylene.
You can cut your grass to size to fit the area that you would like to cover.
The Grass has a low pile design and durable rubber backing with efficient drainage holes.
---
7
The SunVilla Artificial grass is a top favorite among many.
It is an indoor and outdoor grass,
It comes with different color hues and is quite plush.
It covers 52 square feet.
---
8
Artificial grass from Smart law Professional.
Very realistic carpet feel.
The soft and natural-looking grass is for indoor and outdoor use.
Also durable with drainage holes.
---
9
From XLX Turf, we also have some good quality artificial grass.
12 by 12 Inch grass mat.
Ideal for indoor and outdoor use.
Very easy to clean and maintain.
---
10
The Deluxe Realistic Artificial grass is likewise a top favorite.
It is thick and realistic.
Very durable with drainage holes and backing.
Ideal for indoor and outdoor use.
High-quality polyethylene and poly polypropylene.
---
Index Table: Top Rated Artificial Grass
---
---