If you think about it, the cutting line of a string trimmer does all the work, slicing through tough weeds and grasses.
The trimmer lines us hard enough to cut through grass and weeds but soft enough to break against harder objects such as rocks, metal, or fence posts.
Therefore you need the best Trimmer line for your string trimmer.
---
The String Trimmer and How It Works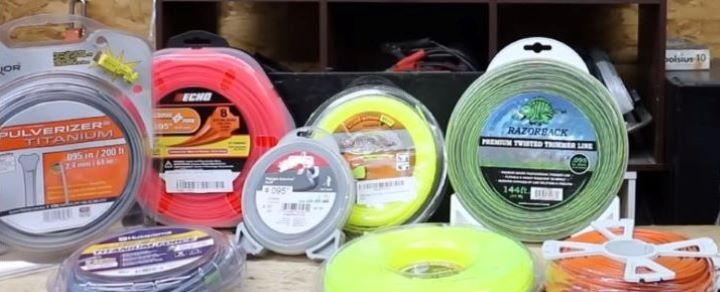 A string trimmer is your best option as a multi-functional workhorse when you need to keep your lawn neat. You can use it to mow down hard-to-access areas and trim your grass and weeds in all areas that a mower will not be able to reach.
With such a variety of applications, as well as the right attachments to meet those applications, you will need to settle on a specific setup. You must pick the right size trimmer string for your trimmer and its functions.
A string trimmer uses a monofilament line that cuts through grass, weeds, and small woody plants. It spins at a very high speed, and the cutting head generates enough centrifugal force to hold the line at a stiff and horizontal angle to make cutting possible.
The operator can manually adjust the height of the arch of the string trimmer for cutting around trees, rocks, and walls. The trimmer can likewise be turned vertically to edge outlines near the sidewalls and driveways.
Many Trimmer models have cutting heads and lines that can be switched out to accommodate a variety of line gages, and You will need to look at what gauges your cutting line can handle. You get thinner spooled lines, thicker pre-cut lines, serrated and squared lines, or even blades and chains that you can use on a trimmer. And Trimmer lines will also come in various shapes, thicknesses, colors, and materials.
---
String Trimmer Line Options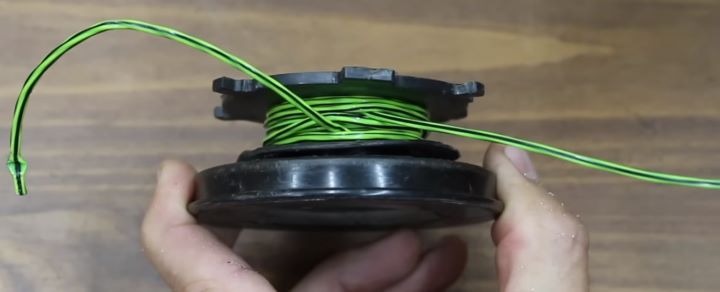 Basic Trimmer Line – Most trimmers have a basic industry standard cutting trimmer line, It mostly consists of Monofilament Nylon and ranges in diameter according to durability. Thicker lines are more durable. However, they require more engine power.
Reinforced Cutting Line – Many manufacturers create a nylon trimmer line that they reinforce with other materials. Nylon lines are reinforced internally to prevent breakage. Usually, a small mold of aluminum is placed in the nylon line for reinforcement, and Other options are composite nylon or polymers added it the nylon for reinforcement.
Trimmer Line Styles – Trimmer lines also come in a few different styles and shapes for specific cutting purposes. The round shapes are less resistant to breakage; however it gives the grass a rougher look because it tears rather than cuts, Other shapes include Diamond, square and six-sided lines, which have much sharper edges than a rounded line.
Other Options – Many trimmer heads today can use various cutting tools despite just a trimmer line. They can be metal brush blades and even chains.
---
Features of a Good Trimmer Line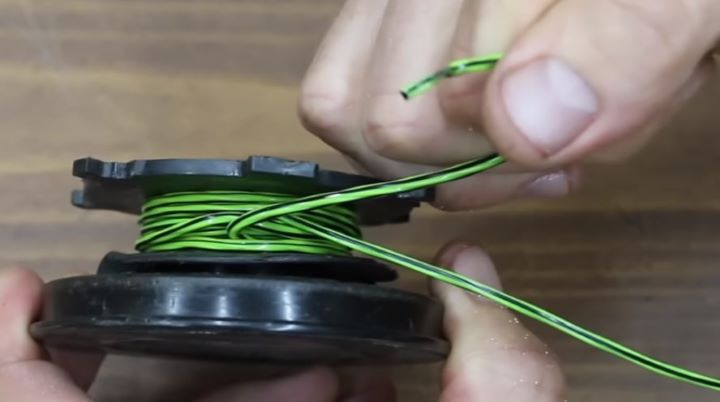 Thickness – The general rule of thumb with the trimmer line is that the tougher the application of the line, the thicker the trimmer line will need to be. A larger diameter or thicker trimmer line is generally much more durable and less prone to breaking. However, you can opt for a thinner trimmer line for lighter work.
Shape – Trimming line comes in different shapes. The round trimmer line is the most durable. However, it does not cut through vegetation very smoothly; tears eat it. At the same time, square or star-shaped trimmer lines give much more precision and smooth cut.
Material – Trimmer lines usually consist of a very durable and resistant nylon. However, some trimmer lines may be reinforced with Composite nylon or metal in the core to make them more durable.
---
Reviews: The Best Trimmer Lines
These are some of our top choices in durable and effective Trimmer lines;
We hope you love the products we recommend!
So that you know, We may collect a share of sales or other compensation from the links on this page.
---
1
The Cyclone desert Extrusion is a commercial-grade trimmer line.
The Trimmer Line is 0.095 Inch Diameter and 855 Feet Long.
It has a patented 6-blade shape for added cutting power.
The choice of many landscaping professionals.
---
2
The Rotary store brings you the Vortex Trimmer line.
This is a 095″ (2.41mm) trimmer line that has a length of 1140′ (347m).
It is a premium quality Vortex trimmer line.
The line is made in the United States of America.
---
3
The Dewalt Trimmer line is durable and ideal for your trimmer.
It comes in a few options for length and thickness; 50-Feet by 0.080-Inches, 144-Feet by 0.095-Inches, and 225-Feet by 0.080-Inches.
The trimmer lines are durable, strong, flexible, and impact-resistant materials.
It also has a very aerodynamic shape and design.
---
4
From Maxpower, we have a residential-grade round-shaped trimmer line.
It has an 855-foot length and is 095 inches in thickness.
The trimmer lines are orange in color and consist of durable nylon.
It includes a 3lb spool of round-cut trimmer line, and there are 42 refills in the package for your trimmer.
---
5
We also have some of the best trimmer line options from Stihl, a top brand.
This is a 095-inch-thick trimmer line that is orange in color and 280 inches in length, and 1lb in weight.
You get one roll in the package in orange color.
It is extremely durable and ideal for most trimmer models and brands.
---
6
From Oregon, we have a heavy-duty professional trimmer line for your trimmer.
It has different length options; 25 ft, 42 ft, 246 ft, and 413 ft.
The trimmer line has very high cutting efficiency, allowing straighter and much cleaner cuts.
It is durable with a high-strength inner core that resists breaking.
The trimmer line has a square shape that can evenly and cleanly slice through vegetation.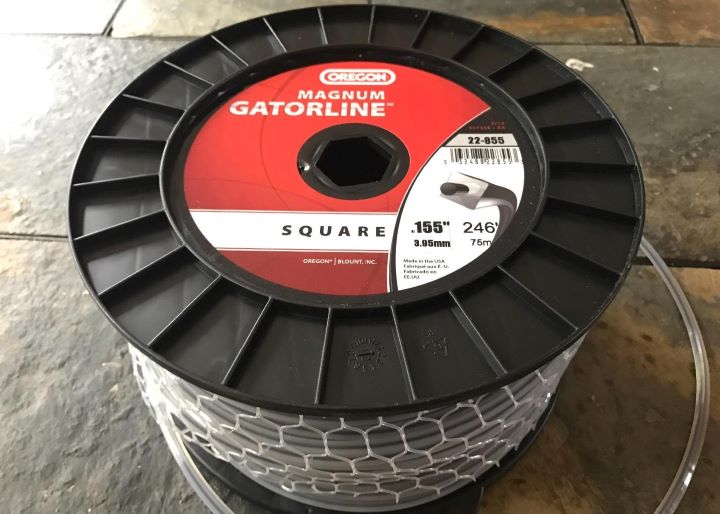 ---
7
The Oregon Gatorline us a round string trimmer line.
It is 080 inches by 413 feet in length.
The trimmer line is a durable round cut.
It will fit most trimmers.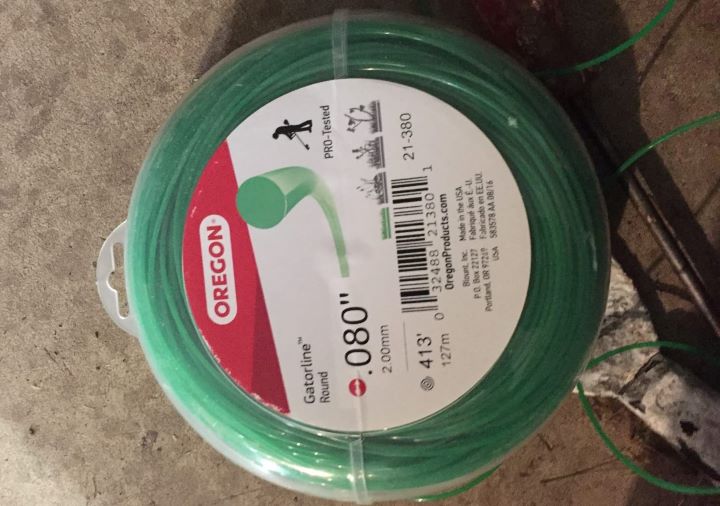 ---
8
The Arnold Maxi Edge is the ideal trimmer line.
It is a 100-foot commercial trimmer line.
The trimmer line comes in a set with five refills.
Ideal for most trimmers.
---
9
The Back and Decker Trimmer Line comes in a set of three.
It is a 30-foot trimmer line.
Fits most types of trimmers.
Durable and 0.065 inches in diameter.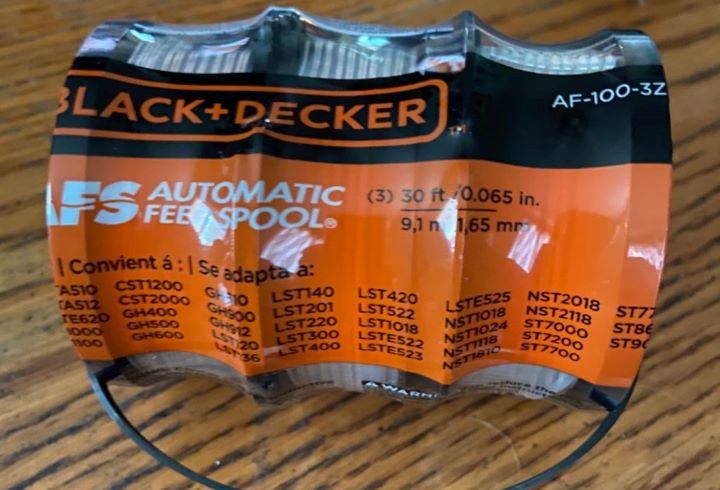 ---
10
The MaxPower Trimmer Line is a very long length.
It is 200 feet long and of premium quality.
The twisted trimmer line comes with ten refills.
It is durable and premium commercial grade.
---
Index Table: Top Rated Trimmer Lines
---
---