Some of the links in this post are affiliate links. This means if you click on the link and purchase the item, I will receive an affiliate commission at no extra cost to you. All opinions remain my own.
Full sun is ideal for growing lovely Lush Grass and less hassle than growing grass in shaded areas.
Though there is a difference between cool seasons and warm-season grass types, your full-sun grass must tolerate much more heat.
This article looks at some Grass Types that grow well in full sun and some of the best available Seeds for Grass in Full Sun.
---
---
Best Full Sun Grasses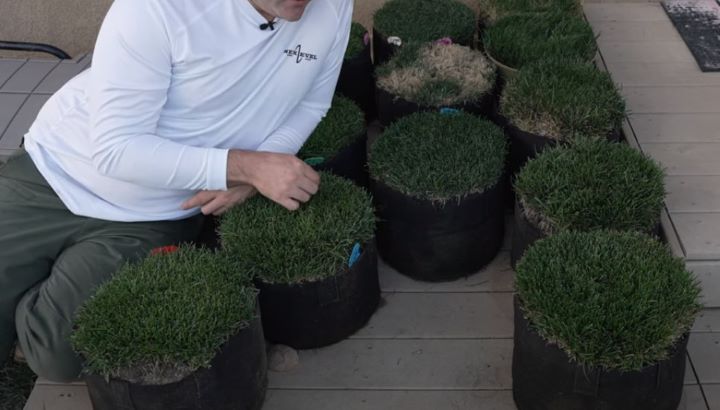 Generally, FULL SUN refers to lawn areas that get eight or more hours of sun daily, compared to semi-shade areas that get around half the sun daily. Most grass types welcome more hours of sun. Although some require a bit of shade, and that's the grass seeds for shade areas.
My list shows that Pennington-affiliated bred grass varieties offer better drought tolerance, improved resistance to lawn diseases and insects, and thrive in full sun areas.
Turf types tall fescue grasses excel in a variety of climates and also flourish in full sunlight, whereas Kentucky Bluegrass tolerates full sun and semi-shade in warmer climates.
So generally, most grass types will flourish in full sun areas. It is advised to look for Grass types labeled as WARM SEASON GRASSES for a full sun area.
---
Choosing the Right Full Sun Grass
Besides being tolerant to Full Sun, other factors will impact your choice of Grass for your garden;
Cool Season Grass – Tall Fescue-type grasses tolerate full sun and summer heat but stay green during cold winter, so they are ideal all-season grass types. There are different Fescue grass varieties besides the coarser Tall leaf type, such as the turf and dwarf varieties with a softer and finer texture.
Heavy Use Grass – One of the best Grass Types for heavy use is Zoysia Grass. Zoysia grass tolerates full sun and shade and also needs a minimal amount of water. Bermuda Grass tolerates heavy traffic and use and is ideal for full sun areas.
Salt Tolerating Grass – If you live near the sea, you must consider a salt-tolerant type of grass; St. Augustine Grass is usually the best option. They can tolerate high heat conditions, full sun, and salty soil.
---
Features of a Good Grass Seeds for Full Sun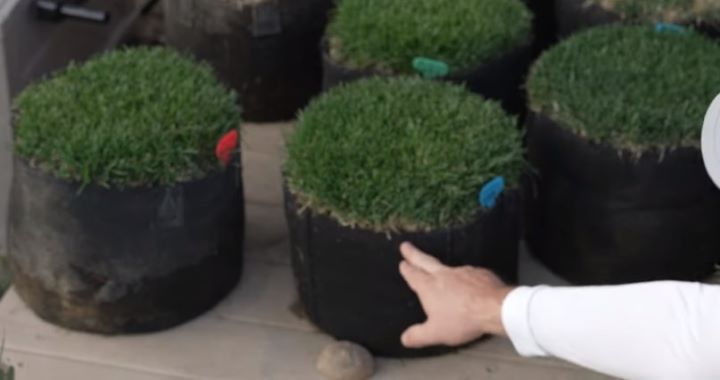 So let us discuss the Features of the Best Available Grass Types that are ideal for Full Sun areas;
Bermuda Grass – Bermuda Grass is ideal for warm seasons and very hot weather. This Grass Type is also drought tolerant and can rebound very well from any damage or disease. Because of its aggressive nature, it can become a bit of a pest when it gets into your flower bedding.
Kentucky Bluegrass – Kentucky Bluegrass is ideal for the cooler season and colder climates. Kentucky Bluegrass makes for a stunning lawn in full sun but at a price tag and high maintenance.
Tall Fescue – Tall Fescue Grass is also a cool-season grass with a deep root system that can tolerate full sun exposure. Tall Fescue likewise has a high drought tolerance and prefers full sun to shade.
Zoysia – Zoysia is a warm Climate Grass with the highest quality grass you will find. Zoysia grass is very low maintenance, slow-growing, dense, and enjoys full sun areas,
---
How We Test and Score Grass Seeds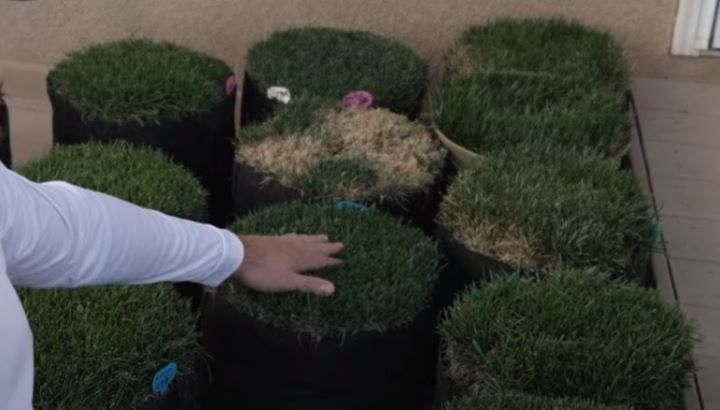 These reviews are based on intense research, analysis, and feedback from our experts and real users from different digital platforms.
We spent 21 hours trying, testing, and scoring these Grass Seeds for different key parameters and then shortlisted the best products in the market, saving you time and effort.
We used the following parameters for our tests and analysis.
Drought Resistant – We analyzed how effectively the seeds can resist drought.
Insect Resistant – We researched how well the seeds resist insects.
Long Lasting – We observed how long the seeds would last when applied.
Water Absorption – We analyzed how effectively the seeds absorb water.
Maintenance – We researched how long users can use or consume it without any reported changes in the quality of the seeds.
---
Frequently Asked Questions (FAQ) Regarding Grass Seeds
---
Reviews: The Best Grass Seeds for Full Suns
So from there, let us look at some of the best available seeds for Grass that work well in Full Sun areas;
We hope you love the grass seeds we recommend!
We may collect a share of sales or other compensation from the links on this page.

---
1
Scotts Turf Builder Seeds are Bermuda Grass Seeds for full sun areas.
You can choose between a 1lb, 5lb, 10lb, or 40lb seed amount option.
Bermuda Grass is ideal for the scorching heat, all-day full sun, and drought areas.
The thick and lush grass will spread aggressively throughout your yard.
The Seeds contain exclusive 4 1 WaterSmart PLUS coatings that allow absorption of twice the amount of water than most uncoated seeds,
Thus, the Grass grows much faster, thicker, and greener.
Because of the finer grass blades, it is much softer and also more drought-resistant.
| Rating Category | Weight % | Score |
| --- | --- | --- |
| Drought Resistant | 30% | 100 |
| Insect Resistant | 20% | 100 |
| Long Lasting | 20% | 95 |
| Water Absorption | 15% | 95 |
| Maintenance | 15% | 90 |
| Total Score | 100% | 96.75 |
---
2
Another favorite from Scotts Turf Builder is their Sunny Seed Blend for full sun areas.
You can choose between two seed pack options as you require.
The mixed seeds include a variety of sun-loving Grass types that are also highly heat tolerant,
The grass will grow fast and thrive in full sun.
The seeds are coated with the exclusive four-in-one WaterSmart PLUS for better water absorption and faster growth.
The Fine blade textures have a medium to high drought tolerance.
| Rating Category | Weight % | Score |
| --- | --- | --- |
| Drought Resistant | 30% | 100 |
| Insect Resistant | 20% | 100 |
| Long Lasting | 20% | 90 |
| Water Absorption | 15% | 95 |
| Maintenance | 15% | 90 |
| Total Score | 100% | 95.75 |
---
3
Zenith's Zoysia Grass is a versatile Grass-type that grows well in full sun, shade, and partial sun areas.
Zoysia grass is well considered one of the most sought-after and beautiful grass types for lawns available in seed form.
This specific brand ensures that the Zoysia grass will stay greener much longer into the year than other Zoysia grasses.
The seeds are available in a 6lbs or a 30lbs amount, and 2 to 3 lbs of seed will cover around 1000 square feet.
| Rating Category | Weight % | Score |
| --- | --- | --- |
| Drought Resistant | 30% | 100 |
| Insect Resistant | 20% | 95 |
| Long Lasting | 20% | 90 |
| Water Absorption | 15% | 95 |
| Maintenance | 15% | 90 |
| Total Score | 100% | 94.75 |
---
4
Pennington Tall fescue Grass is another top favorite when it comes to Grass for Full Sun areas.
The Tall fescue Grass maintains a deep green color throughout the growing season and grows aggressively.
You will receive a seven-pound bag of seeds that covers up to 1750 square feet in your yard.
Tall fescue grass does better in cooler climates and full sun areas.
The package also contains Pennington's exclusive pekoe technology that ensures better plant growth.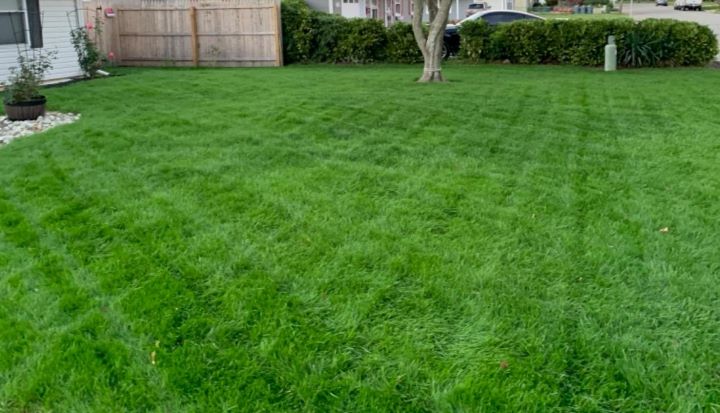 ---
5
Pennington Kentucky Grass is also a Tall fescue Grass ideal for full sun areas.
Kentucky grass will grow well in full sun and partial shade areas, so it is quite versatile.
The Grass is very durable for high traffic areas, as well as low maintenance.
The seeds will produce light green grass that is drought resistant.
Germination time is usually around fourteen days.
---
6
If You are looking for Grass seeds to fill spots in your law in full sun, then the Pennington Bermuda Grass spot filler is perfect.
Here you have a choice between the Bermuda Grass or the Tall fescue Grass,
The 8.3-pound bag is perfect for filling small open spots in your Garden.
You will have new fresh grass covering empty areas in three weeks or less.
The mix comes with everything you need already pre-mixed into the blend.
---
7
The Natures Seed are turf seeds for full sun.
They need no filler.
The seeds germinate very quickly.
Ideal for full sun areas.
---
8
The Jonathan Green Black beauty is Ultra Grass seeds.
They flourish in full sun and cover 2800 square feet.
The grass has an invisible waxy coating for drought tolerance.
Naturally insect resistant.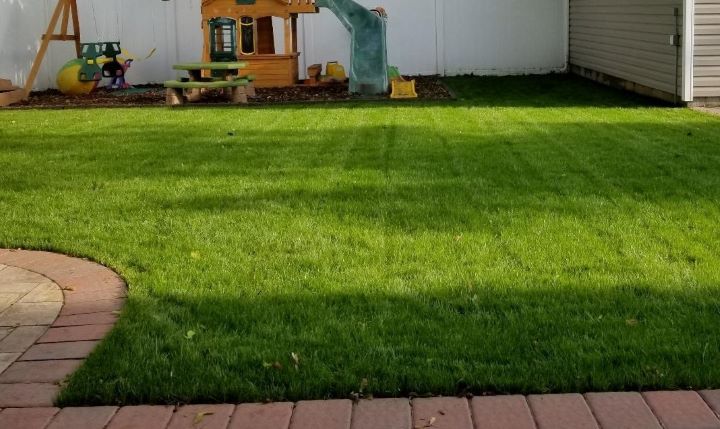 ---
9
The Bonide seeds are ideal for full sun areas.
The grass is drought and heat resistant.
Comes in a seven-pound bag.
Ideal for a green lawn.
---
10
From Outsidepride, we also have full sun grass seeds.
The seeds will germinate fast and are hardy.
The grass enjoys full sun.
Ideal for putting ranges.
---
Index Table: Top Rated Grass Seeds for Full Suns
---
---