Want to keep grass, weeds, and plants from invading your garden or lawn, why not opt for the best lawn Edging.
There are so many options that look decorative and add great value to your garden overall, as well as keep plants from overgrowing.
---
Why Have Lawn Edging
Edging creates a clean, crisp line between beddings, your lawn, and paved areas in your garden. It is visible between most lawns and adjoining gardens and pavements. Lawn edging can help to define a flower or plant, a shrub bed, or a tree and create transitions from a patio to the surrounding garden.
Lawn edging creates a very eye-catching focal point and decorative appeal in your garden.
On a practical note, landscape edging, or lawn edging, helps to keep turfgrass and weeds from creeping inside your garden or flower garden areas and vice versa. It also prevents watering and mulch inside your garden beds from slipping onto your lawn.
Lawn edging can likewise corral a pathway that consists of loose materials such as gravel or mulch and create a more clearly defined walkway for you.
There are taller edging options that you can use for short hedges and trees or use in the place of fencing if you do not need tall fencing.
---
Benefits of Lawn Edging

You do get a few different benefits of Lawn Edging;

Types – You get a lawn and garden divider that divides your lawn from your corrugated metal raised beds or garden beds, such as a trenched edge or a shallow V-Shaped ditch. A mowing strip is a wide flat material such as bricks or flagstones that creates a firm base to protect flower beds from the wheels of a lawnmower. Mulch Capture a material that extends up to 2 inches above the ground and 4 inches below. Then you get decorative edging that comes in many styles, such as wood, plastic, brick, and stone, or plastic that simulates brick and stone for better weather resistance.
Styles – Lawn edging comes in a large variety of styles such as brick, stone, wood, and metal. You also get plastic styles that look like bricks, stones, and metal or wood and styh lights in the,m and picket fence styles.
Costs – the lawn edging cost will largely depend on the size, material, brand, and design. I do recommend a well-known brand that consists of good quality materials. You will also need to consider the installation of the lawn edging which may cost extra. Lawn edging in plastic can mimic the look of brick, stone, and wood and can be a much more affordable option than the latter.
Colors – You can get lawn edging in many colors, rocks, bricks, and even metal can be stained or colored, and wood in turn. However, as you will see, most options are more natural colors that blend in well with your garden.
Materials – Landscape and lawn edging can consist of various materials such as brick, stone, wood, and plastic. Bricks are elegant, durable, and long-lasting. Plastic is more affordable, comes in many styles and colors, and is more flexible. Concrete is simple and durable, and wood is affordable and ore organic in appeal. Stone is also a good natural and durable, weather-resistant option.
---
Features of a Good Lawn Edging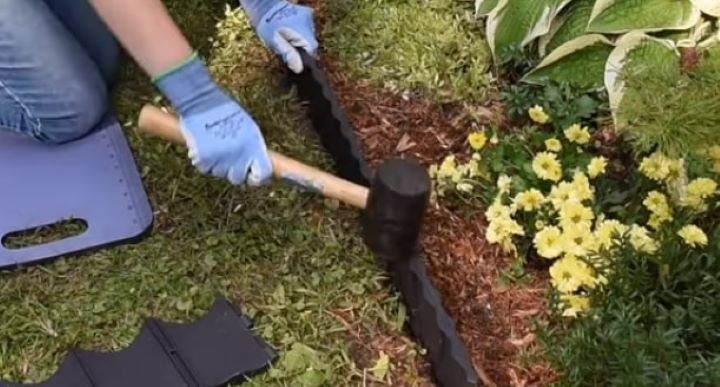 Rocks – Rock edging is a more natural design that also makes a great decorative edging. You can get rock design edging in plastic, cement, and genuine rock options.
Wood – Wood edging also has a more natural touch. Cedarwood is mostly used for lawn and garden edging. It is affordable but not as durable as options such as metal and plastic. However, wood edging can be treated to be more durable and weather resistant.
Metal – Metal such as aluminium or steel can likewise be used as a metal edging. It may not look natural, but it will last for years and is your most durable and weather-resistant option.
Brick – Bricks also make great edging options for your lawn or garden. You can use regular bricks or use plastic bricks that are more lightweight and look similar to bricks.
Plastic – Plastic is quite durable, weather-resistant and will not deteriorate when wet. Plastic can be colored, painted, and formed into various finishes that look natural. Plastic edging can be in the form of bricks, stones, rocks, and even wood.
---
How We Test and Score Lawn Edging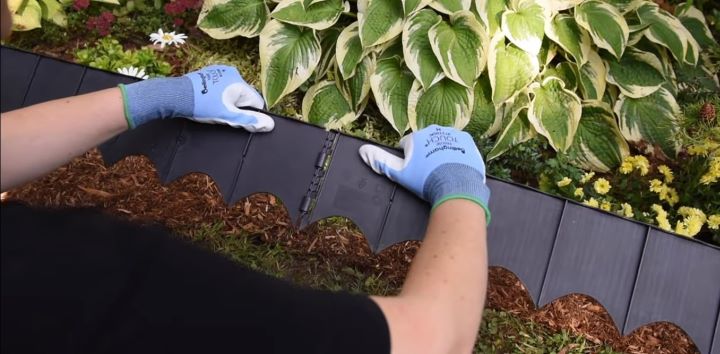 These reviews are based on intense research, analysis, and feedback from our experts and real users from different digital platforms.
We spent 33 hours trying, testing, and scoring these Lawn Edging for key parameters and then shortlisted the best products in the market, saving you time and effort.
We used the following parameters for our tests and analysis.
Lightweight – We observed if the products feel light on the body or cause any fatigue.
Durability – We researched how long users can use these products without any reported changes in their quality or design.
Rust Resistant – We analyzed how effectively the products can resist rust.
Easy Installation – We noted how easy it was to install with the different products we tested.
Maintenance – We researched how long users can use it without any reported changes in the quality of the product.
---
Frequently Asked Questions (FAQ) Regarding Lawn Edging
---
Reviews: The Best Lawn Edgings
Here are some of the best available lawn edging designs and models;
We hope you love the lawn edgings we recommend!
So that you know, We may collect a share of sales or other compensation from the links on this page.

---
1
The Argee RG840S is a lightweight plastic lawn edging in a brick design.
It is durable and contains solar lights in the bricks.
The lawn edging looks like red bricks with solar lights but consists of durable and weather-resistant plastic.
It has a 40-foot brick path design and can be laid in a curve.
| Rating Category | Weight % | Score |
| --- | --- | --- |
| Lightweight | 35% | 100 |
| Durability | 25% | 100 |
| Rust Resistant | 20% | 100 |
| Easy Installation | 10% | 95 |
| Maintenance | 10% | 90 |
| Total Score | 100% | 98.5 |
---
2
The Deflect-O is a cedar wood lawn edging that is 10 inches.
It has a ten by 6-inch design and is made in North America.
Ideal for defining and protecting hardened beds and landscapes.
Flexible and easy-to-use design.
It consists of natural and genuine cedarwood.
| Rating Category | Weight % | Score |
| --- | --- | --- |
| Lightweight | 35% | 100 |
| Durability | 25% | 100 |
| Rust Resistant | 20% | 95 |
| Easy Installation | 10% | 95 |
| Maintenance | 10% | 90 |
| Total Score | 100% | 97.5 |
---
3
The Dimex lawn edging has a lovely stone look.
The edging is Easyflex, and no digging is needed design.
It consists of a durable and all-weather plastic that is colored and shaped to look like stones,
You get a full kit with everything that you need for full installation.
| Rating Category | Weight % | Score |
| --- | --- | --- |
| Lightweight | 35% | 100 |
| Durability | 25% | 100 |
| Rust Resistant | 20% | 90 |
| Easy Installation | 10% | 95 |
| Maintenance | 10% | 90 |
| Total Score | 100% | 96.5 |
---
4
From Gardzen, we have galvanized steel lawn edging.
The lawn edging is multi-functional for lawn borders, patio, walkway, and garden bed borders.
It consists of a durable galvanized steel iron that is rustproof and very strong.
The lawn edging is easy to install and comes with everything you will need.
---
5
Another addition from EasyFlex is the aluminum lawn and landscape edging.
The Lawn edging has a flexible and durable aluminum design.
It will not crack, rust, or rot over time, even in inclement weather.
It is permanent and almost completely maintenance-free.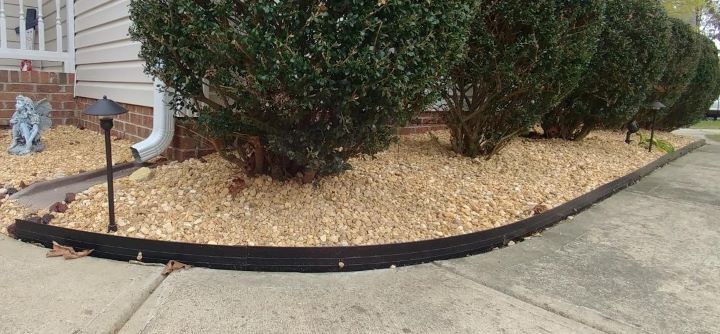 ---
6
The Ysisly is a lawn fence and edging in one design.
It has interlocking design borders and comes in 20 grey blocks.
The edging looks like stones and consists of a slim plastic design.
It is slightly higher and can be a short fence or border for hedges and trees.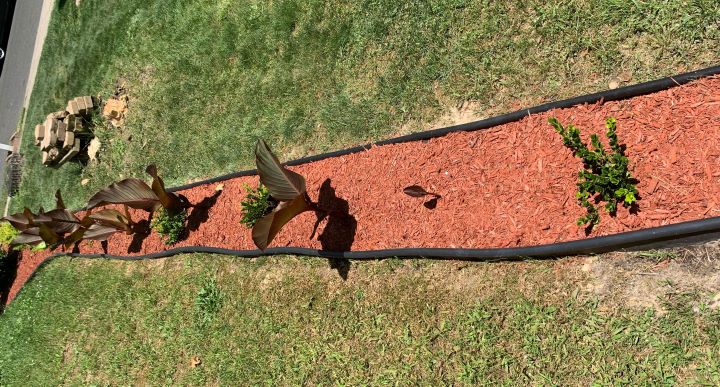 ---
7
From Amazon basics, we have flexible lawn edging.
You get the full kit for installation.
The lawn edging consists of high-density polyethylene (HDPE) plastic material.
It comes in a neutral black color.
---
8
The EasyFlex lawn edging looks great and is easy to use.
It comes with anchoring spikes and has a lovely stone look.
There are more options available.
The lawn edging is durable and weather resistant.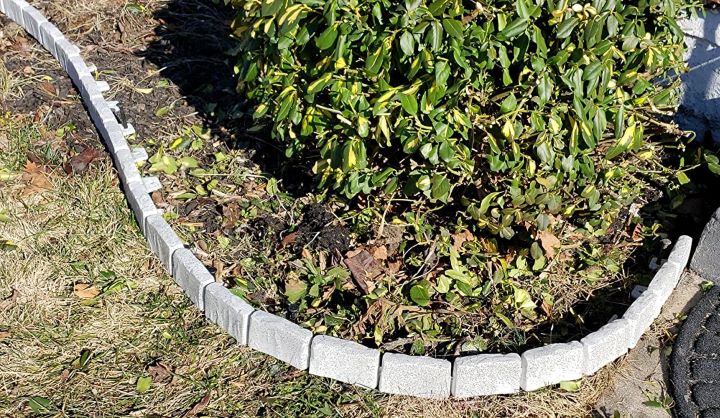 ---
9
The Master Mark Lawn edging is ideal for your lawn.
It is an edge and grass barrier with a spiral design.
The edging is wood and comes with stakes.
It looks appealing and is functional.
---
10
The Pure Garden Lawn edging is very easy to install.
There are three neutral colors available.
The Lawn edging is durable and works well around curves and bends.
It resembles stone but consists of plastic.
---
Index Table: Top Rated Lawn Edgings
---
---