If you are one of those gardeners who are usually reluctant to put away your gardening gloves when it's wintertime, then this article is for you.
Chilly days and cold nights do not need to limit your planting and growing if you have the best greenhouse heater.
A greenhouse heater can help you get through the cold season without sacrificing any of your beloved plants or your gardening hobby.

---
Why Do You Need to Heat Your Greenhouse
Before we get into the specifics of greenhouse heaters, let us first examine the greenhouse and how it works.
The Greenhouse is a way to create a microclimate that is different from the climate outdoors so that you can grow more delicate plants that may be native to warmer areas than where you live.
When you understand this principle of keeping certain temperatures in your greenhouse and managing light and airflow, you will know how important it is to have a greenhouse heater.
The Greenhouse forms an enclosed environment that usually has translucent materials so that the suns electromagnetic rays can enter
and raise the temperature inside the greenhouse without the heat escaping.
The Concept of a Greenhouse heater was introduced in Korea in the 1400s, where they realized that they could add to the sun's heat and have so many more growing possibilities in their greenhouses.
---
Heating Your Greenhouse
You can choose to use more natural ways to heal your greenhouses, such as having a compost heap or using the heat from a fire with a wood stove or similar elements, or you can opt for an electric or gas-operated greenhouse heater, which may be a bit easier and safer in the long run.
By reducing the ventilation in your greenhouse during winter, you can also increase the heat.
Yet using a general heater is not the best idea or the safest. Rather invest in a proper heater designed specifically for greenhouses.
There are a few heater types that you can use for your greenhouse;
Gas Heater – Many greenhouse heaters are designed to operate with propane gas. This is a safe and easy method of heating your greenhouse if you do not have an electrical outlet available.
Wood Stove – Small wood stoves are also used to heat greenhouses, and if you have firewood readily available, this is a more sustainable and energy-efficient way to heat your greenhouse. However, wood can become expensive, and you will constantly need to refuel the oven. This type of heating is also more dangerous and unpredictable.
Electric Heater – The Electric heater, especially the ones with a built-in fan, is your safest and best option as they also promote healthy airflow. The electric heater will need an outlet for electricity to operate. This is a more modern and advanced method of heating your greenhouse with more safety and control features. 
---
Features of a Good Greenhouse Heater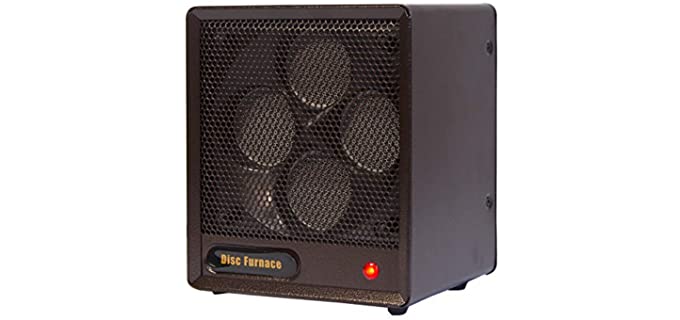 Type of Energy Source – The heaters that we will be reviewing in this article today all run on either electricity or propane gas. Both are great options that are safe, easy and cost effective to use.
Placement – The size, design, and shape of the heater will largely depend on where you want to place it. We will be discussing floor standing, mountable, and tabletop standing heaters.
Accessories – Many additional accessories for a greenhouse heater, such as a circulation fan that improves airflow, and thermostats make the content and managing the heat and air inside your greenhouse so much easier. A proper LED Display system and monitor are also desirable that warn you when the heat is not up to standard.
Durable Construction – In general, your greenhouse heater needs to be a real workhorse as it will be running throughout the wintertime to keep the temperatures up. Make sure that the design is of good quality and sturdy enough. Look for a metal or stainless steel heating box and ceramic heating elements, much better quality. Also, always look at quality brands and the warranty that they offer.
We hope you love the products we recommend!
So that you know, We may collect a share of sales or other compensation from the links on this page.
---
Reviews: The Best Greenhouse Heaters
---
1
The Dr. Heater is a propane gas-operated greenhouse heater.
It has a steel, plastic, and nickel housing design.
The heater is operated with 4000 to 9000 BTU radiant gas-operated heaters.
It can cover larger spaces of up to 225 square feet.
---
2
The Inkbird ITC-308 is a Digital temperature-controlled Greenhouse heater.
It is a straightforward plug-and-play design with no installation hassles.
There is a dual-display window that displays the measured temperatures.
There is a buzzer alarm when the temperatures are over or under.
It is extremely safe with an 1100 watt output and proper temperature calibration.
---
3
the Dr. heater Greenhouse heater uses Infrared technology and is a versatile and lightweight heater.
It is a 1500 Watt heater with only one set.
The IPX4 structure is protected against water and other elements.
It can cover 150 square feet for heating in the greenhouse or garage area.
The heater is deficient in maintenance and easy to use.
---
4
The Bio Green Greenhouse heater is floor standing and can cover large areas.
It has a full digital thermostat and an approved external sensor cable to measure ambient temperature in your greenhouse.
The housing is a very durable and rustproof stainless steel with quality construction.
It is engineered for heating a greenhouse, storeroom or shed, and garage.
---
5
The Comfort Zone PowerGear Greenhouse Heater comes fully equipped with a pivoting cradle base.
It has a 1500 watt powerful ceramic heating element.
There are two heat settings and a fan with a top-mounted control panel for your convenience.
The design is durable and well constructed.
It offers wide heat distributions and is very safe to use in general.
---
6
The Comfort Glow Greenhouse heater features Ceramic Disc Heaters and a Durable steel Box.
The 4 ceramic disc heating elements give off plenty of heat for larger and medium-sized greenhouses.
The brown colored box consists of very durable, sturdy steel.
The design is safe and reliable with an external ambient.
---
7
The Dr. heater is a Hardwired multipurpose heater for your greenhouse.
It is a heavy-duty 240V design.
UL/CUL listed for wall and ceiling mount ability.
There is also a fully adjustable thermostat.
---
8
The Comfort Zone Portable greenhouse heater is smaller and more compact.
The design easily stands on the ground or on a table.
It is lightweight, durable, and portable.
The heater has an adjustable thermostat that offers precise control.
---
9
The Palram greenhouse Heater is gas-operated and has a 5500BTU output.
It can heat a 150 square feet area.
Ideal for a larger greenhouse.
It comes with a full digital thermostat.
---
10
The Texsport deluxe is a heater attached to a large gas tank.
The design is safe and ideal for larger greenhouses.
It is a Steel reflectors heater with a safety grid attached to a large gas tank.
There is a durable ceramic burner for increased heat radiation.
---
Index Table: Top Rated Greenhouse Heaters
---
---