Some of the links in this post are affiliate links. This means if you click on the link and purchase the item, I will receive an affiliate commission at no extra cost to you. All opinions remain my own.
If you love having your greenhouse but hate having to build it yourself or do not have the funds, then the answer to you is the best greenhouse kit.
A greenhouse kit is a full kit you purchase and set up with shelves and everything you need for your greenhouse.
It is simple, easy, affordable, and a great way to start your greenhouse.

---
---
Choosing the Best Greenhouse Kit for You
But before we get onto purchasing that greenhouse kit, let us first determine what type of kit will work best for you and some considerations you will need to take to find the most suitable and quality option;
Available Space – Are you a starter grower or a more professional long-term grower? There are more advanced kits available and more user-friendly kits for beginners. It is also better to start small when you are a beginner grower. Then again, you need to consider the space available to you, as well as if it will be an indoor or outdoor greenhouse. Greenhouse kit s come in very large, to more medium, and very small compact sizes that cater to every need and space availability.
Growing Space – Then you need to look at growing space. What are you going to be planting, and how much of it? The size and shelving that your greenhouse kit provides need to cater t the sizes of your pots and pans and the amount you will be growing.
---
Why a Greenhouse Kit is better Than Building Your Own Greenhouse
Then, all in all, I want to explain why it is better to invest in a greenhouse kit rather than build your own.
For professional growers and farmers, it is more cost-effective to build their own greenhouses because of the growth on a large scale.
On the other hand, for a hobbyist or someone that just wants to plant a few flowers or vegetables, and for beginners, purchasing a ready kit is much more affordable, time, and effort efficient.
Cost – If you are using recycled materials and old pieces of equipment and materials lying around, you might get away with building a greenhouse, well, a basic design greenhouse, for that matter, for cheaper. However, for something a bit more advanced with shelving and buying everything new, it will be much cheaper to buy a full kit that tries to build it yourself.
Design Flexibility – Building your greenhouse kit gives you small change flexibilities, such as moving around a window, door or shelving, or adding on to it, which with very few greenhouses are doable. However, with a greenhouse kit, there is not much flexibility for change.
Stamped Engineering – Depending on where you live, you may also need an engineer's permit and a stamp before you can set your plans for building your own greenhouse in motion. With a purchased greenhouse, you will not need any of these.
Time – Building your greenhouse takes time and much effort and will end up in a long wait before you can get to gardening. A greenhouse kit sets up quickly and easily, all you need is half a Saturday afternoon, and you are ready to plant!
Warranty – A greenhouse kit comes with a quality warranty. Whereas building your greenhouse comes with no guarantees or warranty.
---
Features of a Good Greenhouse Kit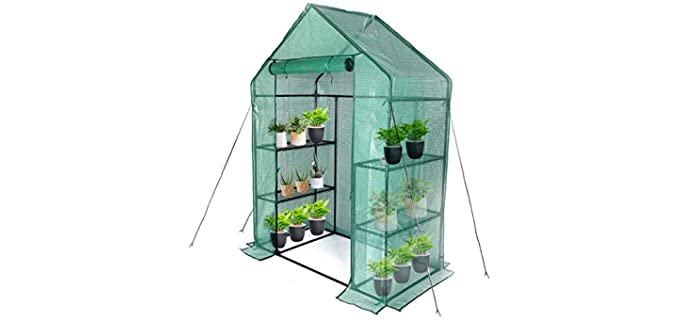 Heating – The main reason behind a greenhouse is to keep up temperatures for plants that need higher temperatures than where you live. It needs to be properly set up and insulated to offer proper heating in airflow.
Guttering – You can look for a kit with a guttering system or set up your one to catch rainwater for reuse.
Vents – Because of the high temperatures in a greenhouse, you will need proper vents to allow some hot air out and cool air in for proper temperature regulation. Could you make sure that your greenhouse kit has a proper ventilation system?
Structure – Make sure that the greenhouse structure, which is the poles, tubes, and shelves, consists of durable materials and is sturdy enough to hold up the greenhouse, even in inclement weather conditions.
Closure – Most greenhouses come with roll-up doors that have a durable zip closure system.
---
Reviews: The Best Greenhouse Kits
---
1
From the Ohuhu store, we have a large walk-in design full greenhouse kit with everything that you need for easy installation.
It is warm and well-ventilated with a roll-up zip-closure door.
The frame is sturdy and reliable with heavy-duty rust-resistant tubes.
It is large with 12 shelves that are wired, six on each side.
---
2
This smaller three-tier greenhouse kit is ideal for indoor and outdoor use.
There are three tiers and eight shelves with a plastic cover that has a roll-up door with a zip closure.
The structure is robust with steel pipes, and there is a PE plastic cover.
It is a comfortable walk-in design that is very easy to use and even easier to assemble.
---
3
This smaller, more portable greenhouse kit is ideal for indoor and outdoor use.
There is a green or clear color option available from which you can choose.
It consists of eco-friendly and durable Pe materials.
It is water and corrosion resistant as well as weather and chemical resistant.
The structure is very sturdy and reliable, with high-quality tubular steel pipes.
The unique design has a roll-up zipper door and is easy to assemble.
---
4
the Home Complete Walk-In Greenhouse Kit is a more spacious outdoor design.
It has 8 sturdy shelves with plenty of room for pots and trays.
It is a versatile design that can be used indoors or outdoors.
Very easy to assemble with no tools or extras required.
You can use it in all seasons with the walk-in design.
---
5
From BestMassage, we have a small-sized portable greenhouse kit that is ideal for indoor and outdoor use.
It is straightforward to set up and comes with all the hardware and tools that your need.
It is a walk-in design that has eight wired shelves and three tires on each side of the greenhouse,
The Greenhouse has heavy-duty powder-coated steel used for the frame, and the cover is a Polyvinyl Chloride with zip closures.
---
6
If you are looking for something small and have limited space, or an apartment home, then the Quictent is just what you need.
It is a small collapsible pop-up design greenhouse with fiberglass poles.
It consists of eco-friendly materials and is extremely easy to set up.
There are size stakes provided that help to strengthen the tent,
Four large zip closure doors roll from the upper part.
The Overlong cover design effectively protects the pant growth, making the greenhouse more airtight and secure.
---
7
The Veikou is a walk-in greenhouse.
You get a full kit and manual for set up.
It has a heavy-duty metal frame and polycarbonate sides.
There is an adjustable roof vent and sliding door.
---
8
The Sincalong is a large outdoor greenhouse.
It is portable and heavy-duty.
The frame is galvanized steel, and it has a walk-in design.
There are roll-up windows and a zippered roll-up door.
---
9
From Hanience, we also have the perfect greenhouse.
It is a walk-in design with four tiers.
The greenhouse is ideal for indoor and outdoor use.
It has a PE cover and a roll-up zip door.
---
10
The Palram Greenhouse is a Hybrid design hobby greenhouse.
Polycarbonate twin roof panels to block UV rays.
The side panels are clear polycarbonate.
The frame is lightweight and durable aluminum.
It is also fully wind resistant.
---
Index Table: Top Rated Greenhouse Kits
---
---