Some of the links in this post are affiliate links. This means if you click on the link and purchase the item, I will receive an affiliate commission at no extra cost to you. All opinions remain my own.
One of the most favored and very necessary, and convenient greenhouse accessories is the greenhouse potting bench.
This is a structure that you can work on as well as place or display potted plants.
This structure comes in many shapes, sizes, and materials, so it is important to get one that works for you specifically.

---
What is a Greenhouse Potting Bench
A potting bench is sometimes also referred to as a gardening table.
In general, it is a working table where you perform smaller gardening tasks such as planting seedlings, potting plants, re-planting smaller pants, and many other tasks involved in your greenhouse.
However, with technological advancement today, potting benches have become so much more than just an actual work table. You get potting benches that also have display shelves, potting benches with a tap and sink, drawers, shelves, and even hooks for hanging your tools on.
All in all, as a grower, you will come to notice that a good potting bench is an absolute necessity for our greenhouse or even just a gardening area.
---
Choosing the Best Greenhouse Potting Bench
When choosing the right potting bench, you will need to look at your personal preference and also what you need in relation to the space you have available.
What Materials are Best for a Potting Bench – You get potting benches in wood, plastic, and metal. Keep in mind that the potting bench will spend most of its time either inside or outside of your greenhouse. There will be sunlight, rain, wind, and in some areas, even snow. The Whiteriver material you choose will need to be able to withstand all these elements as well as wear and tear. Cedarwood is a popular choice for outdoor work Bench, as well as steel and some metals that are rustproof or coated. Plastic is also a good weatherproof and affordable choice.
Designs in Potting Benches – Most potting benches will just be a table with a top-shelf. However, you do get designs with a sink, drawers, and more shelves for display. As you will see from our list, there are quite a few designs. The main aspect is that you need a proper workspace to perform small gardening tasks on, that is suitable for your needs.
Prices of Potting Benches – Potting benches for a greenhouse vary in price according to materials and size. The ones with more accessories that are larger and wood potting benches are usually the most expensive. Plastic is much cheaper, and metals are also a bit cheaper.
---
Features of a Good Greenhouse Potting Bench
Choosing a good Greenhouse bench that has the right structure, design, size, and materials may be quite a formidable task.
You will need to decide on the specific objectives of your greenhouse before you actually invest in a greenhouse bench. You will need to know how big your plants will grow and space you will need on this bench, along with any other additional features that may be required.
Here are some features to look out for;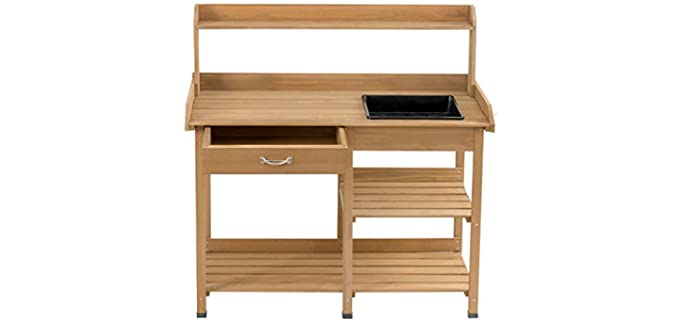 Bench Type – There are so many different potting bench types available with shelves or without. You need to decide on your specific needs and what type of style you are looking for. You get more secure permanent structures that are durable and sturdy and usually larger and heavier. Then you get portable structures that are lightweight, smaller, or have wheels for portability if you need to move the potting bench around.
Materials – The materials of the benches also quite important as you want something that will last and that will not rt, wither, or rust. Your options include wooden benches that are usually Locust, cedar, Redwood, or Cypress wood that are highly resistant to decay. Concrete benches are another choice. They are very durable and heavy but not portable at all. Then there are metal benches that are lightweight depending on the size, structure, and metal. Metal benches can consist of galvanized or solid metals such as aluminum and steel, and some have a powder coating for rust resistance and to add color. Plastic is also an option. Although it is not always the sturdiest, it is the most resistant, durable, and usually the cheapest.
---
Reviews: The Best Greenhouse Potting Benches
These are some of the best available Potting Benches for your Greenhouse;
---
1
This is a sturdy and sizeable wooden Potting bench for your greenhouse,
It has storage and display shelves and a sink for a full workbench and display area.
Ideal for outdoor and greenhouse use.
The Potting bench consists of Fir Wood with a plastic and metal frame and attachments.
---
2
From Giantex, we have a very large five-tier Potting bench with shelves for displaying your plants.
It is a sturdy solid material rack with shelves that are very durable and heavy-duty.
The Potting bench will assemble easily and quickly with no tools required.
It is ideal for larger greenhouses.
---
3
From Buffalo Tools, we have a small and elegant styled potting bench.
The Potting Bench is a sturdy galvanized steel that is painted and weather resistant.
There are three colors from which you can choose.
It has a top display shelf and a bottom workbench.
You can use it in a large and small greenhouse.
---
4
The All Things Potting Bench is a Cedarwood material that is durable and weather-ready.
It is a Western Red color Cedarwood and is very neat and durable.
The wood has a grade A clear Grain and a sanded finish.
It is a small and compact Potting bench for your greenhouse.
---
5
Another addition from Giantex is the wood garden and greenhouse potting bench and work table.
It is a multifunctional potting bench for working on and displaying your plants.
The potting bench consists of a durable and weather-resistant lightweight wood.
It has a sturdy frame and design with open shelves and a drawer as well as hooks for hanging gardening tools.
---
6
The RMP Potting bench is a lightweight and durable aluminum structure for your greenhouse.
It is a table and workbench for display and working on.
The size is ideal for most greenhouses and outdoor organizations.
The aluminum frame is durable and lightweight, as well as weather resistant.
---
7
From best Choice Products we have the Perfect potting Bench.
It is a wood bench with a sliding tabletop design.
There is a food-grade metals sink.
There are also storage shelves.
---
8
The Furrino Tioman is the ideal potting Bench.
The bench is hardwood and durable.
It has a simple and elegant design.
Very easy to clean with a damp cloth.
---
9
The Mupater is a wood potting bench for gardening.
It has a wood design with a metal sink.
There are shelves as well as a drawer for storage.
Durable hardwood design with a lovely finish.
---
10
The Outsunny is a wood potting bench.
It is durable and allows enough space.
The bench has a below Clapboard and upper shelf.
There is also a sliding tabletop and hidden storage.
---
Index Table: Top Rated Greenhouse Potting Benches
---
---