The quality of the crops in your Greenhouse is strongly reliant on the Environment inside the Greenhouse.
Some plants prefer some or mostly shade, and others more sun. Hot summers can get very hot, and your plants may get damaged in extreme sunlight.
In this case, shade cloth for your Greenhouse may essentially come in handy.

---
Why You Need a Greenhouse Shade Cloth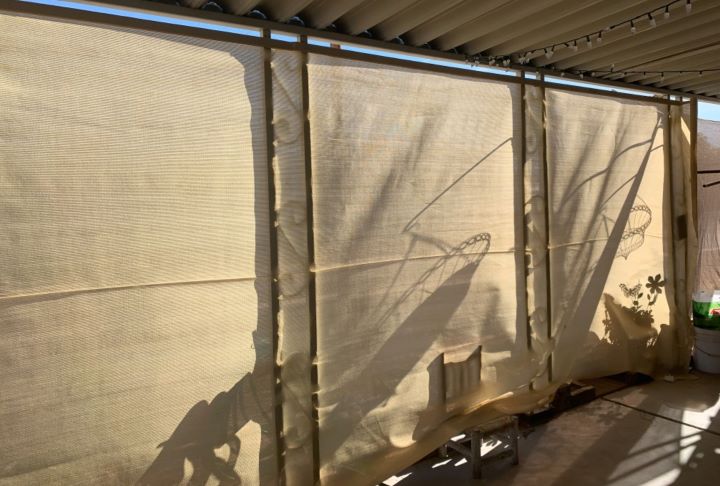 The environment you create for your plants inside a greenhouse can be described in terms of the temperatures inside the Greenhouse, the light or sun exposure, as all plants need sunlight for growth, and the humidity levels, which is the moisture content in the air for the plants.
Considering all these factors, you will need to create a specific environment for the specific plant species you are keeping inside your Greenhouse.
During very sunny and high light periods of the day, a greenhouse can easily become overheated, which can damage your plants and be difficult for you to operate in.
To solve this issue, you first need proper ventilation inside the Greenhouse, and they may need a shade net to cool the Greenhouse down slightly.
You get different types of shade nets that provide different levels of shade. Some allow half or less sunlight to pass through still, while others provide an almost complete block.
On the other hand, many shade cloths for greenhouses are also so versatile that you can use them for shading in any garden area.
It is also ideal for placing in an area of your garden or proximity to your Greenhouse where you may be standing or sitting to [perform certain Greenhouse and planting tasks, or maybe to sit down and relax.
The Greenhouse shade cloth is something versatile and multi-functional, which at some point you will need for some reason, so it is a good investment.
---
When to Shade Greenhouse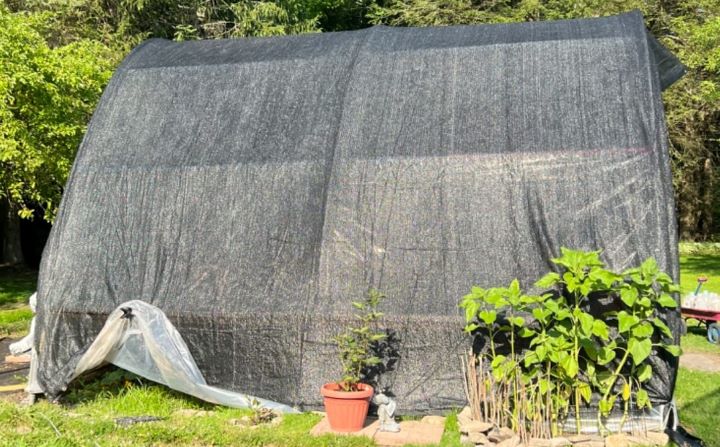 There are certain times of the year that you should start thinking about shading your Greenhouse with a shade cloth;
Spring – Temperatures start to rise during springtime, and this is the best time to start planning and getting a proper shade cloth for your Greenhouse. Although the general temperatures may not overheat during spring, you may have a day here and there getting closer to summer that may become quite hot.
Summer – During summer, especially mid-summer, you will need your shade net up and working. This is where overheating can come into play, and temperatures can rise. The extreme heat, and intense light, may not be good for your plants, especially if you live in areas where the sun can get quite hot. It may seem like an oven with these high temperatures inside a greenhouse. The darker shade net provides good relief and reduces some but not all of the sunlight and heat that gets through.
Autumn – During Autumn, you may still have a few very hot days here and there, although this is when temperatures start lowering, and the sun's light is not as sharp anymore. So you can start removing the shade net at the end of Autumn to prepare for winter.
---
Features of a Good Shade Cloth for a Greenhouse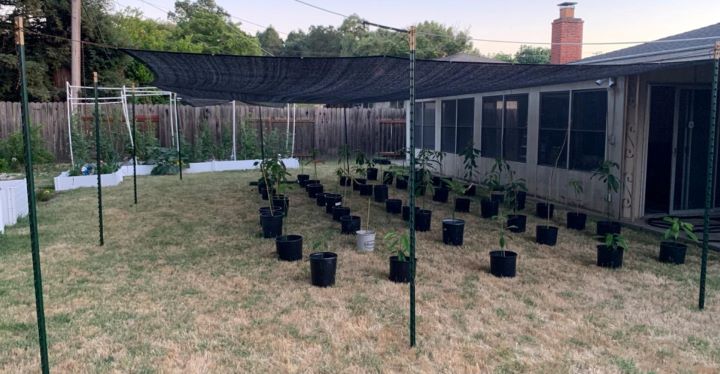 Materials – Most shade cloths for greenhouses consist of loosely woven polyester or nylon materials, some can even consist of aluminum. Most shade cloths for greenhouses are water absorbent and allow rain to pass through to keep your plants hydrated.
Percentages – As you will see, every cover model for your Greenhouse comes in different densities, allowing certain percentages of light and UV protection. There is a shade range of 30-50% coverage, ideal for vegetables, and higher 80-95% coverage which is better for sheltering and the actual person. At the same time, ranges of 40-60% are chosen for most plants, the maximum shade they need.
Types of Shade Cloths – You get woven shade cloths for greenhouses that offer better protection and knitted shade cloths that ate more lightweight and versatile n use.
---
Reviews: The Best Shade Cloths for Greenhouses
In our list, we have some of the best shade cloth solutions that are ideal for your Greenhouse;
We hope you love the products we recommend!
So that you know, We may collect a share of sales or other compensation from the links on this page.
---
1
The E and K Sunrise is a fabric Sunblock shade cloth with versatile uses.
It is ideal for greenhouse coverage and very durable.
This is a 95% coverage greenhouse Cloth that offers very high protection.
The Greenhouse Shade cloth is durable and consists of heavy-duty, durable, and weather-resistant materails.
---
2
We have a 40% black shade cloth cover from E Share for your Greenhouse.
It is a durable and lightweight polyethylene material that meshes and is designed.
The shade cloth comes with double grommets on every corner and edge for durability,
It is ideal for outdoor buildings and greenhouses.
---
3
The Shade cloth for your Greenhouse from Alion comes in a few available size options to suit your needs.
It is a 75% coverage shade that is UV resistant and very durable.
It will allow about 40% of sunlight through.
The Shade cover for your Greenhouse is lightweight and weather resistant.
---
4
The Winemanna is a 70% coverage Cloth shade for your Greenhouse.
It is also available in a few size options for all shapes and sizes of greenhouses.
The shade cloth has durable taped edges and neat finishes.
It is of excellent quality and weather-resistant, with lock stitching technology and grommets on all sides.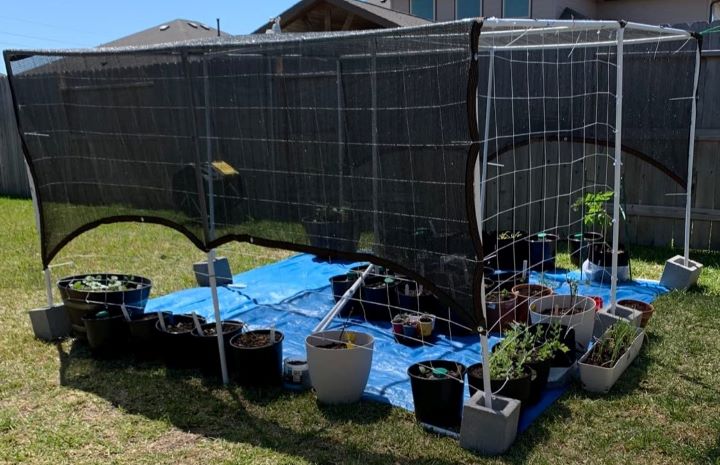 ---
5
From Love Story, we have a 12 x 12 x 12-inch shade cloth for your greenhouses.
It is a high-quality, high-density polyethylene shade fabric that is breathable and not waterproof.
The shade cloth is easy to install and ideal for a greenhouse.
Everything is included in the package that you need for assembly.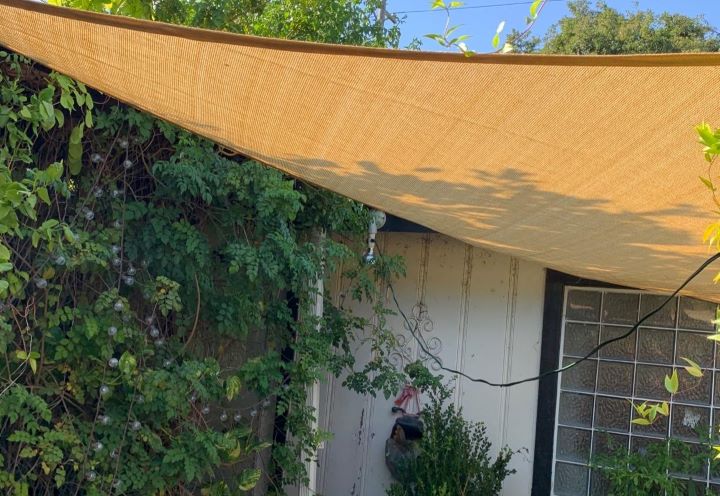 ---
6
The NUFR shade cloth for your Greenhouse is a 70% sun-blocking shade cloth.
It is a fabric net mesh that will still allow water through.
The greenhouse shade cloth is a breathable and black shade with mesh.
It comes fully equipped with everything that you need for easy assembly.
---
7
The Harvest Shade cloth is ideal for your Greenhouse.
It is green in color with grommets.
The shade cloth is meshed and has a heavy-duty design.
It is 12 by 10 feet in size.
---
8
The Winemama shade cloth is very large for your Greenhouse.
It is 20 by 20 feet in size.
Consists of a durable material with grommets and taped edges.
Weather and UV resistance.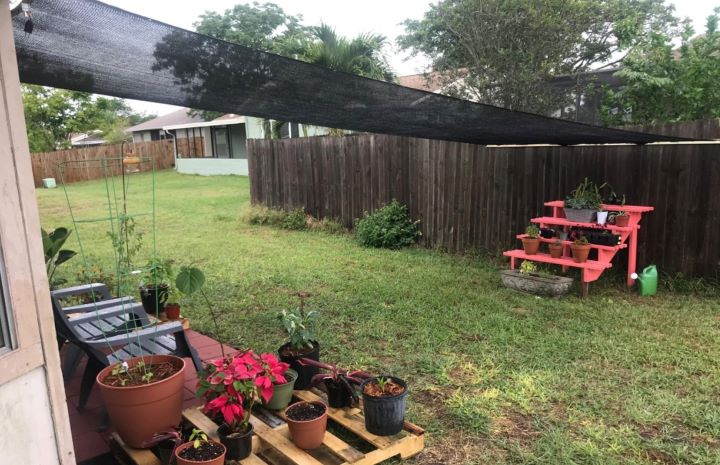 ---
9
The Cardmaker shade cloth for your Greenhouse is very durable.
It is a Net mesh and sunblock shade.
Offers excellent UV resistance and 50% sunshade.
It is ten by 5 feet in size.
---
10
The Jessy is a 70% shade cloth for your Greenhouse.
It is 20 by 50 feet and is quite large,
Comes in black and has grommets.
The material is high-density polypropylene.
---
Index Table: Top Rated Shade Cloths for Greenhouses
---
---