Some of the links in this post are affiliate links. This means if you click on the link and purchase the item, I will receive an affiliate commission at no extra cost to you. All opinions remain my own.
We all know exactly what a greenhouse is and what its purpose is. It is an environment created for your plants to thrive in that you keep outside.
However, did you know that the greenhouse is not limited to outdoor spaces but that you get some of the best indoor greenhouses as well?
If you lack space, live in a small apartment, or would like an indoor greenhouse, this article is just for you.

---
---
Why Have and Indoor Greenhouse
The Greenhouse for use indoors is the same, just in a design and size that you can have inside your house.
The main difference is that it may have a floor to protect your indoor floors from spills and wetness. Most indoor greenhouses are also much smaller than outdoor versions, so they fit inside your home.
So Why should you have an indoor greenhouse?
Controls Environmental Factors – The Indoor Greenhouse protects your pants against insects, pests, and other issues that may be found outside the building.
Counteract the Winter – You can easily keep your plants warmer and safer indoors than outdoors from extreme cold and winter elements.
Holds Humidity – the indoor greenhouse will hold humidity just as well and sometimes better than an outdoor greenhouse. So it is ideal for plants needing a more humid environment.
Better than Your Windowsill – If you are like me, that tries to keep my herbs and small plants safe and happy on a windowsill. A smaller indoor greenhouse will create a much better living environment.
Then again, many individuals lack garden space or stay n an apartment. In this case, a small stand-alone or desktop design greenhouse will add some plants to your life.
---
Benefits of Having an Indoor Greenhouse
Having an indoor greenhouse is ideal, as we have discussed, especially for persons who live in areas where they cannot have an outdoor garden. It is also versatile to have close by, especially if you grow herbs and microgreens that you need close at hand. Some indoor greenhouses can easily be placed on a kitchen counter.
Indoor greenhouses are all quite small and portable, so moving them around is easy as needed. They can be placed and assembled anywhere in your home, providing that you have the right amount of space for the size of the greenhouse.
Your plants will be well protected and much better monitored in an indoor greenhouse at the end of the day.
The indoor greenhouse is an excellent choice if you have no backyard or garden and want to enjoy some pants or even grow greens for cooking and eating.
Most indoor greenhouses will take up very little space. You get stand-alone greenhouses and desk-standing greenhouses for indoor use.
Some very small models or desk-standing models are ideal for people who live in apartments or very small homes where they do not have a garden.
Having plants around just makes a house a home, and sometimes the best option when it comes to a comfortable environment for them to grow in is to have a greenhouse.
As you will see in this article, I have included many choices in the best indoor greenhouses, of all sizes that will suit every need and preference.
---
Features of a Good Indoor Greenhouse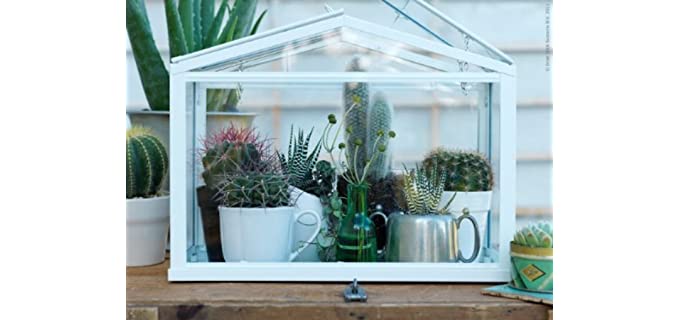 Greenhouse materials and Structure – The Frame usually consists of steel or a metal such as aluminium. The covers are polyethylene, PE materials, or plastic in a see through color.
Design and Size – Greenhouses for indoor use are usually much smaller than outdoor versions and come in free-standing or smaller desk-standing options.
Closure – Most Indoor Greenhouse will have a roll-up or zip door and/or windows for ventilation and access.
---
Reviews: The Best Indoor Greenhouses
Here is our list of the best available Indoor Greenhouses that you can get today;
---
1
The Gardman is a four-tier indoor greenhouse that is larger and more convenient.
The greenhouse comes greenhouse alone or with the option of a heating pad.
It is ideal for indoor and outdoor use where you have limited space.
The steel frame is sturdy and has a polyethylene cover and zip-closure roll door.
---
2
Here you have a choice between a clear or a green-colored greenhouse.
This is also a larger option with shelves for indoor and outdoor use.
The greenhouse has a durable steel frame, PE material cover, and a roll-up zip closure-closure door.
The unique designs come with shelves and everything you need for setup.
---
3
The Ikea Greenhouse is also durable and ideal for indoor and outdoor use.
It is a white transparent color and very durable.
There is a zip roll-up door for easy access.
The frame is sturdy metal, and there is a PE cover.
It is larger for larger homes.
---
4
The Home Complete indoor greenhouse is very quick and easy to install.
It is ideal for all seasons and comes in a regular or heavy-duty option.
There are eight shelves inside, and it is quite a substantial size.
The greenhouse is sturdy and durable, with a PVC cover and steel frame.
It also has a roll-up zip-closure door for easy access.
---
5
The Eagle Peak is a mini-sized greenhouse for smaller homes.
The greenhouses are available in two size options from which you can easily choose.
It is of exceptional quality with a green water-resistant and UV PE cover.
There are also two easy roll-up zipper doors, for ample and easy access.
---
6
From Comlax, we have a small-sized indoor greenhouse design.
The greenhouse is a pop-up assembly design that is small and lightweight, and ideal for small homes and apartments.
It is durable with elastic steel hoops and a ventilated cover.
There is also an easy access-access door, which is so convenient.
---
7
The Home Complete is an Indoor Greenhouse.
It is a large walk-in greenhouse.
There are sturdy shelves, and it is easy to assemble.
Large with eight high shelves.
---
8
From Palm Springs, you have a size choice in their indoor greenhouse.
There is a three-tier, four-tier, and two-tier option.
The greenhouse has a roll-up zip cover and door.
It is a smaller size.
---
9
The Kitchen Joy indoor greenhouse is a perfect size.
It is a mini-greenhouse for your home.
You get the full kit for use and set up.
Very lightweight and durable in design.
---
10
The OutSunny Greenhouse is perfect for indoors.
It has 2 slatted shelves that are removable.
There is an openable top.
The construction is solid and durable.
---
Index Table: Top Rated Indoor Greenhouses
---
---