If you are looking for an all-purpose and powerful cleaning device to clean outdoor patios, decks, garages, and even your car and heavy-duty appliances, then the Backpack Power washer are just for you.
It gives you the convenience of a Power washer that you can wear on your back to make for easy cleaning and convenient carrying.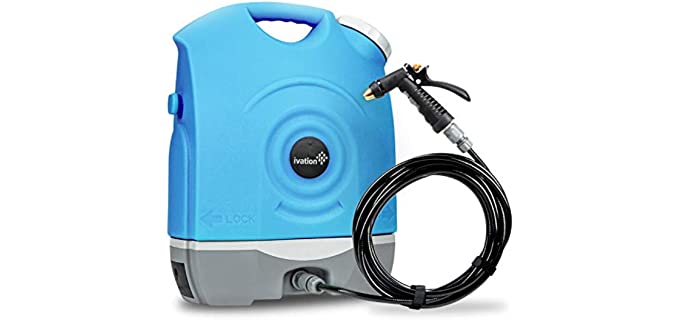 ---
Types of Back Pack Washers
You do ideally get three different types of Backpack pressure or Power washers;
Rechargeable – The rechargeable or battery-operated backpack Power washers operate with Lithium-ion batteries that can be recharged or replaced. They are fully cordless and a very handy option. However, keep in mind they are slightly heavier than electric Power washers and do not run for longer than two to three hours, depending on the mode.
Electric – Electric Backpack Power washers are very lightweight and portable. They are ideal for smaller jobs around your home and office, and they are easily carried. On the other hand, they need a power outlet and a cord that may limit yours on the range.
Gas Powered – The Gas powered Back Pack Pressure washer is much more powerful than the electric models and can run for much longer periods of time. They will need to be refilled from time to time which could get quite messy. They are quite heavy and expensive.
Diesel Power – Diesel-powered Backpack Power washers are the most powerful, and they are more suitable for large jobs and industrial settings. They can also be the heaviest and most expensive to operate in turn.
As you will see from our review section, we have mainly concentrated on the Battery operated and electric Power washer options as they are more affordable and safer to use.
---
Choosing a Back Pack Power Washer
Here are a few considerations before buying a Backpack power washer;
Cost – Good quality and name-brand Power washers will cost more, but they are likewise worth the investment.
Check Reviews – make sure to look at reviews from different individuals on the specific product so that you can get a clearer view of how well it functions.
Quality – Choose a quality product that has replacement parts available. It is always better to invest in more well-known brands.
Uses – As we have mentioned all the different types of Back Pack Power washers, some models may be more powerful than others. Mostly we will be looking at the more lightweight electric and Battery operated models that are suitable for small at home jobs or jobs around the office. If you need something more heavy-duty for larger jobs, I would advise something larger and more powerful than a backpack power washer.
---
Features of a Good Back Pack Power Washer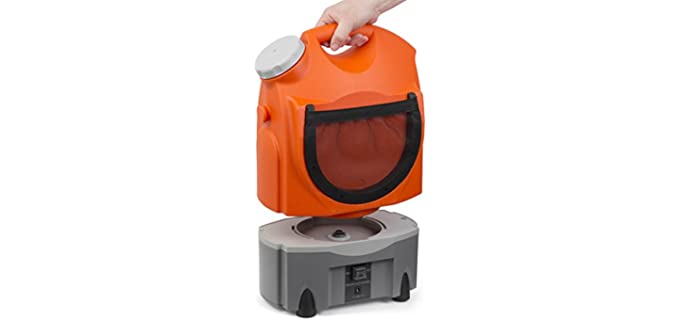 PSI – The Psi stands for the water output, which can be more or less. It also shows the pressure, which should be around 1500 for a regular pressure washer.
Tank – The water tank may have a 4-gallon or more capacity to hold water and sometimes detergents.
Weather Resistant – Many Back Pack Power washers do come with UV-Resistant pipes or parts, as well as waterproof covered electric parts.
Batteries – Most electric power washers will use a Lithium-Ion rechargeable battery that should last around two t three hours after being charged.
---
Reviews: The Best Back Pack Power Washers
In our Review Section, we have some exceptional Power washer models that are backpack designs; there is a variety of pressure and regular sprayers and washers;
---
1
The PetraTools is a 4 Gallon Battery Powered Backpack Sprayer and Power washer all in one that has a long battery life.
It comes complete with an HD wand that has a squeeze handle with a locking mechanism.
The Heavy-duty Wand is durable.
There is a wide mouth that allows for easy filling of the water filter tank that is translucent with markings to help you see the amount of water left.
The batteries are included, and there are multiple nozzles included for your choice.
---
2
The Sun Joe SPX3000 is a High-Pressure electric washer that you can carry as a backpack.
The pressure washer is ideal for cleaning cars, fences, and patios.
It is versatile for various tasks, and the tanks can store different types of detergents for different needs.
It has a Total Stop System meaning the pump automatically shuts off when the trigger is not engaged, to help you save on energy.
---
3
The Ivation Multipurpose Portable Spray washer runs on rechargeable batteries and comes with integrated roller wheels.
It has a gentler operating pressure for water spray and a continuous trigger nozzle.
The washer is durable, with a 19.6 flexible hose and a 4.5-gallon reserve water tank.
---
4
The WEN 20000 is a variable-flow electric pressure washer that is the perfect size for cleaning your car, decks, patios, and even furniture.
It has a variable flow nozzle that allows you to adjust the spray width of the water fully for your needs.
There is a 13 amp motor that blasts water at rates of up to 1.6 gallons per minute.
The Power washer has a lightweight briefcase style and an easy carry handle for carrying around as you need it.
---
5
The Ivation Portable Spray washer is a Multipurpose washer with a built-in water tank.
It has built-in rechargeable 2200 mAh Lithium batteries and a 12V car Plug.
There is a durable metal trigger Gun, and a shower and brush head are included for all your cleaning needs.
The Power washer is a heavy-duty metal design with the perfect operating pressure at 130.5 lbs per square inch.
Bonus cleaning accessories are added for your convenience.
---
6
The Flow Zone Typhoon is a 2.5 Variable pressure 5 Position Battery powered backpack sprayer with a 4-gallon water capacity.
The sprayer has a comfortable five-position dial design that has up to 115 psi settings.
It has a rechargeable 18V Lithium-ion battery that allows you three hours of continuous spraying.
The components are durable, and there is a UV-resistant hose and waterproof electrical parts.
At the highest spray setting, the sprayer can reach over 30 feet, meaning it can easily cover much larger surface areas.
---
Index Table: Top Rated Back Pack Power Washers
---
---