Billiards is a fun game that anyone, young or old, can enjoy.
Now you can enjoy it anywhere and anytime with the Mini Billiards tables that are portable and highly functional.

---
What is a Mini Billiards Table
The Mini Billiards table is usually a small billiards or pool table that is the exact replica of the large one. It comes with pool sticks, chalk, all the needed colorful balls, and a triangle and square for placing the balls.
You get two types of mini billiards tables, the larger standing billiards table that is still small and compact, as well as foldable for storage or portability.
Then you get the much smaller tabletop or desktop design mini billiards table that you can place on any tabletop or flat surface.
---
Benefits of Having a Mini Billiards Table
There are quite a few benefits to having a small and portable Billiards table;
Play Anywhere and Anytime – Because of the small and compact or portable size of the mini billiards table, you can enjoy a game anywhere and at any time. You can take it to the office, or a friend's house, go camping with it and travel with it anywhere. The very small billiards tables can even be used for children to entertain themselves in a car or in a waiting area.
Introduce the Game to Your Children – Starting off with a mini billiards table is a much more affordable and fun way to introduce the game to your kids and to entertain them with.
There are so Many Options Available – Because pool and billiards is such a popular game, so many companies offer varieties of Billiards tables in a variety of large and mini sizes. You can also select from combination tables that can be used for many other games.
What I mostly love about the Mini Billiards tables is that they also include many other accessories for playing other similar games such as Put Putt and mini-golf. These small tabletop design billiards tables are so compact and take up so little space. They are perfect for taking on holiday and camping trips and give you something fun to enjoy with family and friends when there are bad weather days or in the evenings when you have nothing to do.
---
Features of a Good Mini Billiards Table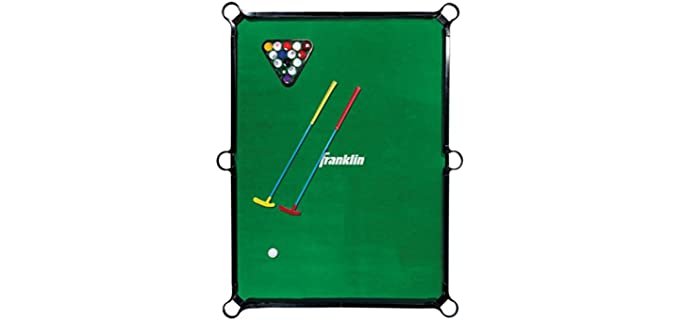 Design – The Mini Billiards tables are available in small tabletop designs as well as larger standing options that are foldable and portable.
Materials – The frame should consist of strong wood or metal, with a wood or PVC base. The balls and accessories can be plastic and other materials. The table will have a velour or polyester, or felt cover.
Games – Many of the Billiards game tables we have included also offer other games or combinations such as Putt-Putt, Pool, and many more.
---
Reviews: The Best Mini Billiards Tables
In our list we have included some mini desktop Billiards tables, as well as larger compact foldable tables;
---
1
The Hey Play mini tabletop Billiards table is the perfect design for the whole family.
You can easily place it on any tabletop or office desk for hours of fun.
The table includes game balls, sticks, chalk, a brush, and a triangle.
It is a small and portable design that comes in more options for Air Hockey and mini pool.
---
2
The Benfu Mini Billiards table is also a tabletop model that is ideal for your home or your office.
It includes a desktop Billiards game, a pool table with 15 colorful balls, two billiard sticks, and one chalk, triangle, and cube.
The Billiards table consists of durable and high-quality materials.
It comes with a convenient-to-carry design inside a neat storage container.
---
3
The Srenta mini billiards table is likewise a portable tabletop design that you can take anywhere.
It can be used on any tabletop or desktop.
The mini billiards table comes with everything you need to play pool or billiards.
It is ideal for both adults and for children alike.
---
4
The Rack Leo is a four-foot foldable mini billiard table that is freestanding.
It has an alloy steel frame and engineered wood base with a soft felt cover.
The table is the perfect portable size and is easy to fold in a carry size.
It comes with a table, pool sticks, triangle, and chalk.
The mini billiards table is lightweight yet has a heavy-duty design.
---
5
The Costzon Mini Billiards table is also a standing design that is foldable and portable.
It is 47 inches in size and has wood, PVC, MDF, and Red or Blue velvet construction.
The Billiards table comes will all accessories included for endless fun.
It folds up easily and stores quite compactly.
---
6
From rack Crux, you can choose your color and design of Billiards table from a few options.
The Billiards table is a small 55-inch foldable and portable design for your convenience and fun.
It comes as a full set game table for teens and children.
The table can be used for playing pool and billiards on.
It has rubber bumpers to protect your floors and a smooth, felt top cover.
---
7
From Ifoyo, we have another mini tabletop Billiards table that you can use at home or at the office.
The small design easily fits on any flat surface.
It offers multiple game options for pool, billiards, and for air hockey.
The Billiards table is very easy to set up and comes with all the accessories that you may need, including includes one × billiard table, one × cue, 16 × pool balls, one × triangle rack, two × chalk, and1 × table brush.
---
8
The Franklin Sports Mini Billiards table is a combination game table.
You can play billiards, pool, putt put, mini golf and other games on it.
Perfect for solo or multiple players.
The table is 6.8 feet by 5 feet in size, with a foldable and easy storing design.
You can use it to play anywhere as it is fully portable.
The Billiards table comes complete with (2) 34″ putters, (16) pool-style golf balls, (1) racking triangle, and (1) putting green playing surface.
---
Index Table: Top Rated Mini Billiards Tables
---
---