Some of the links in this post are affiliate links. This means if you click on the link and purchase the item, I will receive an affiliate commission at no extra cost to you. All opinions remain my own.
The Clip-On Chair umbrella, also known as the Clamp On Umbrella, is a very versatile design that you can use on a beach or camping chair and other items.
The Best Clip-On Chair umbrella will have a durable design, a universal fitting clip, and good sun-shielding protection against UV rays.
In this article, we will look at a few clip-on umbrella models of all shapes and sizes for you to be able to find the best one to suit your personal needs.

---
What Exactly is a Clip-On Chair Umbrella
The basic Clip-On Chair Umbrella, or as you will also see, the Clamp-On Chair umbrella, is an umbrella designed to specifically Clip-On a beach or camping chair or any other outdoor chair.
The Purpose of the Clip-on Chair umbrella is to provide shade and protection against the sun when you are seated outdoors, and it is a more affordable option than most gazebos or sun shades.
The CLI-On Chair Umbrella will have a plastic or metal frame and pole that is usually adjustable in height and has an adjustable clamp that you can attach to horizontal and vertical structures. It will have an Oxford or Polyester cloth cover, usually with a silver lining to reflect sunlight away from you.
How to Attach a Clip-On Chair Umbrella
---
Benefits of the Clip-On Chair Umbrella
Shade – The Clip-On Chair Umbrella provides Quick and Easy shade for a beach or outdoor chair.
Easy Storage and Transportation – It is compact and easily folds up for storage and portability.
UV Protection – Most Clip-On Chair umbrellas come with a UV shield or silver coating to reflect sunlight away from you.
Versatile – It has versatile uses on various chairs and can also be used on strollers, prams, and wheelchairs.
Vacations – The Clip-On umbrella is the perfect item to take on vacations with you to the beach or for camping trips; it is easily portable and highly efficient to keep you cool and protected from the sun.
Rainy Days – Should it rain, you will also be kept dry in your outdoor chair, protected by your clip-on chair umbrella.
Table Attachment – Some designs can even be attached to a picnic or small table to cover food items or to provide shade while you are eating; I would, however, suggest a lather model for this purpose.
---
Features of a Good Clip-On Chair Umbrella
When choosing the best Clip-On umbrella for chairs, you need to consider a few features to make sure you are getting a perfect size and fit for the specific purpose of the umbrella, as well as a good durable quality product and weather resistant according to your needs.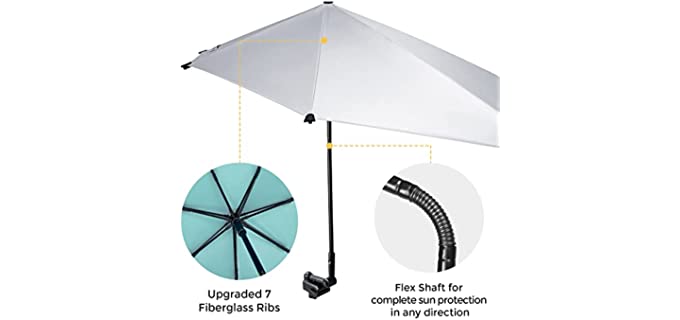 Materials – The Clamp-On umbrella may have a durable metal or aluminum frame with a weatherproof powder coating. The cover will be durable weatherproof and fully waterproof plastic or polyester; some have a reflective coating to deflect sunlight and keep you cool. Most Clamp-On Umbrellas will be UVA and UVB resistant.
Clamp – The Clamp-On umbrella will come with an adjustable clamp that can easily bend and fit on various chairs. It may have a 360-degree bendable design.
Colors and Options – most f the Clamp-On umbrella models we have chosen are available in more colors, from which you can choose as needed.
---
Reviews: The Best Clip-On Chair Umbrellas
Below you will see some of the best available designs in universal fitting Clamp -on, or Clip-On Chair Umbrellas that have a variety of uses;
---
1
The Sport Brella is a versatile adjustable clip-on umbrella that you can use on various beach chairs, strollers, wheelchairs, and many other devices.
It will adjust to any angle with a 4-way and 360-degree swivel. And two push button hinges to adjust the umbrella.
It is highly portable and lightweight, so it is ideal for traveling, vacations, and camping trips.
The Umbrella is likewise available in more colors. You can choose as needed.
It offers full SPF 50+ protection for your convenience and safety.
---
2
The Versatile umbrella offers maximum protection against the sun's harmful rays and the wind and is fully waterproof.
The umbrella comes in various fashionable colors and options to choose your favorite.
It is a high-quality double-layered umbrella that has a reverse folding design.
There is a C-Grip handle and easy clamp that fits a variety of chairs, making it extremely convenient.
---
3
The Ammsun Chair Umbrella has a universal fit clamp for multiple uses.
It offers excellent UPF50 + sun protection, with an Oxford cloth to keep your skin safe.
The umbrella is very stable and durable, with eight steel ribs and a steel pole.
It is extremely lightweight and easily portable for vacations, camping trips, and many other uses.
---
4
Here we have another very versatile Clamp-On Umbrella for a chair and many other applications.
The Umbrella is 55 cm in height and 80 cm in diameter with a 31 cm clip height.
The clip at the bottom allows easy and convenient connection to many folding chairs, prams, strollers, and even wheelchairs.
It has 360-degree adjustability in any direction.
The fabric umbrella provides durable UV protection and consists of high-density waterproof polyester.
---
5
The G4Free is a highly protective clip-on umbrella for all types of chairs.
The Umbrella offers UPF 50 + UV protection with a silver layer of fabric coating that reflects heat to keep you cool.
It has a 30% larger design that is still easily foldable and ideal for transporting.
There is an updated adjustable clamp that you can use to bend in any direction.
The Umbrella comes with a one-year warranty for quality and convenience.
---
6
The Siaa is a Clamp-On Shade umbrella that is easily transported and lightweight.
The umbrella is fully winded and rainproof and offers excellent UVA and UVB protection.
It can be used on chairs, strollers, prams, and wheelchairs for full protection.
Overall, this is by far one of the most versatile Clip-on chair umbrellas that have a universal fit for many items.
The cover is a durable polyester with a silver coating reflecting sunlight to keep you cool and comfortable.
---
Index Table: Top Rated Clip-On Chair Umbrellas
---
---