A small sprinkler system at your home to water small lawn areas or even gardens can be a good investment to add to the value of your home and convenience and keep your garden in good shape.
The best Sprinklers for a small lawn come in many designs and options, and we would like to explore a few.
---
---
Benefits of a Sprinkler System


A sprinkler system for your lawn or garden holds so many benefits;
Environmentally Friendly – Since a sprinkler continuously sprays water, it may seem like a waste. However, most new technology sprinklers have timers, water gauges, and moisture sensors that limit the amount of water you use so you do not overwater. It is much more environmentally friendly and regular than traditional hand watering. Healthy turf, in turn, helps to absorb atmospheric pollutants such as carbon dioxide, sulfur dioxide, and other greenhouse gases. A healthy lawn generates a deeper root system that also prevents erosion and runoff, which prevents water waste. Lawns provide a cooling effect that helps to keep the home cool, which reduces the need for an air conditioner.
Financial Benefits – A well-watered and cared-for lawn can surely take its toll on your wallet. Regularly watering your lawn and garden keeps it healthy and reduces the need for replacing lawn areas and plants that have died. Most sprinkler systems have tiers and settings that allow regular water and reduce overwatering, so you will not have a hefty water bill at the end of the month.
Even Watering – A proper Sprinkler will evenly water your lawn and garden. The entire area will get sufficient watering. You can move the sprinkler from one area to the next so the entire lawn is watered properly.
Convenience – Sprinklers, even for a smaller lawn, are extremely convenient and time-saving for you, especially advanced sprinklers with timers and sensors. The sprinkler saves you from standing for hours watering your lawn. Now you can spend your time on more important issues.
Preserves Nutrients – A well-watered lawn will not lose needed nutrients. In turn, the softer spray of a sprinkler will not result in runoff and damaging soil and small sprouts like the hard spray of a watering hose.
---
Considering a Lawn Sprinkler

Here are a few aspects to consider in sprinklers for a small lawn;

1. Ensure you water your lawn properly, deeply, and less frequently than daily. Most sandy soils dry out very quickly.
2. Your lawn needs one inch of water every week. However, you can water it twice a week.
3. Try to use a rain gauge to keep track of the amount of water emitted from the sprinkler.
4. Run the sprinkler for 30 minutes and then check the rain gauge to understand how much water was used.
5. Oscillating and fan-type sprinklers are ideal for larger and square lawns, while a sprinkler that sprays a small, concise, square area is ideal for small lawns.
6. A rotary sprinkler has spinning arms that throw water in a circular pattern, while a pulsating sprinkler has a spike for easy installation and throws a 360-degree spray at any angle.
7. You must attach a coupling end to the garden hose to quickly attach and detach the garden hose from the spray nozzle.
8. Make sure to water your lawn in the evening after the sun has set or very early in the morning to prevent the sun from evaporating the water.
9. Sprinklers with timers are ideal for saving water.
10. You can also get inground sprinklers permanently installed in the ground.
---
Features of a Good Sprinkler for a Small Lawn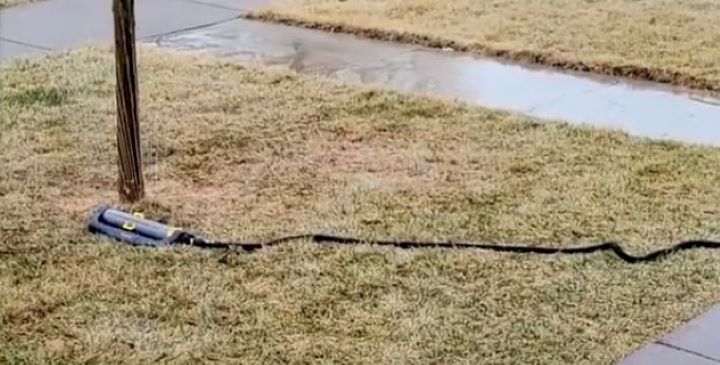 Materials – Durable aluminum housing construction Rust-proof aluminum housing Durable metal housing Durable ABS plastic housing
Spray – Maximum control of spray area width Micro-adjustment of the spray pattern Oscillating spray up to 4,000 sq. ft. area Adjustable for targeted watering Multiple sprinkler hook-up option for larger areas Rotating spray covers a large area Gentle but soaking spray pattern Coverage area adjusts with water volume
Extras – Quick-Connect adapter included
Design – High-quality drive mechanism for long lifespan Leak-free design Compact and light multi-use in garden and yard Allows for multi-sprinkler hook-up on one hose Easy to move and set up3-arm rotating sprayer
---
Reviews: The Best Sprinklers for a Small Lawn
---
1
From Rocky Mountain, we have a metal Oscillating lawn sprinkler.
The sprinkler has a rust-proof aluminum base and 4.100 square feet covering range.
It is easy to adjust and change the range of the spray.
There is a built-in spray jet cleaning needles, and it has a heavy-duty design.
---
2
The Melnor sprinkler for smaller lawns comes in a variety of design options.
It is a MiniMax turbo oscillating sprinkler with a QuickConnect product adapter watering set.
The sprinkler has four-way adjustment settings for watering exactly where it is needed,
The Infinity turbo drive motor provides smooth and even operation.
---
3
The Gardena is the ideal sprinkler system for a smaller lawn.
It is affordable, small, and very efficient.
The sprinkler is placed on a spike ad with a maximum 1000-square-foot coverage area.
There is a 36-foot maximum diameter of spray for the sprinkler.
---
4
The Madeking is an ideal sprinkler system for a smaller lawn or garden.
It has an automatic rotating and adjustable system that covers a large or small area.
The sprinkler system has a leak-free design and is extremely durable,
The design has three arms for spraying water, and you can adjust and rotate the sprinkler as needed.
---
5
The Yooy is a metal Circular spot sprinkler for smaller lawns.
The sprinkler has a 360-degree design with a circular spot sprinkler to water small and medium gardens and lawns.
It is very durable and has a low-pressure design to save water,
The sprinkler consists of heavy-duty and rust-resistant metal.
---
6
The Melnor AMZ is a Pulsating sprinkler ideal for smaller areas that need watering.
It can water a diameter of 85 square inches easily.
The sprinkler is durable and has a metal rustproof head design.
The base is also a sturdy metal.
The sprinkler comes with a QuickConnect adapter and requires a QuickConnect product end Connector that is sold separately.
---
7
The Hourleey is a metal sprinkler for small lawns.
It is a 360-degree sprinkler that has a circle pattern.
Ideal for up to 30 feet of garden or grass.
The sprinkler is durable and reliable.
---
8
The Melnor MiniMax is the perfect small lawn sprinkler.
It is a Turbo oscillating design with a quick-connect adapter.
The sprinkler has a four-way adjustment for quick setting.
It comes with an adapter.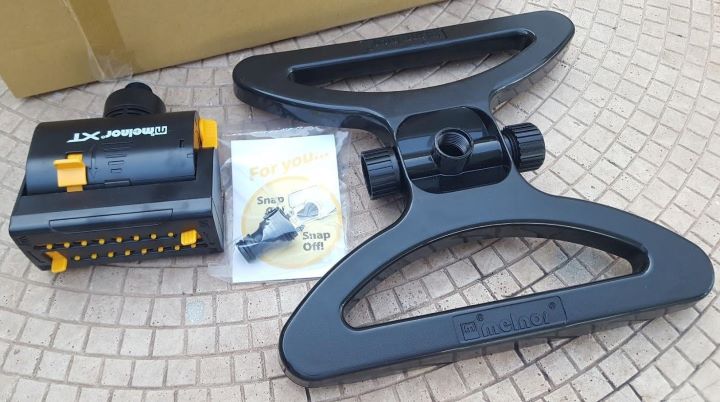 ---
9
The Styddi is a Turret sprinkler for small lawns.
The sprinkler has an 8-pattern spray.
It is ideal for small to medium lawns.
There is a heavy-duty metal base and eight pre-set patterns.
---
10
The Gilmour is a small lawn sprinkler with a compact design.
It is ideal for up to 30-meter diameters.
The sprinkler has a durable metal construction.
It comes with a three-year warranty.
---
Index Table: Top Rated Sprinklers for a Small Lawn
---
---