The Wired Doorbell Chime works with a cable that has a power point inside your home.
It is an old-fashioned doorbell design that many individuals still favor.
There are many styles and designs of Wired Doorbell Chimes today, with some lovely old-school tunes you can choose from.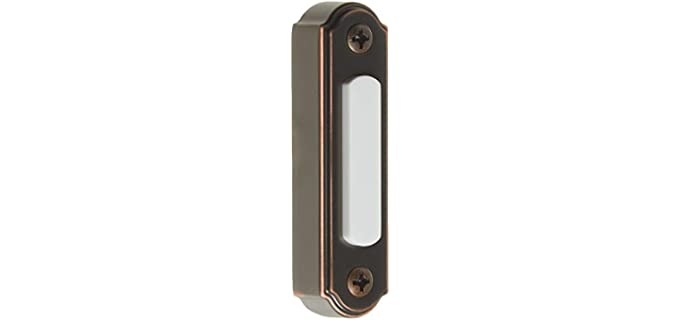 ---
How do You Install a Wired Doorbell Chime?
If you like the idea of a wired Doorbell Chime, you will need to feed electrical wiring through your walls to operate the Device.
You will need to drill holes for the wires to pass through and mount the Doorbell receiver, or button on a wall, on the outside by your entry doors or gates, with the speakers mounted indoors where you will be able to hear them, having the wire running along the wall through the drilled holes.
You will need to wire the doorbell wiring into a transformer near a circuit breaker box to ensure an adequate amount of voltage goes to the doorbell to function.
A transformer is an affordable and small Device that will come with your doorbell or that you may need to purchase separately.
Once you have installed your Hard-Wired Doorbell, you can move or extend it without having t drill any more holes.
---
Some Considerations Before Choosing a Wired Doorbell Chime
Before you choose your favorite Wired Doorbell Chime, you will need to consider a few things;
Is there a Connector for the Doorbell? – For the doorbell to work, you will need a power source, in this case, an electrical outlet. Wired Doorbells are connected using cables that need a bell wire and transformer. If you do not already have these connections and cables, you will need to purchase them and do the installation yourself.
Do You want a Camera or Intercom Option? – Wired Doorbells' models come with a camera that allows you to see the person outside and hear them with an intercom. However, this article will discuss the more basic and old-fashioned Wired Doorbell Chimes.
How do you want to install the Doorbell? – A Wired doorbell requires electricity; thus, you need a power point at the station. If you do not have a connection, you may need to install a cable and transformer and attach the receiver's button to this. Depending on your type of receiver, you may need batteries to power the outlet. Some receivers use electricity to work some need batteries.
---
Features of a Good Wired Doorbell Chime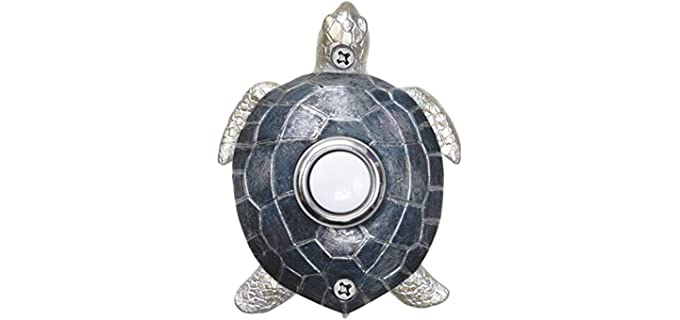 Chime Variety – Wired Doorbell Chimes do not have such a large chime variety as the modern wireless options. Though there are usually a few options with much better-sounding chimes.
Decorative Options – Wired Doorbell Chimes are much more decorative than wireless options that are more functional in design. You can look at a range of vintage Brushed metal designs, colorful designs, and more functional plain white designs.
Easy Installation – Most wired Doorbell chimes are wall mountable and very easy to install. They will come with the necessary screws and attachments and full instructions for installation.
Easy Push Button Control – Wired Doorbell Chimes have no batteries that can run down. Thus, the lighted button will always work well, whereas most battery-operated Doorbells will not last long because of the lighted button option. The easy push button operation looks appealing and is illuminated.
No Interference or Range Issues – The Wireless Doorbell Chime will have wires to support it as long as needed. There will be no signals transmitted over the air, interference, or issues with WiFi that is down.
Traditional Chimes – Wired Doorbell Chimes usually have more traditional and old-school tunes than most new, battery-operated, wireless options. They have rich symphonic and classic doorbell chimes rather than the newer whimsical sounds.
---
Reviews: The Best Wired Doorbell Chimes
Here are some of your best options for Wired Doorbell Chimes;
---
1
The Newhouse Door Bell Chime is a very basic and sophisticated design.
It is a White plastic device that mounts on your wall and has an easy-to-use button.
The Doorbell Chime is wired, very easy to install and compatible with a 16-volt/10 VA or 16-volt/15 VA transformer, which is not included. Should you want to connect it to a regular doorbell, you can look for "16TR" or "3TRAN" for a compatible transformer.
It has two sounds, the classic Ding-Dong and Dong sound, for front and rear doors.
---
2
The Broan NuTone Doorbell is a decorative white doorbell chime that is fully wired.
It has a white receiver that has two chimes.
The style is classic and timeless in design, with white beveled edges and rectangular grooves to complement your home décor.
The two tones include a two-note chime for the front door and a one-note chime for a second or back door.
The Chime wires to a 16 V transformer and has an easy plug-in design.
---
3
The Waterwood Blue Nickle Plated Turtle design Doorbell is very decorative and artistic in design.
It is a wired Chime doorbell with a turtle in colorful colors and blue as the receiver.
It is easy to use, has a push button, and is illuminated.
The Chimes is a Polyresin material, and it comes with mounting screws and full instructions on installation.
It is recommended for use with 12–16-volt transformers that are not included.
---
4
The Heath Zenith Wired Push Button Doorbell Chime has a gorgeous Vintage design.
It is a slippery rubbed bronze metal receiver with a button and a lighted surface.
The Device is easily mounted on any wall and comes with full instructions and accessories.
It is 0.75″ w x 0.625″ d x 2.75″ h in size.
The Doorbell Chime has a single tone and is fully wired.
---
5
Another option from Broan NuTone is their Vintage-styled Doorbell Chime.
The receiver has an oil-rub bronze metal design with a vintage style and pushes button operation.
It has a U.V inhibitor touch pad surface that will not yellow in the sun and a non-stick finish.
The classic style is flat and low profile with an oil-rubbed bronze finish.
A light included makes the button more visible in the dark.
It is easy to install and can be installed on various surfaces.
---
6
The Waterwood hand-painted Gecko is such a lovely and decorative Doorbell Chime.
It is a fully wired Doorbell chime with a lighted push button that illuminates when pushed.
The Receiver consists of polyresin cast into the Gecko design that is colorful and decorative.
It is recommended for use with a 12 to 16-voltage transformer and works with most standard wired doorbell systems.
---
Index Table: Top Rated Wired Doorbell Chimes
---
---