Some of the links in this post are affiliate links. This means if you click on the link and purchase the item, I will receive an affiliate commission at no extra cost to you. All opinions remain my own.
Camping and outdoor activities can be a fun experience. The key to a successful camping trip or outdoor excursion will lie in proper planning and the right tools and accessories.
A good camping or folding chair will be first on your list as you will need a comfortable seat for the experience.
Maccabee Folding chairs come in many shapes and designs that are comfortable, lightweight, and easily foldable for portability.
This article will examine Maccabee-style chairs from a few reliable and quality brands.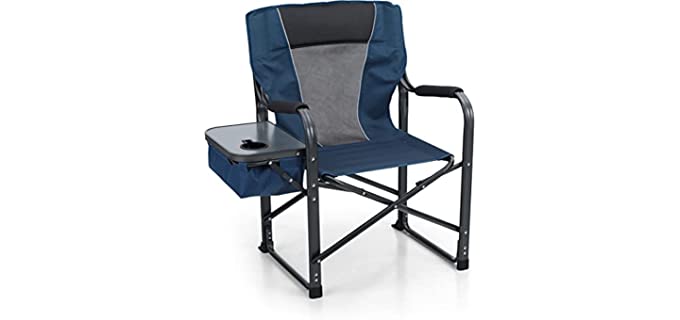 ---
Maccabee Foldable Chair Styles
Maccabee Chairs come in a few different styles and designs that you can choose from;

Classic Foldable Camp Chairs – The Classic Foldable camp chair can come in some variety; however it will have a basic four-leg design with a seat and back and a foldable frame. The chair may have extra cup holders and side storage pockets, with padding or without.
Oversized Foldable Chairs – The Oversized Chair is similar to a basic camping chair, though much larger with a more heavy-duty design and heavier weight capacity.
Directors Camp Chair – The Directors Style chair has a very rectangular shape, tight seat, and back with fabric; many options come with a side table.
---
Choosing a Good Foldable Chair
Here are a few considerations when choosing the best Maccabee style foldable chair;
Use – Consider the use of the chair especially when it comes to weight. I would advise a lighter-weight chair if you need something more portable. For a chair on your patio that will not need to be traveled with or moved around much, you can go for a larger, heavier, more luxurious foldable chair.
Size and Height – Regular and oversized chair options are available, as well as chairs with a higher back or legs. You can choose a size and height most suitable for your needs.
design – You get a few different designs, as we have discussed, and you will need to choose a design that will be comfortable for you and lightweight enough to carry for portability.
---
Features of a Good Maccabee Folding Chair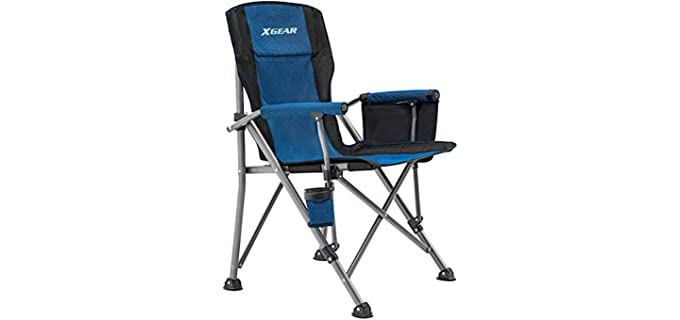 Frame – The frame will usually be durable and sturdy steel or metal powder coated and weather resistant, as well as rustproof. Some models may have a plastic frame.
Materials – The Fabric seat and cover should be durable, such as canvas, oxford, or nylon, that is weather resistant and quick drying. Some models have mesh insets for ventilation and cooling for your comfort.
Size – The Foldable Maccabee chair can come in a regular or oversized size. You can also consider the weight capacity as some are more heavy-duty in design. There may be a weight capacity of 300 to 450 lbs in regular-sized, oversized foldable chairs.
Additional Extras – Some Maccabee Foldable chairs may have additional extras such as cup holders, storage pockets, or even a side table that also folds easily for your convenience.
Comfortable Ergonomic Design – Most Maccabee Foldable chairs have a very comfortable and ergonomic design. Some may have a padded seat or back and padded armrests. Some models have higher armrests for more comfort.
Portable and Foldable – The Maccabee chairs we have chosen are all portable and foldable for easy transportation. Some models come with a storage and carry bag for easy storage with carrying handles. The Maccabee chair is portable and can be used for camping, fishing trips, picnics, and even at home.
---
Reviews: The Best Maccabee Folding Chairs
Listed in our review section are some amazing foldable outdoor chairs that are much similar to the Maccabee branded outdoor chairs;
---
1
Alpha Camp has a large Oversized folding Maccabee style camping chair ideal for larger individuals.
It has a maximum loading capacity and weight limit of 450 lbs.
The camping chair has a durable mesh cup holder and storage pockets, with higher armrests for maximum comfort and convenience.
It is portable and easy to store, with a compact foldable design and lightweight frame.
The Camping chair is large and consists of durable and long-lasting materials.
---
2
The Timber Rodge Maccabee camping chair is portable and fully foldable for storage.
It is an Oversized comfortable camping chair with a side table and versatile uses.
The camping chair has a heavy-duty frame and a large design.
It conveniently folds small and is compact for storage and portability.
It comes with a manufacturer's warranty for one year to ensure quality.
---
3
Wee have versatile uses with Coleman's Perfect Maccabee Folding chair.
It is a lightweight, portable, folding design that allows hours of comfortable sitting outdoors.
There is a cooling mesh back for ventilation and an angled sitting position with padded armrests for your comfort.
The strong steel frame is durable and reliable, with a weight capacity of 300 lbs.
The chair comes with convenient carry handles for easy transportation.
---
4
The Xgear Folding chair has a Maccabee design. With many additions.
Unlike most foldable chairs, it is designed to sit down and easily get up from the chair.
There are added cup holders and storage pockets.
The camping chair is fully foldable and comes with an easy-to-carry storage bag.
It has a 400 lbs weight capacity and a comfortable, fully padded design.
The chair is versatile and very durable.
---
5
Another Addition from Alpha Camp is their more lightweight Oversized Maccabee style folding chair.
It has a humanized design with a side table and cup holder for placing snacks and food.
Ideal for traveling, camping, or use at home.
The chair is fully foldable and easy to carry.
It has a very strong metal frame and wear-resistant oxford fabric.
The folding chair is supportive of 350 lbs of weight.
---
6
The XGear High Back Foldable Maccabee style chair is a heavy-duty and comfortable design.
The lightweight design is easy to carry.
It has hard arms and a Higher back, with a heavy-duty design for outdoor use.
The hair is fully foldable and lightweight and comes with a handy carry bag for easy storage and portability.
The higher back provides better support and comfort, and the lightweight design is easy to carry.
It has a heavy-duty steel frame and durable fabric.
---
Index Table: Top Rated Maccabee Folding Chairs
---
---