Some of the links in this post are affiliate links. This means if you click on the link and purchase the item, I will receive an affiliate commission at no extra cost to you. All opinions remain my own.
With all that is happening today, it is much better to be safe than sorry.
Millions of homes and businesses are being broken into, as well as lockers and storage rooms. So if you want to keep your property safe, it is important to use a reliable lock.
The Combination Outdoor Lock is a weather-resistant and durable lock that uses a combination code to be unlocked; it is a safer and more user-friendly approach to padlocks.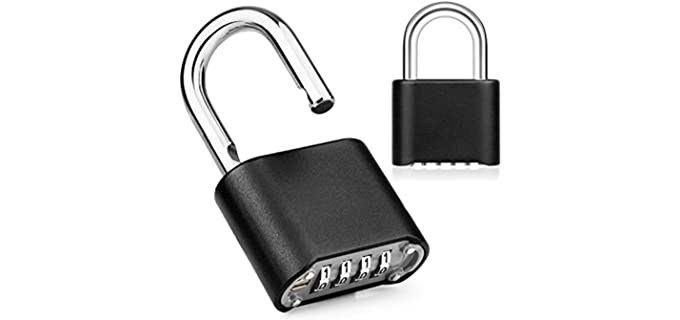 ---
The Combination Lock
A combination lock is a locking device that uses a sequence of numbers or symbols to open the Lock.
You can enter the sequence using a rotating dial that interacts with several discs or cams and the locking mechanism to unlock the Lock.
You get three- and four-digit combination locks, of which the four-digit ones are the safest and usually the best for outdoor use.
How to Do Combination Locks Work – Most Combination Locks have numbered dials connected to an internal locking device to lock the padlock. Turning the dials to the correct number sequence will disengage the locking mechanism. Some Combination Locks have three number sequences, while most outdoor models have four. You also get Combination locks that have a keyed unlocking mechanism as well.
Key Locks VS Combination Locks – Keyed Locks do not have dials and still offer a superior level of security compared to combination locks unless a thief has a key or tool to pry it open. Combination Locks are ideal as you cannot lose the keys and will remember a combination easily. However, combination Locks are not as well protected against shimming as keyed locks.
---
Outdoor Combination Locks
So, what is the difference between outdoor and indoor combination Locks?
Well, most Combination Locks for outdoor use can also be used indoors. However, indoor-only combination locks should not be used outdoors.
Outdoor combination locks are weatherproof; they consist of materials that will not rust or deteriorate in the sun and are much more durable, with heavy-duty cut-resistant materials for protection against burglars.
---
Features of a Good Outdoor Combination Lock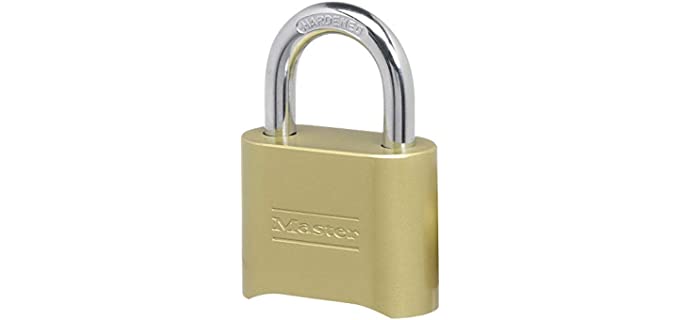 Materials – Stainless steel is the most common material used for combination locks especially for outdoor locks. However, aluminum may also be used.
Combination Lock Size – Larger Combination Locks are generally heavier and more secure as they provide greater resistance against sawing and breaking off.
Shackle Securing Mechanism – Most Shackles have a double lock with springs. However, some may have steel balls at the joints between the shackle and body for more security.
Shackle Length – You will need to ensure that the combination lock's shackle is the right length for the Lock you want to use it for. Whether for a chain or other types of closures. You do get regular-length and extra-length shackle designs in combination locks.
Outdoor Use – Many Combination Locks are suitable for outdoor and indoor use. They are durable and weather-resistant materials that will not rust or deteriorate when used outdoors.
Key and Combination Option – Some combination outdoor locks likewise offer a key option you can use to unlock the combination lock.
---
Reviews: The Best Outdoor Combination Locks
In our list, we have some of the best available Outdoor Combination Locks that are secure and easy to use;
---
1
The Master Lock Heavy Duty Combination Lock is perfect for outdoor use.
It offers maximum security with a zinc body and can be used to lock sheds, gates, and storage areas outdoors and indoors.
You can easily set your four-digit combination for easy recall, and a backup key is included for operation without a combination.
The Lock has a zinc body and a reinforced body bumper for strength; the dials are covered for weather protection/
---
2
The Zhege Combination Lock is perfect for both indoor and outdoor use.
It has a durable and weatherproof zinc body.
There is a four-digit details combination option with over 10 000 combinations to choose from, which makes it much harder to crack than the regular three-digit combinations.
The Lock is easy to use and reset using a combination you can easily remember.
The Fourfour-digital lock has wide applications for indoor and outdoor uses.
It also comes with a one-year guarantee for quality and peace of mind.
---
3
The Puroma is a set of two Combination Locks that are fully waterproof for outdoor use.
The Locks have a special compact and lightweight design making them easy to store and use.
A set of two outdoor combination locks has a four-digit dial.
There are over 10 0000 combinations that you can use for added security.
The locks are a durable and waterproof zinc alloy with a resettable 4-digit combination.
---
4
Here we have another option from Master Lock, a heavy-duty outdoor Combination Lock.
The combination lock has a heavy-duty, very secure design and is ideal for outdoor use.
It has a four-digit combination you can easily set and reset as needed.
The Lock has a tough-cut octagonal boron-carbine shackle that is 50% harder and more resistant than steel.
The Roller Pin cylinder easily prevents picking and prying at the Lock.
The Lock has an extended shackle for better application flexibility.
---
5
Here we have an exceptional high-performance zinc alloy combination lock that is fully weatherproof for outdoor use.
The Lock is a premium material and design that is rust, cut, and saw resistant, with a hardened steel lock catch and zinc alloy body.
It can be used for various purposes and is fully waterproof.
The Lock has four-digit combination dials that are smooth and very easy to operate, even when wearing gloves.
---
6
From Master Lock, we have the smaller indoor and outdoor combination lick.
It is a padlock design that is ideal for protection and security from theft for school lockers, gates, gym lockers, and storage areas outside.
The combination lock has a solid, weatherproof body and a cut-resistant steel shackle.
The Lock has full instructions to show you how to set different combinations easily and reset them if needed.
---
Index Table: Top Rated Outdoor Combination Locks
---
---