The new inflatable bubble tent is taking camping and even hanging out in the garden experiences to new levels.
Instead of sitting in your home on a rainy day, you could be in a transparent bubble tent enjoying all the sights to the full.
The best inflatable bubble tents will open your mind to some of the best outdoor experiences, whether camping or even just in your own yard.
---
Why Choose and Inflatable Bubble Tent
The Inflatable Bubble Tent has become more popular mainly because of its transparent nature. The bubble tent will give you the sentiment of being in unity with nature while remaining safe and warm from the elements in your own bubble.
The Bubble tent is designed to give you a five-star lodging feel in the purity of nature.
Most bubble tents are designed and constructed of durable and flame retardant materials that are also fully waterproof and protects you against the cold and wind.
Inflatable bubble tents come in a variety of sizes for couples or for larger families, so you can enjoy them whichever way you wish.
---
Some Inflatable Bubble Tent Questions and Answers
You may have some questions on this new modern take on camping, and you may also be wondering how safe and convenient the inflatable bubble tent may be.
Well, here are a few answers to your questions;
How Much Time Does it take to Set up and Secure a Bubble Tent – Setting up an inflatable bubble tent does not take much longer than setting up a regular tenant. Usually, at least two people will be required for setup. You will also need to consider that the inflation process will take some time depending on how fast the air pump is that you are using. So basically, you are looking at around 20 to 30 minutes for set-up.
Is the Air Quality Good Inside a Bubble Tent – Because there is an inflation system running, the total air volume inside the bubble tent is recycled every six to eight times per hour. This means that there is a constant source of fresh air inside the bubble tent.
How Does the Bubble Tent Hold Up in Winter – Using your inflatable bubble tent during very cold winter months is not advised but up to your own discretion. The weight of snow and the thickness can add weight to the bubble tent, which may cause it to collapse. It may also get pretty cold so that you can use a small portable heater. However, this may likewise be risky.
Is it Safe in Rainy Weather – Most inflatable bubble tents are fully waterproof, but should they have a leak or some wear and tear, I would not advise using them in heavy rain. Also, when the rain endures for more than two days and becomes quite heavy, the droplets may accumulate and can bead up underneath the fabric of the tent. The water may seep through the fabric areas around the seams and zip closures.
What happens if The Bubble Tent is Torn or Ruptured – Your Bubble tent will remain fully inflated as long as the blower is running, even though there may be tears or damage. But I would advise that you fix any tears or damage as soon as possible. Most inflatable bubble tents do come with an additional patch kit.
How Does It Hold Up in Hot Weather – I would not advise using an inflatable bubble tent in weather where temperatures rise beyond 85+f or 29 c without some area of shade. The direct sunlight will damage and degenerate the materials of the bubble tent. Furthermore, when the temperatures are high, you can open the doors to allow hot air to escape for a few minutes or use a cooling fan on the inside.
Will High Winds Blow My tent Away – using your inflatable bubble tent in high winds of around 59+ km/h is not at all recommended. The Inflatable bubble tent also needs to be secured [roperly to eth ground or base so that it does not blow away during windy storms or high winds.
How Long Will My Bubble Tent Last – If used correctly and taken care of properly, your inflatable bubble tent should last around five years or more.
---
Features of a Good Inflatable Bubble Tent
I want to remind you that an inflatable bubble tent is not cheap and that you need to make a conscious decision to get the right one to make it worth your while;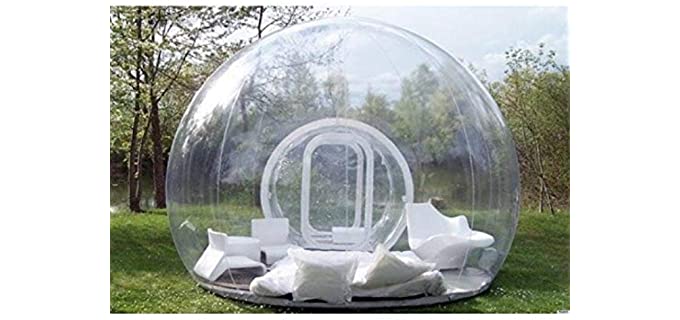 Size – Inflatable bubble tents are available in sizes that can accommodate two to ten people at a time. You will need to decide on who will be using it and what the maximum amount of people using it will be before deciding on a tent. Taking into account that the larger the tent, the more expensive it will be.
Weather and Use – Look at the tent's design and what it is intended for. Some tents are designed for flat surfaces and warmer summer months only, while others are more waterproof or weatherproof to withstand cold and extreme heat. You also get designs that are more suitable for rougher terrains. Weather and Use
Set-Up – You do not want to spend hours setting up your inflatable bubble tent. Therefore take note of the design, the blower, additional parts, and what tools you will need for set up. Also, look at whether all accessories and tools are included for setup.
Durability – Most inflatable bubble tents do come with w warranty, so please check this,.. If you select a good quality brand with quality materials and construction, it will be durable if used properly and in the right settings.
Price – We all want good quality products at a low cost, but that is not always possible. So get the best inflatable bubble tent that you can afford for the purpose that you need it for. This is a long-term investment.
---
Reviews: The Best Inflatable Bubble Tents
Here are asome of our top favorite picks in the Best Inflatable Bubble Tents;
---
1
The bubble tent is fully transparent and inflatable.
The tent is inflated by a blower that needs to run continuously.
It takes only ten minutes to fill and inflate and is very easy to set up.
There is a single entry tunnel, and the tent is completely transparent.
There is also a durable zip closure.
The size is ideal for a small family or a couple.
---
2
the Stargazer is a fully transparent inflatable bubble tent that allows you to enjoy the outdoors and all it has to offer.
It is an inflatable camping tent that has a zip closure and consists of durable PVC materials.
The size is ideal for a family, and it is perfect for camping.
The tent is durable and of exceptional quality.
---
3
this dome design tent is an inflatable bubble design that is transparent.
It is made of non-toxic and flame retardant PVC materials, and the tent is of excellent quality and extremely durable.
There are a few different size options available from which you can choose.
It has an air pump with optimal and silent airflow.
---
4
From Run, we have a single tunnel air pump design inflatable bubble tent.
The tent is transparent in color for better viewing and enjoyment of the outdoors.
It comes fully equipped with a silent air pump.
The materials used are high quality and flame retardant.
---
5
the Bubble tent from Bubble Bay is extremely durable and weather resistant.
It comes in an inflatable design and a transparent and white color.
The bubble tent consists of waterproof and durable PVC materials and has a floor area of 61 square feet.
It comes with a free air blower and a repair kit should there be any wear and tear.
It is a size for three to four persons.
---
6
Here we have a transparent inflatable bubble tent that is ideal for the whole family.
It is available in three different size options from which you can choose.
The tent has a silent filtering and air-blowing system, and you can use it in any climate.
It consists of a non-toxic and flame retardant PVC material that is durable and good quality,
It also has an anti-storm design.
---
7
The Alvantor is a compact and automatic pop-up bubble design tent.
It does not need to be inflated and is easier to assemble.
The tent has a transparent bubble design.
It is a quality tent and perfect for the outdoors.
---
8
The Sonostar is a Hub standard All-Weather Bubble dome.
It is ideal for outdoor, and patio use.
You can easily create a bubble dome shelter with the full kit.
Consists of 40 PVC and a fully durable frame.
---
9
This is an inflatable bubble tent outdoor design.
It comes with an air pump and is easily inflated.
The bubble tent is transparent allowing your full view.
It is durable and weather-resistant for outdoor use.
---
10
The Foammaker bubble tent is a transparent outdoor tent.
It is inflatable and has a spherical shape.
The design is exquisite and unlike other models.
Ideal for camping or use in your backyard.
---
Index Table: Top Rated Inflatable Bubble Tents
---
---