The outdoor light timer is an excellent device for your security and convenience and to save you on electricity and effort, having to turn an outdoor light on and off.
A good outdoor light timer will automatically turn your outdoor lights on and off, with programmable settings that will turn them on at dusk and off at dawn, as well as more programs for vacation schedules.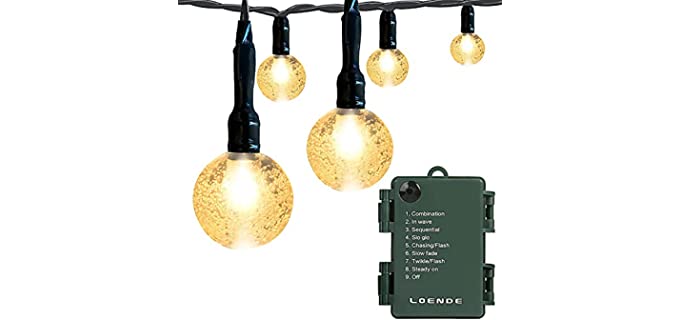 ---
Why You Need and Outdoor Light Timer
There are so many reasons as to why an outdoor light Timer can be beneficial.
Keeping outdoor lights on at night can be beneficial for security, or maybe for a family member that comes in late and works late shifts.
It can be ideal to have outdoor lights for Christmas and the holiday season and for security when you go on vacation.
However, turning the lights on and off daily can be a hassle, and you can run up quite an electricity bill if you leave or forget them on.
The Outdoor Light timer is compatible with any type of light, and will turn your lights on and off when needed with programmable settings.
---
Different Types of Outdoor Light timers
There are a few different control systems when it comes to outdoor light timers;
Analog Light Timer – The analog Light Timer is an old-school mechanical timer that turns your lights on and off. You need to set the tabs for a certain time for the lights to be switched on and off. The analog Timer will not adjust for daylight savings, though, and some mechanical failures may occur over time.
Digital Light Timer – The Digital Light Timer is a step up from the analog timer with different programs that you can set for different times of the day and week. With the Digital Timer, you have much more control and various programs that you can set, though it does work with batteries that need to be replaced every few years, and it will not adjust for sunset or sunrise.
Photocell Light Timers – A Photocell is a light sensor that senses sunlight to turn off the lights and darkness to turn them on. It comes in many shapes and sizes with a protected sensor. It is ideal for adjusting your lights during different seasons and is affordable. Though it does not work well in heavily shaded areas, it will not turn off at designated times.
Astronomical Light Timers -The Astronomical Timers allows you to enter your GPS coordinates and use them to tell the time, automatically switching your lights on and off. The Programming for the astronomical timer is slightly more involved, and you will need to operate the system with batteries.
WiFi/Smart-control Light Timer – The WiFi or Smart Control outdoor light timer functions using an app on your mobile device or through google or Alexa using your WiFi connection or Bluetooth. It operates and sets automatically with the use of your mobile device. This setting gives you fuller control over your lighting system, though it may be a more expensive option, and you will need to be within a certain WiFi range to control the lights.
---
Features of a Good Outdoor Light Timer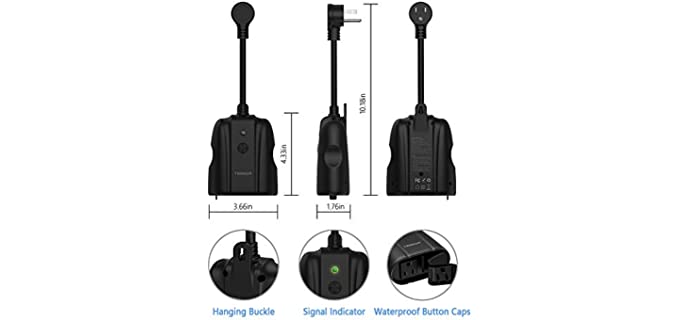 Power -The Outdoor light timer may have a self-charging design battery with a backup battery. Some models are corded and gave grounded outlets.
Programming – Most outdoor Light Timers are fully programmable. They come with different programs for weekly settings. There will be an override on and off switch, and some come with a random vacation program. The lights are programmed to switch on at dusk and off again at dawn. Most can be set on a 24-hour basis.
Fit – Most models will have an Incandescent/fluorescent/CFL/LED or another fit that is compatible for various outdoor lights, and some for indoor lights in turn. Outdoor lights may include lamp posts and poles, lantern lights, Christmas lights, and regular outdoor lights
Weatherproof – The Device and wiring need to be sturdy and durable with a weather-resistant shell and base, as well as a waterproof switch.
---
Reviews: The Best Outdoor Light Timers
In our review section, we have quite a variety of some of the best available Outdoor light timers;
---
1
The BN-Link Compact Outdoor Light Timer is a programmable analog timer.
It is programmable at 15-minute intervals with 48 setting options and a 24-hour working period.
The device is fully waterproof and ideal for outdoor use.
It has heavy-duty materials and two-grounded outlets, making it much safer and more durable.
There is a Two 3-Prong grounded outlet system that you can use with multiple light types.
The timer and an easy setting and mechanical with convenient settings.
---
2
The BN-Link Digital Outdoor Light Timer has a Dual Outler and is fully weatherproof.
The Outdoor light Timer is versatile, and fully customizable so that you can easily control it with the 8 on and off programs.
It is an easy set and go and design, and you can pre-set days and combinations and switch to daylight saving mode.
It also has a random Vacation mode to keep your home safe during vacations.
It is ideal for indoor and outdoor use and works with various light types.
Safe and reliable with heavy-duty materials that are weather resistant.
---
3
From Kotlin, we have an outdoor hard wire Light Timer.
The timer is UL listed and has Photocell sensors suitable for various wall packs fixtures such as post lamps, pole lights, lanterns, and other lights.
It has an auto-on and off function, the sensor sense sunlight and will turn off at dawn and turn on at dusk.
Very easy-to-install design that can mount to most fixtures.
The High-quality material shell will protect the photocell against weather elements.
---
4
The Topgreener Digital Astronomic Outdoor Light Timer is a 7-day programmable light timer.
It has a single pole or three-way design, and a neutral wire will be required.
It is UL listed for safety.
The Topgreened is available n more colors from which you can select, and has a back Lit LCD screen that activates when you press a button.
You can program up to 7 on and off schedules per week.
The random function will vary your schedule, and there is a manual override function.
---
5
Here we have the BN-Link Smart operated Outdoor Light Timer.
It is a hands-free device that operates using Google or Alexa with voice control using your smartphone with the App from anywhere.
It has a smart scheduling function that works with most heavy-duty electronics to switch lights on and off as needed.
There is a countdown timer that you can set for more flexible times.
The device is waterproof and weatherproof.
You will require a 2.4 GHz WiFi network connection for operation.
---
6
From the Tessan store, we have another Wi-Fi-operated Outdoor Light Timer for your convenience.
It has a hands-free voice control function that uses WiFi connections with Google or Alexa on a mobile device.
It has a very long wireless range, and you can control the wireless switch anywhere inside your home.
It comes with 2 AC sockets that you can control independently or simultaneously, and each AC Socket is 125V, 15A, 1875W, and 2HP in total.
It also has an IP44 waterproof and rubber socket cover to keep dry in wet and cold conditions.
---
Index Table: Top Rated Outdoor Light Timers
---
---