Some of the links in this post are affiliate links. This means if you click on the link and purchase the item, I will receive an affiliate commission at no extra cost to you. All opinions remain my own.
For many of us, a garage is just a place to keep your car safe and to store some tools and yard supplies.
However, many individuals are installing Garage Door Screens to make the garage a more liveable space and more appealing for their homes.
In this article, we will look at Garage Door Screen Kits that come with all the accessories that you need, that are durable, aesthetically pleasing, and very easy to use.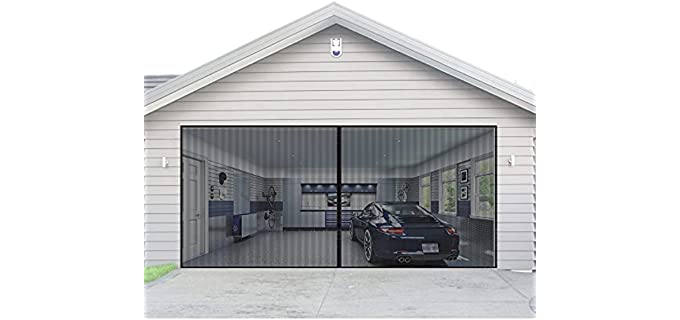 ---
The Garage Door Screen
The Garage Door Screen is also known as a Lifestyle Screen. It is a layer of mesh screening that keeps bugs and pests out of your garage while still allowing light and air to ventilate throughout the garage.
The Garage Door Screen converts your garage into and open air living space in your home, and allows more fresh air and light to enter your garage.
Garage Door Screen Kits come in different size options for double and single garages, and they are an excellent and easy DIY option as opposed to the custom-fitted screen doors and other garage door types.
You do also get a few different types of Garage Screen doors;
Lifestyle Garage Door Screens – Lifestyle Garage Door Screens are used to convert a garage into an additional cool and pest-free living space. They are intended for comfort and convenience with an aesthetically pleasing design. They also come with a door inside the screen to make entering and exiting easier.
Side Sliding Garage Screen Doors – These screen doors are operated horizontally rather than vertically. They slide to the sides and come in more versatile designs that are super durable.
Roll Down Door Screens – Also may be called a retractable Garage Door screen, and some are motorized. The screen rolls down and up with the push of a button; for some of the manual designs, you may need to use cords.
---
Benefits of Having a Garage Screen Door
You can actually gain quite a few benefits from having a garage Screen Door Kit;
You can easily use more square footage of your home and garage and convert your garage into an additional room or patio.
Garage Screen Doors Keep insects and rodents that are pests out of your garage and home.
The Screen will reduce the wear and tear on your actual garage door from opening and closing frequently.
There will be much better airflow in the garage to ventilate the area and get rid of fumes and smells.
It is and an excellent option for home security.
You still have some protection against inclement weather.
There will be more light in your garage area, as well as much better ventilation.
There are many designs, colors, and functions from which you can choose.
The Garage Door Screen is very easy to install and works with powerful magnets that attach to the frame of your garage.
---
Features of a Good Garage Door Screen Kit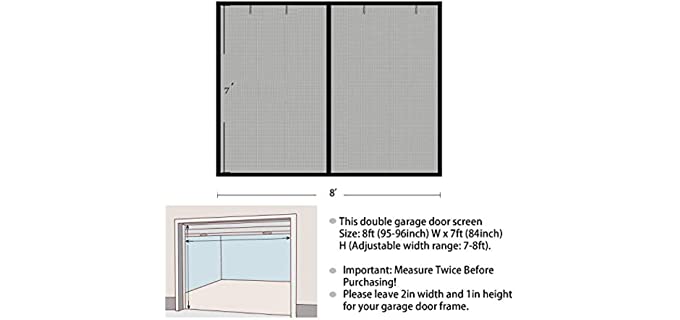 Design – Garage Door Screen Kis do come in designs for Double and single garages; they also come in different size options.
Fittings – Most Garage Screen Doors have magnets to fit to the frame of your garage, with gravity sticks at the bottom to hold the screen curtains down, or a Velcro closure design.
Material – Garage Screen Doors usually consist of either a very strong polyester mesh or a fiberglass mesh that is a much stronger option that is tear and weather resistant.
---
Reviews: The Best Garage Door Screen Kits
Listed below are some ideal options for garage Screen door kits that are easy to install and very reliable;
---
1
The Fego Garage Screen Door Kit offers a two car design that is a large 18.7 feet in size.
It is a transparent and bright color that will allow air in and withstand strong breezes.
The Kit comes with everything you need for fast and easy installation.
The Screen doors are fully retractable and have and anti-scratch and anti-tear design.
It consist of fiberglass and mesh with a magnetic design,
---
2
From Yeghus, we have a hand-free open garage screen door that is safe for children and pets.
It is straightforward to install and roll up and down with Velcro attachments.
The Screen door consists of durable and breathable mesh and fiberglass.
It is a 16.7-foot size, ideal for two cars garages.
---
3
The Pick for Life Garage Screen Door is a heavy-duty Magnetic closure screen door.
The Screen net brightens your garage and keeps it well ventilated while keeping pests out.
It has a unique design with strong magnetic and extra gravity sticks for a closure design.
The Extra gravity sticks are added for better wind resistance.
The fiberglass mesh is tear and weather resistant with a very durable design.
---
4
The Hialty Garage Screen door is a large double garage option.
It is very easy to install with an easy roll-up design and Velcro closure.
The Screen doors are bright and light allowing proper ventilation and keeping pests out of your garage.
The Screen Door consists of Fiberglass with 38 strong magnetic points and three extra sets of gravity sticks at the bottom,m allowing the curtain to close instantly.
---
5
The Aurelio Tech Garage Screen Door is a magnetic Garage Screen Dour that is suitable for a double garage.
It is a Mesh screen consisting of durable fiberglass with thumb tacks and hooks and loop adhesive stripes for added security.
There are gravity sticks to the bottom for better wind resistance.
It is a premium design that allows air and light through your garage, with ease.
---
6
From Liamst, we gave an easy to install garage Screen Door kit that comes with everything you need for quick and easy installation.
The Screen kit has a magnetic tape for attachment that is installed within minutes.
The premium meshes us tear and fire-resistant, as well as breathable and aesthetic n design.
The Middle seam is lined with stronger magnets for a more secure fit.
---
Index Table: Top Rated Garage Door Screen Kits
---
---