A Deck Brightener is a concentrated product that you use to remove dark stains and discoloration on wood decks. It brightens up and enhances the color and condition of your wooden deck.
The Best Deck Brightener will safely and effectively remove stains, brighten and condition your outside deck, and restore the wood's pH to a more neutral level for the wood to last longer.

---
Why a Deck Brightener is Essential
When you have a wooden deck, it is vital to maintain and treat the wood to last longer and prevent deterioration and permanent staining.
UV rays, unwanted moisture, and stains from drippings can cause havoc on your wooden deck if it is unprotected.
The number one reason why a wooden deck may fail and deteriorate fast is improper maintenance and wood preparation.
Any exterior wooden deck needs to be cleaned, treated, and prepped correctly to clear and prevent stains and damage.
Before you can brighten your deck, it needs to be cleaned properly using a wood cleaner. Sodium percarbonate-based Oxygenated wood cleaners are advised. This removes stains, dirt, molds, and mildew.
Generally, it would help if you cleaned your wood deck before it can be conditioned or brightened. Most cleaners will raise your deck wood's pH levels, whereas a wood brightener will help maintain a more neutral pH level.
The deck brightener neutralizes the pH levels and opens up the wood's pores to brighten the grains to their natural beauty. Therefore the brightener conditions and neutralizes the wood after the cleaning process.
---
Using a Deck Brightener
So you have managed to get the best deck brightener for your requirements. Here are a few tips to help you properly brighten your wood deck;
Application – After Cleaning your wood deck properly with a deck cleaner, you will see that the brightener comes in a concentrated blend. You need to mix the brightener with water as specified on the bottle's instructions, usually 3 gallons of water for normal use. Use a sprayer or hose to spray the entire wood deck with water lightly. The Brightener can be applied with a paint roller or brush evenly to cover all the wood. Make sure to use synthetic brushes and rollers only. Occasionally mist the deck to keep it wet before applying the brightener. Allow the Brightener to sit for 15-30minutes. Also, check instructions for specific times.
Rinsing – when ready to rinse the deck properly and ensure that all the brightener is removed. You can use a power washer on a low setting or a hose and scrubbing brush or broom to sweep off excess product. Also, make sure to properly clean off and raise plants and other items that might have caught some of the brighteners.
Precautions – the product should not be used in direct sunlight on very hot days. The product should also be washed of glass and metal items immediately as it may cause damage and be misted off plants immediately. Make sure not to eat, drink, or smoke when using a brightener on your deck.
Clean Up – Clean all the tools and equipment used properly using water.
---
Features of a Good Deck Brightener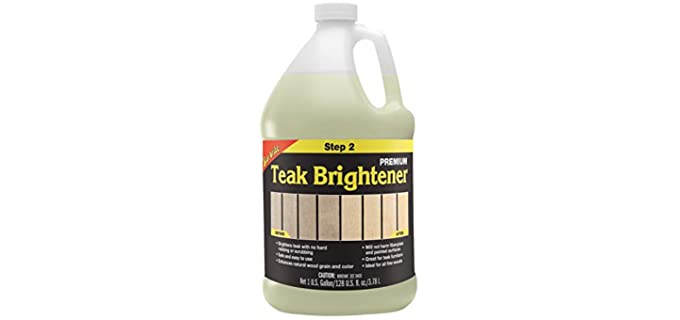 Uses – Some deck brighters condition and brighten, and some double up as a cleaner and brightener.
Safety – Some formulas are safe and biodegradable with no harsh chemicals and dangerous acids.
Polishes – Wood Brightening polishes will have an oily or creamy texture that applies easily and sizes into the wood.
instructions – Every deck brightener will come with clear instructions on how to safely use the product, please follow the instructions closely.
---
Reviews: The Best Deck Brighteners
---
1
From Duckback products, we have an exexceptional wood deck brightener that is safe and non-toxic.
The Brightener comes in a four-gallon size option.
The coating is extremely high quality and will protect and condition your wood deck.
The formulation is safe and non-toxic, so it will not kill your plants or grass.
It is formulated to remove tannin bleeds from cedarwood and other woods and bring back your wood's natural color.
---
2
The Star Brite Wood deck Brightener is a one-step clean and brighter ideal for teak and other similar wood types.
The Formulation is ideal to use on teak woods as well as other fine wood types.
The One's step design saves you time and prepping in having to clean your deck first.
There are no dangerous acids in the formula, and it is a phosphate-free, biodegradable brightener.
The Brightener will leave your wood deck looking good as new and will remove dirt and old stains.
---
3
The Olympic Stain Premium Brightener is a deck wash and brightener all in one.
It will gently wash away dirt and stains from most wood surfaces.
The Brighetenr is ideal for tannin and rust stains.
The ready-to-go mix makes it extremely easy and versatile to use.
The gentle formula is ideal for cedar and redwood types that are treated or bare.
You can use it on decks, fencing, composite decking, and many more items of choice.
---
4
From Rust-Oleum, we have the small deck rite Pouches that ate a single-use option.
This is an ultra oxidizing, oxygen-activated powder brightener for your deck.
It is ideal for pressure-treated woods, weathered cedar and redwood, and some composites.
It will restore weathered wood and prepare woods for a protective coating.
The Rust-Oleum brightener comes in a pound sachet option.
---
5
Another addition from Star Brite is their Premium teak Wood Brightener.
The Brightener comes in a 1 gallon, 16 Oz, or a 32 Oz size option from which you can select.
It brightens teak and other fine wood types efficiently.
The Brightener will highlight wood grains and enhance their warm and natural colors with ease.
It is easy to use, ready-mixed, so you need to apply it and rinse it off.
You can also use it as a second step in restoring old and weathered teak wood decks.
---
6
The Howard Restore-A-Shine is a wood brightener and finishing polish that fully conditions your wood deck.
You can safely polish and buff away fine lines and scratches on your deck, as well as remove oxidation, dullness, and haze on glossy finishes.
It is developed especially for glossy polyurethane, lacquer varnish, and shellac wood finishes, including various furniture items, pianos, and guitars.
The Brightener polish revives your wood deck and is very easy to use.
It comes in an easy-to-apply creamy formula that can be used with a buffer or cloth.
---
7
The deck brightener will restore the natural beauty of your deck and clean it.
It removes rust and stains caused by tannins.
It also absorbs wood stains easily and keeps your wood decks in good condition.
The concentration makes up to 5 gallons of brightener.
---
8
This is a full cleaning and brightening kit for your deck,
It has a two-part design for cleaning and brightening.
It can be used for a 1000 square foot deck or smaller decks.
Makes color brilliance and easier application of stain.
---
9
A complete wood deck cleaner and brightener.
It is ideal for a variety of wood types.
Revitalizes, cleans, and brightens your wood deck effectively.
Brightens without the use of any bleaching agents.
---
10
This Brighetenr removes stains and tannin stains for a variety of wood types.
You can apply it to a new or a stained deck.
It covers aroudn200 to 250 square feet of deck per gallon of solution.
The product comes in a concentrated liquid.
---
Index Table: Top Rated Deck Brighteners
---
---