Some of the links in this post are affiliate links. This means if you click on the link and purchase the item, I will receive an affiliate commission at no extra cost to you. All opinions remain my own.
One of the best investments you can make to save on energy and for your security is an Outdoor Light Timer.
The outdoor light Timer is fully programmable and allows you to easily set certain times for outdoor lights and even decorative lights, such as Christmas lights, to go on and off at given times.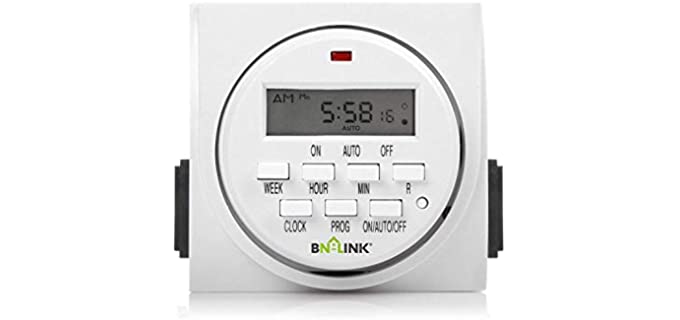 ---
What Are Outdoor Light Timers
Outdoor lights can be an important aspect for many homeowners for security, and sometimes just for aesthetic reasons; however, it may become a tardy habit of having t switch off outdoor security lights and decorative lights and off every day.
You may also get to switch the lights off, which may increase your energy bills and consumption.
The outdoor light Timer is a device that you use in conjunction with an outdoor light which can be programmed to switch the lights off at different times during a weekly, daily schedule for your convenience.
Many Outdoor Light Timers are Multi-Functional, which means they can be used to time other electric items such as pool and pond pumps or lights, outdoor electric devices in turn, and not just lights.
---
Benefits of Outdoor Lights and Timers
Decoration – Outdoor lights can really add to your landscaping as a decorative element that gives a lovely ambiance to your garden. They are also highly decorative and functional on a deck or patio. During Christmas times, outdoor lights are a fun way of celebrating the spirit of Christmas.
Security – Many homeowners use outdoor lights as a form of security to scare off intruders at night, or they use outdoor lights at random intervals when they go on holiday, which is when a timer comes in handy.
Functionality – For spending time outdoors, on a deck or patio, it is a good idea to have outdoor lights to illuminate the area.
Outdoor Light Timer – For all these functions of outdoor lights, the outdoor light timer can help you to program the lights to go on and off at given times, even random times that you can easily program to save you on energy and to be more cost-effective. Outdoor Light timers are ideal for turning daily lights on at dusk and off at dawn. You can use an outdoor light Timer to randomly turn on and off both indoor and outdoor lights to make intruders think you are home when you are on holiday. For Christmas and decorative lights, the outdoor light timers may have a similar function turning the lights on and off at certain times.
---
Features of a Good Outdoor Light Timer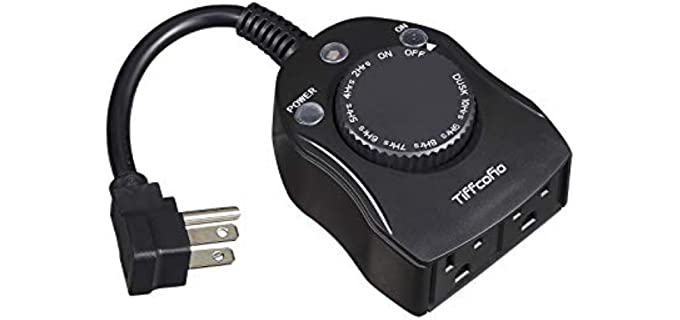 Weather Resistant – Your Outdoor Light Timer should come with a fully waterproof cover that is also UV resistant and heavy-duty so that it will last in the weather elements.
Outlets – Look for a Light Timer with two or more outlets that allow you to control more than one light at a time.
Type – You will need to select from a countdown or programmable Timer that you can set. Most timers work over a period of 24 hours at programmable intervals.
---
Reviews: The Best Outdoor Light Timers
In our review section, we have some excellent choices in outdoor light timers, some that could also be used for other devices;
---
1
The Woods Outdoor Light Timer is an automated timer for holiday and Christmas lights and security lights.
It has a seven-day heavy-duty digital design that comes with two grounded outlets and ¾ horsepower, that is 15-Amps/ 1875-Watts/ 125-Volts/ 60-Hertz.
There is a digital programmer that you can program as you wish, each day differently.
The Timer has a heavy-duty design specially to withstand outdoor weather elements.
It has a self-charging backup and easy clearable memory.
---
2
The Intermatic is a Heavy Outdoor Light Timer with 15 Amp/1HP power for lights, pumps, Aerators, Holiday decorations, and many more.
It is designed to be heavy-duty and resistant to outdoor use in all weather conditions.
The Light Timer is CSA certified and has ratings of 15 A, 1, 800 W, 120 V, and 60Hz.
There is a manual override On and Off switch, and the cover is fully waterproof, meaning the device is really quite safe and secure from weather elements and outdoor pests and insects.
---
3
The BN-Link 7-day heavy-duty Digital light timer is ideal for helping you save on energy and costs thereof.
It is a versatile and customizable light timer that you can set on up to 8 programs with on and off settings.
It has two grounded outlets that are controlled simultaneously.
It is an easy set-and-go device that allows you to select the individual day that you need combinations for.
You can put it in vacation mode to go on and off randomly to protect your home.
---
4
The Intermatic Hb880R us 15 Amh Outdoor digital Light timers.
It is versatile enough to be used to control and time lights, Christmas lights, decorations, Pumps, or fans and has an astronomic Self Adjust design.
The Light Timer is a full-time plug-in device that allows for seven-day programmable timing with 14 on and off levels.
It comes with a waterproof cover and has a very durable design.
The Timer plugs directly into an outlet and has a 24-inch-long cable and 5-15 plug configurations.
---
5
The BN-Link Smart Wi-Fi light timer for outdoor lights works fully with a Wi-Fi connection and is completely wireless for your convenience.
The outdoor light timer has a smart schedule design that will automatically power lights and heavy-duty electronics.
There is a countdown timer that allows for the flexible count down times.
The device is water and weatherproof for outdoor use.
It has multiple outlets and uses Alexa or Google assist to function.
---
6
The Tiffcofio Outdoor Light Timer has a Dusk to dawn sensor Timer for lights and other electrical devices.
The Timer is waterproof and weatherproof for outdoor durability.
It comes with two grounded outlets and is a 15A 1/2HP CSA-listed device.
The Timer has multiple timer functions with eight countdown settings that repeat daily.
It has Photocell light sensors for outdoor lighting that senses when it is day or night.
---
Index Table: Top Rated Outdoor Light Timers
---
---