Some of the links in this post are affiliate links. This means if you click on the link and purchase the item, I will receive an affiliate commission at no extra cost to you. All opinions remain my own.
Awnings are the original air conditioner, keeping you cooler outside and in. Valley Window and Door sells custom retractable awnings fabricated in Canada of quality components and fabrics at prices you can afford. Treat your family and home to the sun when you want it, shade when you need it!
Awnings are an affordable and original air conditioner to keep you cooler on the outside and the inside alike.
The most awning will comfortably fit, and any door and window provide shade and can be retracted when needed.
In this article, we will look at some of the best available Awnings for your Patio specifically.

---
Why Opt for a Patio Awning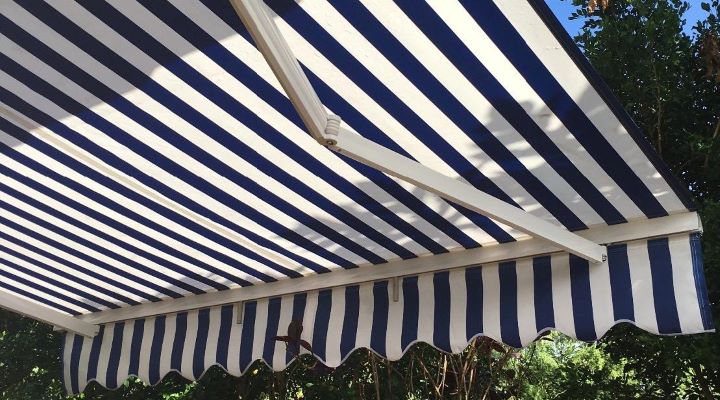 Here are a few good reasons why you should get an awning for your patio;

Protects Your Family From Sun and Rain – An Awning over your deck or patio will protect you and your family from around 98% of the sun's harmful rays. Most awnings are also waterproof, so you will enjoy staying dry on your patio.
Blocks Harmful UV Rays – For Closed type patios, you can install a window or door awning that will help to block out the sun a bot to keep your patio cooler in the hot summer months. These awnings could also be used in other areas of your home to keep certain rooms cooler.
Reduced Energy Costs – You will have seriously reduced energy costs if you use an awning as a cooling and protection system rather than an expensive air conditioner or building a full roof cover.
Low Maintenance and Easy Care – Awnings are generally water-resistant, weatherproof, and non-fade materials, so they are durable and stay looking good for longer. You can easily clean the fabric of your awning as some allow for easy removal for washing.
It Enhances Your Home and Lifestyle – All in all, an Awning on your patio will also look great and enhance the value and decorative appeal of your home. Awnings come in many styles and colors that should easily complement your home's colors and style easily.5.
---
Choosing the Right Patio Awnings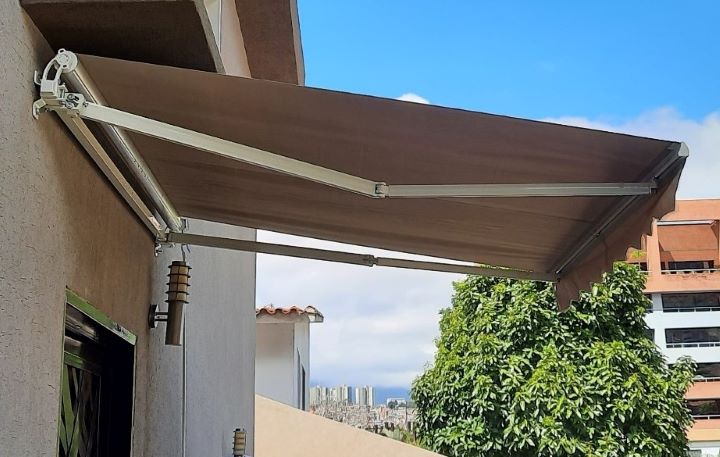 Adequate Shade – When you choose an awning, you need to make sure that the size is right for the area you want to use it and that the amount of shade it provides is adequate for your needs.
Treated Fabric – The fabric cover of the awning needs to offer good weather resistance and water resistance or proofing. Choose a fabric that will withstand the sun's rays, be weather resistant, and prove good water resistance or waterproofing.
Space Available – Make sure that you measure exactly the space you have available for the awning and that the size of the awning that you choose matches the space.
Weather Resistant – As I have mentioned, the awning frame and fabric cover need to over-good weather resistance against the sun's rays, wind, and water. It should be able to withstand strong winds, wetness, and staining in turn.
Design – Then again there is design, and color. With so many options available, make sure to choose something that matches the colors and style of your home.
---
Features of a Good Awning for a Patio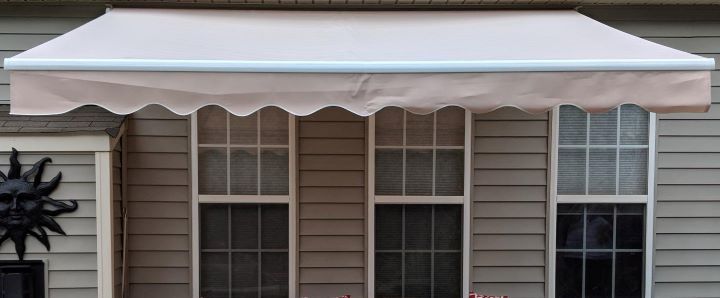 Waterproofing – Any an all patio awning will eventually get wet, that is inevitable, and want a soaking awning that may become damaged and moldy from wetness. So Waterproofing in a patio awning is quite important. Choose premium waterproof or water resistant fabric such as TEXGard fabric, or Polyester or lined fabrics to provide efficient waterproofing.
Wind Resistance – Ensure that the patio awning's cable tensioned or folding arms can withstand very high winds. The fabric of the awning also needs to be kept taut to prevent damage from strong winds. Many automatic awnings come with wind sensors that automatically retract the awning in the event of strong winds. It is advised to retract the awning manually during strong winds if you do not have an automatic system.
Easy to Use – Patio awnings are considered to be much more versatile than other shading systems for outdoors, such as gazebos and parasols. They are generally easy to use, and there is no lengthy assembly and taking down. They provide adequate shelter that you can easily fold down when needed; a Motorized or automatic awning is even more versatile and easy to use as it extends and retracts with the touch of a button.
Easy Installation – Proper installation is just as important as the awning itself. You may want to hire a professional or install it yourself; however, you should ensure that it is installed properly and use instructions given fully. Make sure that the awning you get comes with clear and full instructions, as well as all the tools and parts you will need for assembly.
---
Reviews: The Best Awnings for a Patios
These are the best available patio awnings that offer variety in size and colors;
We hope you love the products we recommend!
So that you know, We may collect a share of sales or other compensation from the links on this page.
---
1
The Aecojoy awning is fully retractable and comes in a few size options.
It is ideal for home and business use and comes in a neutral beige colors option.
The materials are water and UV resistant consisting of 280 grams of polyester,
The frame is a solid powder-coated aluminum that is lightweight and very durable, as well as rust-resistant.
The retractable design is straightforward to operate with a slight hand crank.
---
2
From best Choice products, we have a 98×80 inch retractable awing that is available in more colors.
It has a light powder-coated aluminum frame that is durable and rust-resistant.
The cover is fully weather-resistant and durable, and fully waterproof.
It offers a large area of shade for the home or the office.
---
3
The Diensweek patio awning is durable and comes fully assembled.
It is a 12 by 10-inch size and comes in a neutral beige color.
The awning is a manual design and commercial grade.
It consists of 100% premium polyester in 280 grams.
The fabric is weather and water-resistant.
---
4
The Vivo Home Awning system comes in three different size options for your specific needs.
It is a Polycarbonate window and door awning with an ABS bracket and aluminum striped materials.
The awning is UV and water-resistant as well as very durable in all weather.
It has a simplistic and modern design for your home.
---
5
The Advaning Awning system gives you so many options.
You can choose from a few neutral solid and striped color options, as well as different sizes.
There is also a choice of a manual or automatic retraction and extension system.
The fabric for the shade is a premium 100% fade and UV resistant acrylic that also provides waterproofing.
It is straightforward to assemble and comes with full instructions.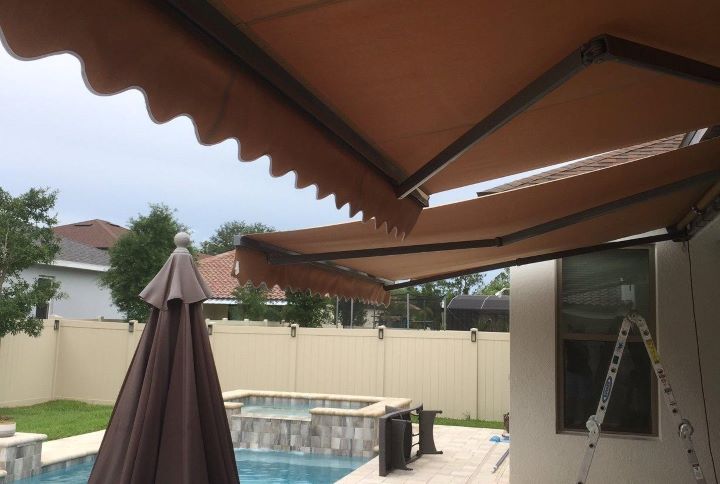 ---
6
From Outsunny, we have a manual retraction Awning system.
It offers adjustable protection with the manual retracting design with a 59-inch long hand crank for easy use and grip.
You can easily place it above a window or even a door and on a variety of surfaces.
The aluminum frame is sturdy and rust-resistant, and the 280-gram polyester cover is UV and water-resistant.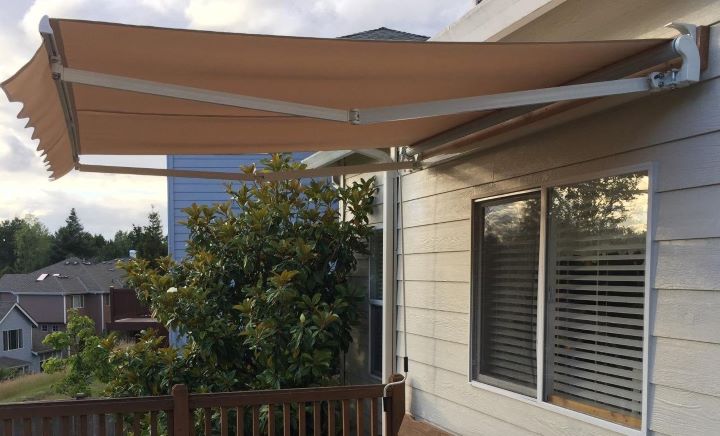 ---
7
The Outsunny patio awning is a manual retractable shade.
It offers excellent shade and has an adjustable canopy.
The awning needs to be retracted manually.
It is available in more color options.
---
8
The Tangkula retractable awning is durable and ideal.
It has an aluminum frame and water-resistant polyester fabric.
The awning is very durable and provides efficient shade.
Ideal for multiple applications and occasions.
---
9
The Mcombo Awning is another top favorite.
It has a manual retractable design.
The patio awning is a solid structure with polyester Pu coated water-resistant fabric.
It is also available in more color options.
---
10
From Diensweek, we have a superb design patio awning.
It is manually retractable and commercial grade.
The frame is durable with polyester fabric.
Ideal for shade and is also water-resistant.
---
Index Table: Top Rated Patio Awnings
---
---