Some of the links in this post are affiliate links. This means if you click on the link and purchase the item, I will receive an affiliate commission at no extra cost to you. All opinions remain my own.
The right deck box can help you maintain a clutter-free, neat porch or deck and will store and protect your outdoor essentials and much more.
There are many considerations when choosing the best deck box for your deck or patio, with many options available.
Luckily we are here to help you find the perfect solution for your deck.

---
---
Three Types of Deck Boxes
Deck Boxes are the perfect items to store firewood and barbeque tools, among other necessary items, and some are ideal for storing deck linen such as pillows and cushions or blankets.
When it comes to the right deck box, there are not only different sizes, shapes, and materails but also a few main types that you need to consider according to their uses;
Traditional Deck Boxes – The Traditional Deck Box comes in a double-duty design that offers a seat or table for placing things upon and a closable space for storing items inside.
Cushion Bins – The Cushion Bin is longer and designed to specifically store deck linen such as seat cushions, table cloths, and pillows.
Storage Benches – The Storage Bench is shaped like a bench that either comes with arms or padded cushions and storage space inside. Besides being a storage space, these are used as decorative and functional pieces.
Ice Boxes and Coolers – Some deck boxes double up as an icebox or cooler where you can keep drinks and food items cool and use the box for a decorative piece or tabletop.
Flower Planter – Some deck Boxes offer storage space with top flower pots where you can decorate your deck or porch.
---
Best Materials for a Deck Box
Resin – The most affordable material option for a deck box is resin. Resin can be obtained in many color hues that easily blend in with your landscapes. Resin can also be molded to mimic certain textures and features to look like wood and other materails.
Wood – Wood is a more expensive option and commonly consists of Teak, cedar, Eucalyptus, or other moisture-resistant woods. The wood is usually treated for weather and water resistance and will range in colors and stains.
Plastic – Plastic is properly taken care of, will not rust or deteriorate, and can be lightweight and long-lasting as a deck box. However, plastic tends to stain depending on the color. Plastic is also more prone to UV and sun damage.
Wicker/Rattan – Wicker and Rattan are the most stylish pick and give a much more classy and sophisticated look to your deck. The wicker and rattan material options bring a dash of coastal or traditional styles and various colors.
---
Features of a Good deck Box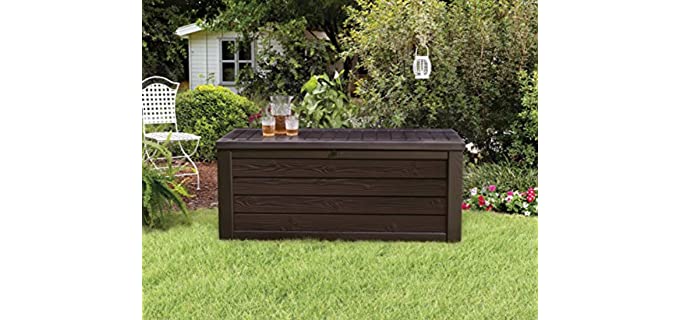 Weather resistant – remember that your deck box is exposed to weather elements such as rain, sun, and wind 24/7, so choose a style and materails that offer excellent weather resistance.
Lockable – A lockable option protects the items inside your deck box against thieves and burglars.
Coolers – The Cooler design deck box is ideal for keeping drinks cold and other items in.
Wheeled Options – Some deck boxes come with wheels making them more portable and easy to move around as needed.
Materials – As discussed, deck boxes come in resin, plastic, wood, or Wicker and rattan options.
Size and Shape – You will see most deck boxes are available in various shapes and sizes, with square, rectangle, and even round shapes depending on the use.
Uses – Besides storage, the deck box's design and style will reflect its other uses, such as a table, seat, planter, or cooler box.
---
Reviews: The Best Deck Boxes
Below are the top choices in Deck Boxes of all shapes, sizes, and materails.
---
1
The Keter Westwood is a 150 Gallon large Resin deck Box that can serve as an Outdoor cushion and storage for various essentials.
The Deck Box comes in two color options, brown and black, and a rectangle or round shape from which you can select.
It consists of a durable resin material that has an appealing wood texture.
The Resin is all-weather resistant and very durable for outdoor use.
The easy lift and close mechanism with hydraulic pistons allow you to open and shut the lid easily and safely for children.
There is a large seating area that you can use and ample storage space inside.
The design will keep its contents dry, well ventilated, and safe.
---
2
The Lifetime 60012 Extra Large Model is a large Deck Box design with a few color selections available.
You can select between a few neutral color options and an 80, 116, 130, or extra-large 150-gallon size option.
The rigid dual-walled deck box comprises rust-free stainless steel and high-density polyethylene.
The lid is lockable for security, but you need to get your lock.
The build and materails are fully weather resistant and can sit on any surface.
The Controlled spring Hinge lid opens over 90 degrees and will not slam shut.
---
3
We have the Beverage Cooler Deck box from Backyard Expressions with a decorative American Flag on it.
The Deck Box has a rustic wood design with a decorative painted American Flag On it.
The inside is fully insulated and durable to keep your drinks cold.
There is also a Galvanized steel liner for durability and cooling.
It includes a drainage spout for accumulated water and an additional bottle opener.
The deck box has a five-quart capacity that can hold up to 64 cans at a time.
---
4
Another excellent addition from Keter is their Circa model, a round-shaped Deck Box and cushion.
The Round shaped deck box offers 37 gallons of storage capacity.
It consists of a durable and weather-resistant resin material and is available in a wood finish in a few neutral color options.
The Deck box can double up as a seat cushion or a round table for your deck or patio.
It comes very easy to assemble with no extra tools required.
---
5
The Algreen Products Ergogarden deck Box is something a bit more decorative.
The deck Box has an ergonomic height for standing or sitting.
There are two cabinet doors for storing items that open and close easily.
Sat the top are planter boxes where you can plant flowers or plants of your choice as a deck decoration.
The deck Box consists of durable and weather-resistant material.
---
6
The Merry Garden wooden deck and Patio Box is an original design deck box cooler and style with handles on both sides.
The deck Box cooler has a stylish and elegant design that will look great on your deck or patio./
It doubles as a cooler to keep drinks and food cool and fresh.
The exterior consists of durable and weather-resistant Eucalyptus hardwood.
The Deck Box will arrive fully assembled, so no assembly will be necessary.
---
7
A deck and storage box in one that is beautiful plastic.
It has a 22-gallon capacity for your deck garage and other areas.
It is a durable and water-resistant polyresin material that will not rust or fade.
Functional design with a lid that opens on hinges,
Small-sized and fits on any deck.
---
8
The deck box is easy to assemble and install on your deck.
It has iron rods for support and strength and gas rods for opening and closing.
There is a large 120-gallon storage capacity.
You get a lock included in the package as an added surprise.
---
9
This is a durable and lightweight aluminum deck box.
It is wear-resistant, waterproof, and UV-protected.
The deck box has a functional design with a flip-top air pump for opening.
The thickened lid is durable and can withstand the weight of three adults sitting on it.
---
10
A rattan High-Density Polyethylene deck box.
It is easy to assemble with o tools needed.
The deck box is durable and all-weather resistant.
It offers a versatile storage area and bench.
The hydraulic design easily in lifts and closes with no effort.
---
Index Table: Top Rated deck Boxes
---
---