A Fire Pit on your deck can be an excellent investment as well as a highly functional device for warmth and lighting.
The best deck Fire Pit will provide a safe outdoor option for a cozy and comfortable outdoor atmosphere that can be enjoyed for many years.
This article will help you select the best fire pit for your deck that is safe and meets all your requirements.

---
---
Why Invest in a Deck Fire Pit
You may have heard many warnings and fears about a deck fire pit, which is true if you do not follow the easy safety rules and handle them carefully.
But there are also so many excellent benefits to having a fire pit on your deck;
Cozy Outdoor Atmosphere – Whether for a party, a family evening, or just you and your partner snuggling up for an evening on the deck, the fire pit creates an ambient atmosphere with a warm glow for warmth and light.
Heat and Light – A fire pit's main function is to provide heat and light. As it gets cooler on the deck in the evenings and darker, you can sit closer to the fire pit for some heat and have some light.
Extends Your Home – The Fire Pit will extend you home. You will now have a warm, lighted, and comfortable extended area to spend family time and host gatherings and parties for your friends.
Useable All Year Round – You can use your Fire Pit all year round and for all occasions as it provides good heat and light.
Grilling – Some deck fire Pits allow you to grill on them, pop a grill plate on top, and cook your favorite food or snacks.
---
Considerations When Getting a Deck Fire Pit
To help you make the best choice in a deck Fire Pit and how to use it, here are a few considerations and safety tips;
Location – First, decide on the location and space size you have available to place a fire pit. Ensure that the location is far away from any flammable items and furniture. It should be at least ten feet away.
Protective Surface – Use a Fire Pit pad to protect your deck from gas, embers, and ash, underneath your fire pit. Never place a fire pit directly on a wood deck, as ash and flying sparks may cause damage.
Spark Screens – As you will see, most deck fire pits come with a spark screen, and if it does not, I advise that you invest in one. The spark screen prevents embers from entering the air and protects your deck from sparks.
Additional Layers – For even more safety, you can pour some sand or add some extra padding layers around and underneath your fire pit.
Weather Conditions – Using your fire pit on your deck is ideal in calmer weather. Using it in high wind puts your house, deck, and other valuables at risk, so do not use it when it is windy.
---
Features of a Good Deck Fire Pit
The Firepit comes in many shapes, sizes, and options. Most fire pits consist of a durable metal bowl, a protective screen, and some additional tools and equipment. The edges may be metal or, in some options, a more decorative stone.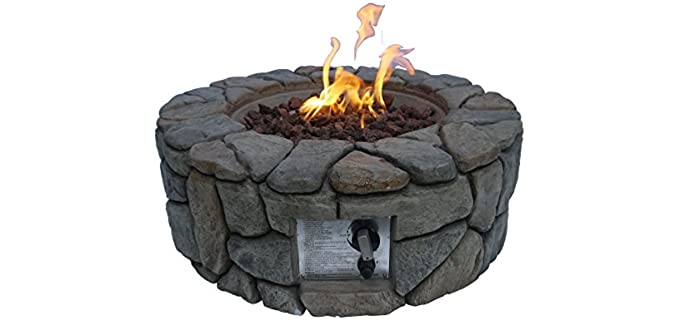 There are three main types of deck Fire Pits available;
Gas Operated Fire Pit – This Fire Pit uses propane or Natural gas to burn and has a push-button ignitor that immediately ignites a flame. With this type of Fire Pit, there is no ash or much smoke as with a wood Fire Pit. The pit will require a gas cylinder and gas to be filled regularly.
Gel Fuel Fire Pits – The Gel Fuel deck Fire Pit uses a gel-Ethanol that comes in jars or cans and pours into a specific ceramic cylinder, log, fire glass, or decorative diffuser. These are usually very small and used as tabletop lanterns more than a fire pit.
Wood Fueled Fire Pit – The Wood Field Fire Pit is the traditional and most favored fire pit where you use wood to burn inside the fire pit. These pits usually contain metal, stone, concrete, or prefab materails. The only downfall is that there will be some smoke and ash. On the positive, the wood creates a lovely aroma, and it can be used for flavorful barbecues. The wood will also have to be ignited manually.
---
Reviews: The Best Deck Fire Pits
---
1
The AmazonBasics Natural Stone Fire Pit has stunning copper Accents and is the ideal Wood Fire Pit for your Deck.
The fire pit has a portable design.
A black steel fire bowl, natural stone finishings, and diamond copper accents exist.
This is a stunning and versatile wood fire pit with stabilizing feet, a log grate, fire tools, and a fire screen.
The fire tool keeps your hand from the heat when changing and maintaining the firewood and fire.
---
2
The Outland Fire Bowl Deluxe is a portable outdoor propane Gas Operated Deck Fire Pit and Carry Kit.
The design is compact and easily portable, and easy to set up. You don't need any tools.
The fire pit is likewise CSA-approved and safe during most campfire bans.
You will get the complete kit, including the Cover, Carry Kit, Pre Attached 10 feet hose for a 20lb propane gas tank, and a fully adjustable regulator with a chrome knob style valve to vary the flame height.
A 4.4-Lb lava rock set was included to enhance the flickering effect and create the illusion of firewood for aesthetic appeal.
Gas Firepits are ideal as there is hardly any smoke and less cleanup with no ash.
---
3
The Pure Garden Store Fire Pit set comes as a full kit with a protective screen, a wood-burning pit, and a log poker.
A stunning square 30-inch size marble design fire pit for your deck or patio.
It is wood-fuelled with a powder-coated steel fire pit that will not rust.
The Firepit is weatherproof in design, lightweight for portability, and extremely durable.
You get a full set with a screen and log poker with your fire pit.
The Pure Garden Fire Pit is easy to set up, low maintenance, and clean.
Additionally, you will get a PVC cover for weather resistance and protection with your purchase.
---
4
The Landmann USA Patio Lights deck Fire Pit is a stunning addition to your deck or patio.
This is a smaller design deck for the pit with a fire wave design and cutouts and a pleasing black finish.
The cutout designs give off an interesting light specter with different interesting shapes.
It comes fully equipped with a barbecue grate, a protective spark screen, and a handy poker.
There is also a safety ring attached to the fire pit to be transported for portability easily.
---
5
From Endless Summer, we have another superb Gas Model Table Top design Portable Fire Pit.
The Fire Pit has a 10 000 BTU stainless steel burner and uses LP gas as fuel.
A Gas Fire Pit does not emit ash or much smoke, making it easier to clean and less messy or fussy.
There is a hidden control panel on the fire pit for quick ignition and setting.
The fire pit has a slate finish with faux stone construction that looks natural and blends well with background décor.
Just so you know, the LP tank is not included and must be purchased additionally.
---
6
The Peaktop Round Gas Fuelled deck Fire Pit has a stylish design and perfect size.
The fire pit has a stylish contemporary design that creates warmth and interest in our deck or patio.
It includes a 6.6lbs Lava Rock to create the illusion of real wood.
A large burning area can emit up to 40 000 BTU using a 20lb gas bottle.
You also get a protective PVC cover by purchasing this deck Fire Pit.
The design is easy to clean, and there is low maintenance with no ash and wood to clean up afterward.
---
7
The Firepit is 28 by 28 inches tall and 70 lbs in weight.
It is a Stainless steel design with a 50 000BTU stainless steel gas burner.
Fiberglass is included in the set.
The fire pit can be converted into a table.
---
8
An outdoor fire bowl design for your deck or patio.
The fire bowl has a built-in log rack that looks very neat.
It uses wood and charcoal for fuel.
The design is sleek, safe, and easy to use.
---
9
This is an extra deep wood fire burning deck and patio fire pit.
It has a mesh cover to reduce escaping sparks.
Ther is a built-in circulation system for better airflow and larger flames.
There is also a poker included.
---
10
Enjoy the perfect no-mess campfire with this fire pit.
It is CSA-approved and safe during campfire bans.
You get the complete kit with all accessories.
It is a gas-fuelled fire pit that comes with a handy carry bag for portability.
---
Index Table: Top Rated Deck Fire Pits
---
---