Some of the links in this post are affiliate links. This means if you click on the link and purchase the item, I will receive an affiliate commission at no extra cost to you. All opinions remain my own.
The best deck tiles can be an attractive, economical, efficient, and great-looking finish option for your deck that will extend its longevity and upgrades your deck's look.
There are so many options for deck tiles that are easy and efficient to use. The overall style and feel will depend on your personal preferences in the end.
So in this article, we will look at some of the many options available to you for deck tiles.

---
Why Choose Deck Tiles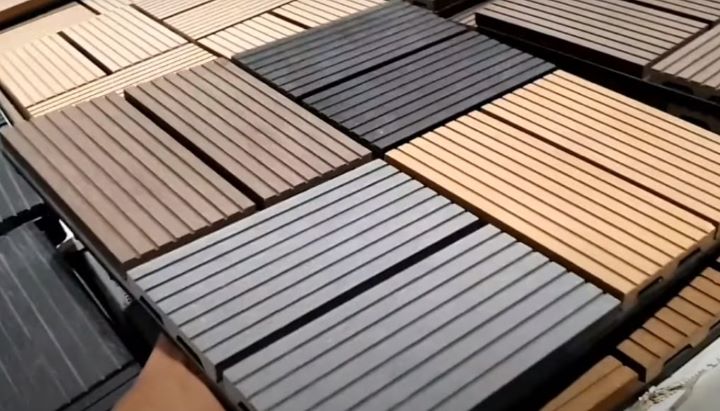 But let us first get into the argument of why deck Tiles are a better choice than other finishes.
Deck Tiles consist of eco-friendly, durable, weather, and rot-resistant materials that will last very long, so you won't need to worry about replacement or touch-ups very soon.
Most deck tile varieties are straightforward to install as they snap in and come in a block set.
Deck tiles come in various materails and finishes such as plastic, wood, stone, and resin materails.
You can also enjoy the multiple colors and finishes that deck tiles are available in, making them even better than having to paint your deck for the same effect.
---
Benefits of Using Deck Tiles
Using deck Tiles comes with many other benefits besides the choice variety and aesthetic reasons;
Flexible Design – You can combine various styles and colors to create borders, medallions, and geometric patterns or areas of interest using only deck tiles. They are an excellent option for creating fun ideas and decorative details on your deck.
Replacing Damaged Tiles Are Cheap and Easy – With deck Tiles, you can easily swap out the damaged tiles, no mess, no fuss, and no tools required, and replace them with another tile. There is nothing easier, and it is an extremely affordable way of maintaining your deck in perfect condition.
Scratch Resistant Tiles – Most deck tile materails are scratch-resistant and can withstand quite an amount of wear and tear without the need for a deck brightener.
Hide gaps, Gouges, and Cracks – Deck tiles can easily just be placed over damaged and flawed wood or concrete decks that you would like to hide. However, major structural damage may need to be repaired first.
Easy Installation – You require no additional tools to install most deck tiles brands as you lay them down and snap them in. because they are so easy to install, they are also quite fast and will not take up much of your time.
---
Features of a Good Deck Tile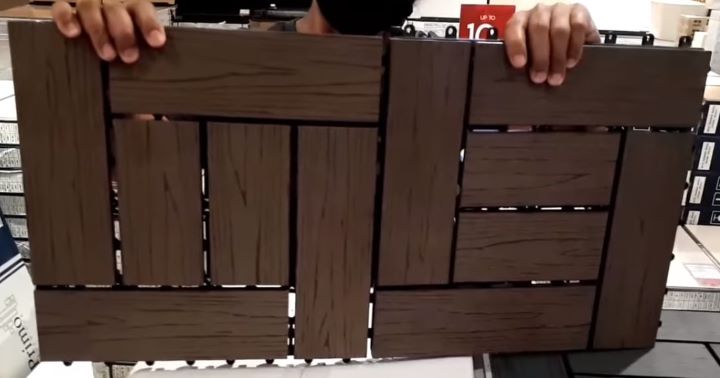 Materials – Deck Tiles come in various materials such as ceramic, stone, plastic, wood, and a blend of wood and composite materials. You can even find artificial grass tiles to use as part of your deck tile design.
Colors – wood tiles come in more natural color options. Other materials are available in a large variety of colors and finishes. Some may mimic wood and natural elements.
Resistance – Most deck Tiles come treated or in materials that are UV, water and insect resistant. If it is made of durable polymer, it can be heat, moisture, and insect resistant, making them durable and low-maintenance
Installation – Most deck Tiles just lay flat and interlock, although you may find some with an adhesive design. outdoor deck and patio tiles can be easily installed on uneven ground, grass, and dirt.
---
How We Test and Score Deck Tiles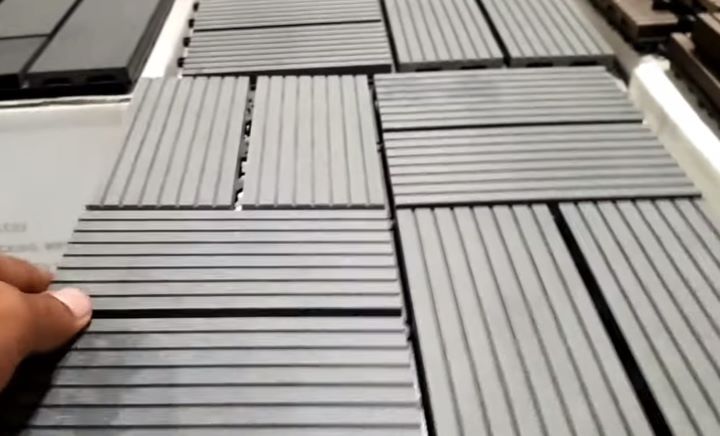 These reviews are based on intense research, analysis, and feedback from our experts and real users from different digital platforms.
We spent 27 hours trying, testing, and scoring these Deck Tiles, for different key parameters and then shortlisted the best products in the market, saving you time and effort.
We used the following parameters for our tests and analysis.
Durability – We researched how long users can use these products without any reported changes in their quality or design.
Easy Installation – We noted how easy it was to install without exerting much effort.
Scratch Resistant – We researched how well the products resist scratch.
Design – We analyzed the product's design to check if it is appropriate for users' liking.
Insect Resistant – We researched how well the products resist insects.
---
Frequently Asked Questions (FAQ) Regarding Deck Tiles
---
Reviews: The Best Deck Tiles
We hope you love the deck tiles we recommend!
So that you know, We may collect a share of sales or other compensation from the links on this page.

---
1
The Bare Décor EZ Floor deck and Patio Tiles are easy application interlocking tiles with solid oiled teak wood in longer slat options.
The Tiles consist of solid teak wood with a smooth oiled finish that is natural and aesthetically pleasing.
They are excellent for both indoor and outdoor use in various applications.
The EZ-Floor interlocking system makes it easy to install, maintain, and replace when necessary.
You can even install the tiles over slightly uneven floor surfaces with ease.
| Rating Category | Weight % | Score |
| --- | --- | --- |
| Durability | 30% | 100 |
| Easy Installation | 20% | 100 |
| Scratch Resistant | 20% | 100 |
| Design | 15% | 95 |
| Insect Resistant | 15% | 95 |
| Total Score | 100% | 98.5 |
---
2
The Courtyard Casual Outdoor deck Tiles come in a stone white color and look like natural stone for a more natural appeal to your outdoor deck or patio.
You can choose between the white/grey color option or a more neutral beige/white color option in the stone design option.
The Composite deck tiles consist of a wood and plastic composite material called WPC.
The tiles are interlocking in design, so installation and replacement are quick and easy.
You get six tiles in each pack, and different options are available.
These tiles make the perfect addition to every home, and they come with a one-year warranty for quality.
| Rating Category | Weight % | Score |
| --- | --- | --- |
| Durability | 30% | 100 |
| Easy Installation | 20% | 100 |
| Scratch Resistant | 20% | 95 |
| Design | 15% | 95 |
| Insect Resistant | 15% | 95 |
| Total Score | 100% | 97.5 |
---
3
The Pandahome Wood and Plastic Composite Deck Tiles come in a large set of 22 pieces for your deck or patio.
The Deck Tiles consist of durable and natural-looking wood and composite material that is high quality with a composite finish.
There are a few different color options you can choose from, and each set comes with 22 pieces.
The unique blend of materails used in the tiles protects them from fading, rotting, staining, scratching, and other elements and issues associated with traditional wood decks.
Because the tiles have an interlocking design, they are easy to install and can likewise be placed on almost any surface type.
The decking tiles ate waterproof, rigid, and very stable, so little maintenance is required overall.
| Rating Category | Weight % | Score |
| --- | --- | --- |
| Durability | 30% | 100 |
| Easy Installation | 20% | 100 |
| Scratch Resistant | 20% | 90 |
| Design | 15% | 95 |
| Insect Resistant | 15% | 95 |
| Total Score | 100% | 96.5 |
---
4
The AsterOutdoor Interlocking Deck Tiles are easy to install and highly durable for outdoor use.
You can choose from a six-piece, ten-piece, or 27 pieces set according to your requirements, and there are also two color options available.
The tiles' Open design is slip-resistant, and the grooves on the tiles will keep you from slipping should they become wet.
The durable quality materails used in the tiles ate weather-resistant and wear & tear-resistant.
The tiles consist of a heavy-duty plastic material that is lightweight and will not crack or stain.
Because of an interlocking design, these tiles are straightforward to install and maintain.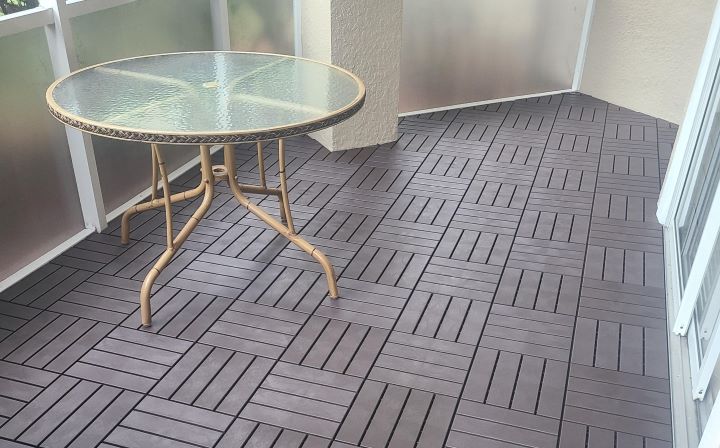 ---
5
We have the lovely Hardwood Deck and Patio Tiles that are easy to install and come with a 5 Year warranty for Acacia's quality assurance.
The Deck tiles consist of genuine Acacia hardwood with inherent oils similar to teak.
Acacia grows its own Acacia trees to source the wood that is finished and oiled in a selection of finishes that you can choose from.
The Tiles are easy to install and maintain because they are interlocking.
You can select the different natural color variations that are available.
These tiles ate also designed and treated to be water-resistant, durable, and weather-resistant.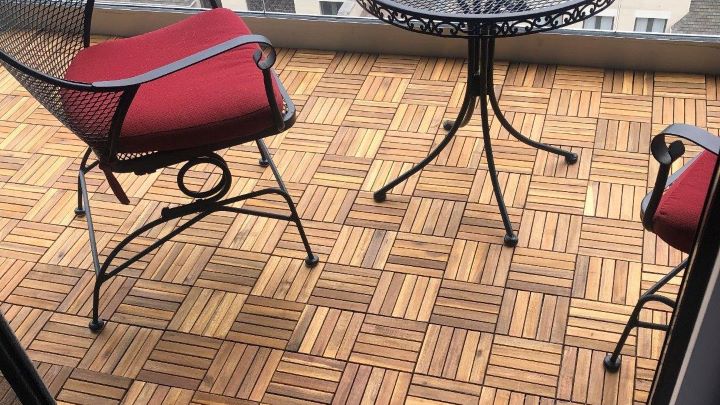 ---
6
The Pure Garden Patio and deck Slat pattern Outdoor tiles will make an attractive addition to your home that is easy to maintain and install.
The Tileset comes in six-piece options and three different colors you can select.
The tiles are easy to assemble as they snap together, so you will not require many tools or much time to install them.
Every tile consists of sturdy, eco-friendly wood and composite material that comes already finished, so no staining or sanding is required.
The tiles' open design allows for better airflow and proper drainage and is weather-resistant to not swell or decay, like natural woods.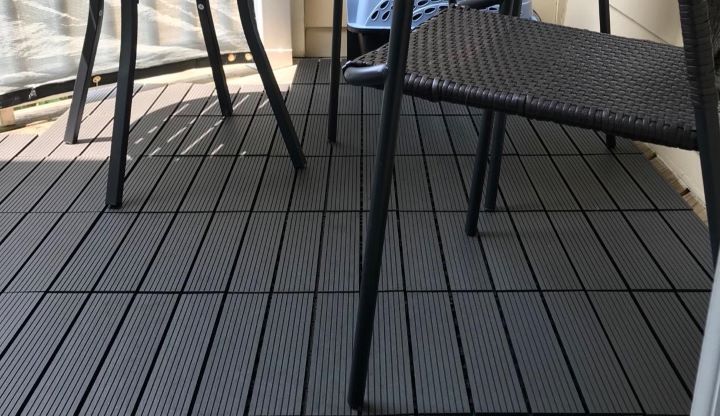 ---
7
You can use the flooring tiles outside or inside the house.
They have an easy-to-use interlocking design.
They are ventilated and anti-slip in texture.
Low maintenance and very easy to clean.
---
8
High Quality plastic decking tiles.
They come in two available colors.
The tiles have an interlocking easy-to-use design.
They are durable and easy to clean.
---
9
These are large DuraGrid decks and patio tiles.
They are slip-resistant and safe.
The Tiles come in a few available color options.
They are the perfect accessory for any outdoor area.
---
10
These tiles are made in Canada.
They come in two attractive color options.
They are impervious to rot, mildew and mold.
The tiles are very easy to install. They snap together and are easy to clean.
---
Index Table: Top Rated Deck Tiles
---
---