Some of the links in this post are affiliate links. This means if you click on the link and purchase the item, I will receive an affiliate commission at no extra cost to you. All opinions remain my own.
However, getting within reach of electricity to operate outdoor lighting may not always be a feasible choice, and this is where the best outdoor battery-operated lightbulbs cab really come in handy.
Outdoor lighting is an excellent solution when you want to enjoy some time with family and friends on your patio or deck; it is also a great security measure and loads of fun at Christmas time and other holidays.
However, having to struggle with cords and finding an electrical outlet to work your outdoor lighting can be quite infuriating.
Therefore why not opt for battery-operated Outdoor Lightbulbs and lights that only need new batteries or charging once in a while and that still can provide much needed light as you need it.

---
Why Battery-Operated Lights are a Better Choice
Using Outdoor Battery Powered Lights is an excellent option and affordable option, which means you do not need to install an extensive electrical system outdoors on your patio or a deck.
Here are a few ways in which outdoor battery-operated lights and lightbulbs are ideal;
Outdoor Battery-operated lights are fairly inexpensive even when you need to replace or charge the batteries in comparison to electrical cords.
You can easily install battery-operated lights anywhere with no fuss and no wiring required.
There are no cords laying around that look unsightly and can cause a tripping hazard.
---
Types of Battery-Operated Lightbulbs
There are mainly two types of battery-operated lightbulb choices available;

Single – You get single battery-operated lightbulbs that usually come in a set of two or more lightbulbs that have either replaceable or rechargeable batteries. The lightbulbs may come with a hook for hanging, or you may be able to screw or plug them into a light fixture.
Strings – Battery-operated string lights consist of a string of between 20 to 70 smaller or larger lightbulbs that is fully battery-operated. The corded string usually has a small block or holder for the batteries or rechargeable battery, and then the bulbs are placed on the string, and all work together. This is usually a great option in terms of fairy lights, or Christmas lights, or any other special occasion.
---
Features of a Good Outdoor Battery-Operated Lightbulb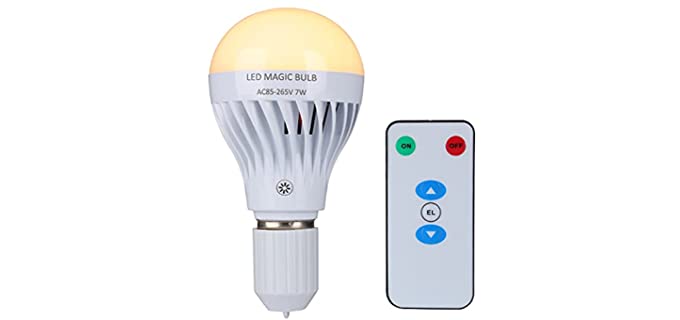 Design – There are single lightbulbs that you can purchase individual or in sets. Some string outdoor lights have also been included, which have many battery-operated lightbulbs.
Light – We have included LED and regular lightbulb options.
Extras – Some of the options are rechargeable batteries that use a USB cable for charging. There are also additional extras such as remote-controlled lightbulbs and hanging features.
Lightbulb Shape – As you will see from our collection, the string lights may have small fairy light sized bulbs or larger round and oval bulbs. The single battery-operated lightbulbs will mostly be round or novel in shape and a regular size.
---
Reviews: The Best Battery-Operated Lightbulbs for Outdoors
In our list we have a wide variety of battery-operated outdoor lightbulbs and light strings;
---
1
From Metaku, we have string lights with lightbulbs.
They are a fairy light design that is perfect for use for functions, Christmas, or everyday use at your home.
The Crystal globe fairly lights up and has an upgraded design, and they have eight different dimmable modes.
The set comes with an easy-to-operate remote and brightness adjustment.
It is fully battery-operated with Led lighting and ideal for indoor and outdoor use.
---
2
From AlltroLite, we have a four-pack of outdoor battery-operated lightbulbs.
The lightbulbs are portable and wireless with COB LED lighting bulbs.
They are fully battery-operated LED nightlights that have a cordless switch.
There are two lighting modes and an optional 30-minute auto-off timer.
You get a four packs of lightbulbs with two remote controls and the AAA batteries that you need for the remote and lightbulbs.
---
3
From JakonLux, we have a rechargeable battery-operated emergency lightbulb that you can use outdoors.
It is ideal for camping or use at home when there is a power outage.
The Lightbulb is a 9W 850 Lumens soft white 3000l e26 bulb with 120 Volts.
You get four lightbulbs with your purchase which are rechargeable Led bulbs, and four caps with a switch and a hook for hanging.
They are ideal for outdoor use and are weather-resistant.
---
4
The Setifuni outdoor battery-operated lightbulbs are also a light string design for Christmas and other functions or as a garden decoration.
The string lights are waterproof and weatherproof.
You get a string of 50 LED lightbulbs that have a warm and clear call shape.
They have 8 lighting modes and come with a full remote control.
The string lights require 3 AA batteries which are not included with your purchase.
---
5
The Loende LED Crystal string globe lights are perfect for outdoor use for all occasions.
They are a 16 feet string light option with 30 LED lightbulbs that are premium quality.
The string light bulbs use 3 AA batteries to function, which are not included.
They have a 4.5-volt output, eight different light modes, as well as a built-in timer function.
They are fully waterproof and energy-saving.
---
6
From Brightech Ambience, we have the Pro USB chargeable battery String Light Bulbs.
They are outdoor design shatterproof lightbulbs that are also waterproof.
The lightbulbs employ a 1.5W LED soft white light.
The string lightbulbs are very easy to install and have WeatherTite technology.
The lighted portion is 17 feet with 2700K of soft white light.
---
7
Dealbang, we have compact LED lightbulbs ideal for camping and outdoor use at home.
The lightbulbs are LED portable hanging lights that are battery-operated.
They have three modes of lighting and multiple applications.
The lightbulbs require 3 AAA batteries that are not included and need to be purchased separately.
The Battery-operated lightbulbs come in different color options from which you can choose as needed.
---
8
The LED Magic Light bulbs are likewise fully battery-operated.
They are 7 W LED white energy lightbulbs that come with a remote control and fully rechargeable built-in batteries.
They are E26-size lightbulbs for use indoors and outdoors.
Perfect for camping and when there are power outages, so you always have light available.
---
Index Table: Top-Rated Battery-Operated Lightbulbs for Outdoors
---
---