When you want to light up your garden or your patio, keep in mind a little goes a long way. Your eyes need less light outdoor than they need indoors in order to see the light, shadows, and patterns.
Thus we want to help you get the best outdoor light bulbs to suit your needs without breaking your budget.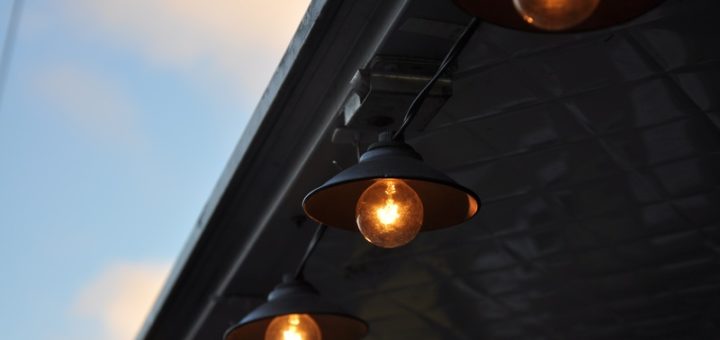 ---
The Purpose of Outdoor Lighting
Outdoor lighting can be used for many purposes. It increases outdoor activity, enhances the aesthetic appeal of an outdoor area, and also evades burglars.
With warmer weather and longer days, many homeowners want to enjoy BBQs outdoors and some time outdoors on their patio, decks, or just an outdoor space. An important setting to enable them to do this is, of course, proper lighting.
Exterior lighting, on the other hand, also has an impact on the aesthetic appeal of your outdoor area and can greatly enhance it.
Outdoor lighting can be sued to create ambiance on patios and decks to make the exterior of your home look more attractive and dynamic and to add an extra touch of elegance.
By illuminating an outdoor area or around your home, you also make your home safer for guests and your family to move around the home on an illuminated path.
For security purposes, lights in dark walkways and entryways such as garages and garden areas can help to ward off intruders.
---
Indoor VS Outdoor Light Bulbs
So why cant you use and indoor light bulb outside your home?
You do get indoor and outdoor lights; however, most outdoor lights have different additional features;
Outdoor lightbulbs are generally more durable as well as weather-resistant, and water-friendly than indoor light bulbs.

UL Ratings – Most Light Bulbs are tested by Underwriter Laboratories and have a specific rating. Some Lightbulbs have a UL rating for use in dry-only areas, some for Damp locations, and some for wet locations. The UL-rated wet locations are your best outdoor options.
Safe Light Types for Outdoor Use – Metal and Halide Light Bulbs can be used indoors and outdoors, Xenon Bulbs Halogen and Flood Light Bulbs, Incandescent Flood Light Bulbs, and Compact Fluorescent and LED lightbulbs can be sued both indoors and outdoors. these are all safe light options which you can use in and outdoor area, however the LED options are the ost energy-efficient and durable outdoor light bulb options.
---
Features of a Good Outdoor Lightbulb
Here are a few features that you can consider when choosing the best outdoor light bulbs;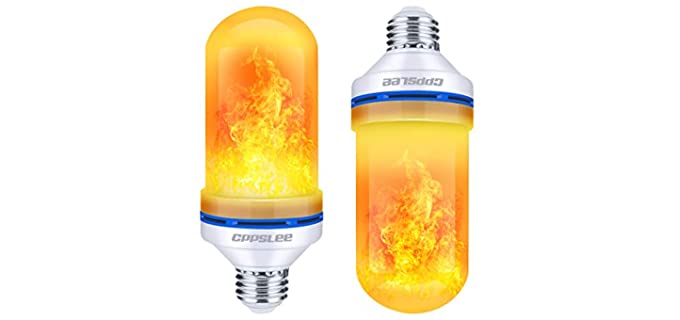 Types of Outdoor Lightbulbs – You get a few different types of lightbulbs that are ideal for outdoor use; Compact Fluorescent Lights CFL, HID Lightbulbs that are high intensity, Incandescent lights that are cheap and not long-lasting, a halogen that us brighter, and LED the most energy-efficient.
Weather Resistance – Outdoor lights need to offer good weather resistance, such as UV resistance and waterproofing, as well as for keeping up in very cold weather conditions.
Bulb Base – There are different base sizes and types to fit different types of lights, so make sure that you get the right size and type. many of the options I have listed will include the size of the base of the lightbulb so you only need to compare that to the size of the lights that you have outdoors. It will be measured with the letter E, such as E26.
Color and Brightness – Most lightbulbs vary in brightness and the color of light they produce. Brightness is measured in lumens. Around 600 lumens provide enough light for visibility outdoors, whereas 150 lumens for decorative is enough. Security lights for maximum visibility provide 1300 lumens of light. The color temperatures are measured in K scales and determine whether the light has warm or cool tones. Warmer lights will be around 2700 to 3000 k, while cooler white lights around 3500 k to 6000 k.
Energy Efficient Light Bulbs – Incandescent outdoor lightbulbs have the shortest lifespan, whereas halogen has a bit longer, and LED and CFL lightbulbs have the longest lifespan and are the most energy-efficient.
Smart Light Bulbs – Light Bulbs with smart technology have sensors that automatically turn them on at dusk and off at dawn, which is ideal for saving energy. This option is also ideal if you tend to forget to switch outdoor lights on and off, and need outdoor lights to be on every evening. they are a great option for when you go on holiday to keep your home safe and illuminated at night.
---
Reviews: The Best Outdoor Lightbulbs
Here are some top choices in the perfect outdoor lightbulbs;
---
1
From Sunco, we have the perfect outdoor lightbulbs.
This is a dimmable LED E26 lightbulb.
The lightbulb is waterproof, and UL certified with a title 20 compliance,
It offers 2700k Soft white light.
---
2
Here we have an energy-efficient Led lightbulb option.
It is a 40W Corn LED option that has a 280W equivalent and 6500K of cool daylight.
It is an energy-saving model, bright, and has a long lifespan.
You can use it for multiple applications.
---
3
The TCP is the ideal outdoor lightbulb.
It is a 5W LED yellow bug repellent lightbulb.
Energy-efficient and ideal for keeping insects at bay.
The lightbulb is durable and ideal for outdoor use.
---
4
The Sunco lightbulb is perfect for outdoor use.
It is an A19 LED bulb that has a dusk to dawn setting, so it switches on when the sun goes down and off when the sun comes up automatically.
The lightbulb is versatile, and UL/FCC/RoHS certified.
Perfect for outdoor use for multiple functions.
---
5
From Geeni, we have a LUX Smart Floodlight for outdoor use.
It is a white 2700K to 6500K dimmable floodlight bulb.
The lightbulb is LED and has 100 Lumens.
It is automatic and works with mobile applications such as Alexa.
The ideal smart light option for your home.
---
6
The CPPSLEE lightbulb is ideal as a Christmas decoration outdoors.
It has a Flame and snow option lightbulbs.
The lightbulb has four modes and an E26 base,
Ideal for indoor and outdoor use as a Christmas decoration.
---
Index Table: Top Rated Outdoor Lightbulbs
---
---