Rather than just blowing the air around a misting fan actually adds moisture to the air which has an additional cooling effect for those hot sunny days.
Misting fans are great to use outdoors when it is really hot and you need some extra cooling.
Today we want to look at some of the best Outdoor Misting fans that you can use.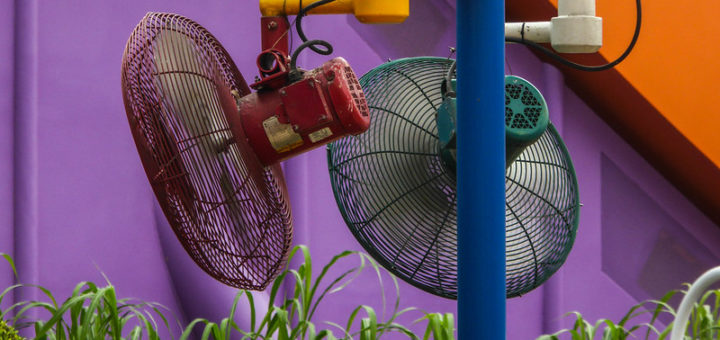 ---
What is and Outdoor Misting Fan and How Does it Work
If you have ever walked in the blazing sun at a theme park, outdoor restaurant or pub, or similar events, you have most likely experienced an outdoor misting fan.
It may have been a misting tent or an actual fan, however, the concept remains the same.
Outdoor misting fans are fairly simple devices that use a plain basic fan that blows out and rotates air within and certain space, however, the difference here is that there is water that creates a mist of water vapor from the fan. The fan blows the very fine water vapor which has an additional cooling effect when it blows on to you.
There is a mister that is filled with water attached to the basic fan it sprays water mist which the fan evaporates and circulate through and areas
You do get many different styles and designs in misting fans, so they all have different methods of working, however, the basic technique is the same principle.
Depending on the outdoor space one misting fan may not be enough as it only reaches a small area, so you may need more than one misting fan for outdoor purposes.
---
Types of Outdoor Misting Fans
There are actually a few different types of misting fans available, and various models with numerous operation styles;
Portable -Portable misting fans are small, compact and can be corded or battery operated. They are designed for smaller spaces and for their portability for travel.
Wall Mounted – Wall Mounted misting fans are a fixed options that come with a design and attachments to mount the fan to an outdoor wall in our Lapa, patio, or outdoor space.
Standing – Standing misting fans are the most common type. They are usually corded and have a long stand on which the misting fan will rest. These can be used indoors and outdoors as their misting function can usually be turned on and off.
Oscillating – An Oscillating misting fan means that the fan swings from side to side to increase the area of ventilation. It is ideal for larger outdoor spaces and comes in similar designs as the other fan types.
Unlike mots standard fans a misting fan will actually cool the air around your rather than just circulating it, It is ideal for outdoor use in the sun for grilling and enjoying the outdoors.
---
Features of a Good Outdoor Misting Fan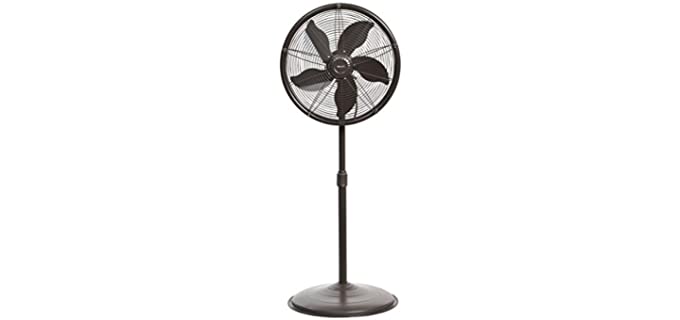 Where the Water Comes From – Misting fans will need a source of water. Some have a tank that you fill up with water that will only mist until the water runs out, whereas some have the option of connecting to a hose that has a consistent flow of water.
Type of Mist – You get two types of misting systems. The Nozzle Misting system emits mist from nozzles in the fan head. The Centrifugal Misting system emits mist from plates that are in the center of the fan. Nozzle misting fans are usually more suitable for patio and home use, whereas Centrifugal misting systems are ideal for larger outdoor spaces.
Size – You will need to consider the space you have available for the fan to stand or be mounted and get an appropriately sized fan to fit in the space, as well as to provide even misting for the area that needs cooling.
Speed Settings – Most fans have different speed settings for fanning, and even misting fans do also have certain speed settings.
Adjustability – the Fan may be adjustable in height, or it may have a stand or mountable feature, or both.
Fits Your Decor – Consider the design and color of the fan and whether it will match the current décor style and colors of your home.
Weather Resistant – For an outdoor fan you will need something that will be resistant to UV rays, weather, and even wetness. The materials and design of the fan should be weather resistant, and rust-resistant.
Easy Waterflow Change – The water flow system of the Misting fan should be fairly easy to change and fill up, depending on the type of water system.
---
Reviews: The Best Outdoor Misting Fans
These are some of our top favorite misting fans that are available today;
---
1
The Lansko is an electric outdoor misting fan.
It is portable and corded for easy operation.
It can help to reduce temperatures down to 25 degrees.
Ideal for all types of outdoor use, patios, picnics, and decks.
The misting fan has a 90 degree pivots direct mist flow.
There are automatic louvers that create a deep and wide sweep.
It comes in a neutral black finish.
---
2
The Geek Aire Misting fan is ideal for all outdoor uses and occasions.
It is a battery-operated misting fan with rechargeable batteries.
The misting fan is portable and has a high-velocity metal floor fan with a detachable battery.
It is easily portable for use anywhere at any time.
---
3
The Simple Deluxe us and 18 Inch misting fan that is easily used outdoors.
The misting fan has an adjustable height and Oscillating head with a cooling pedestal fan and remote control for easy functioning.
It has adjustable misting and the tank can hold up to two liters of water.
It operates quietly and smoothly to cool down and area.
---
4
The Frigidaire is an Outdoor Misting fan that can cool a large area.
It is a Pedestal 18-inch Oscillating misting fan that has 3-speed settings.
The fan can mist and fan an area of 500 square feet.
You can use the fan and the misting function separately.
It is ideal for larger outdoor spaces.
---
5
This is the floor-standing design misting fan from geek Aire.
It has a rechargeable battery for operation and a 2.9-gallon water tank.
The misting fan has a durable and waterproof battery design.
It is powerful and very effective at keeping you cool.
---
6
From NewAir we have a misting fane for larger outdoor areas.
It offers coverage of 600square feet outside.
The misting fan has three fan speeds and a wide-angle oscillation with a slim design.
It is eco-friendly and uses clean evaporation methods.
Excellent quality and durability.
---
Index Table: Top Rated Outdoor Misting Fans
---
---