Good deck paint is advised to maintain and preserve your deck in perfect quality and radiance.
The best deck paint should be long-lasting, easy to clean and maintain, durable, and weather-resistant.
The longer you wait to paint or re-paint your deck, the more flaws and damage it will develop, so why not decide today to invest in good deck paint for your deck?

---
---
Why Use a Deck Paint
One of the easiest ways to refresh your deck or maintain and protect it is to paint it.
Whether it is a concrete or wood deck, a specific paint is ideal for giving you the stain or coloring you desire, with optimal protection and a fresh start for your deck.
A good quality deck paint can even last you up to ten years and protect your deck from wind, rain, and UV rays to prolong your deck's life and color.
Before you start painting your deck and get into all the craze and fun of choosing stains or colors for your deck, remember that you need the right tools for the job. You will need a good paintbrush or a paint roller. I recommend a combination of the two.
---
Types of Deck Paint
When looking at deck paints, specific paints work for wood, concrete, and other deck types, so you must ensure that the paint you choose is ideal for your deck type and materails.
Other than that, there are two types of Deck Paint;

Oil-Based Deck Paint – Oil-based deck Paint used to be most in-demand; however, water-based deck paints are also becoming more popular. Oil-based deck Paints are very durable, lasting up to ten years. Oil-based deck Paints offer excellent moisture protection and are available in various colors. However, Oil-based deck paints may have strong fumes and can take up to 24 hours before it dries and before you can recoat. Oil-based deck paints also require a solvent such as a paint thinner or turpentine to clean brushes and tools and are high in volatile organic compounds that cause fumes.
Water-Based Deck Paints – Water-Based deck paints will last around eight years, depending on the condition of your deck. It also offers excellent protection against fading. Water-Based deck paint uses acrylic-type paints that resist cracking and peeling because of their flexibility. Water-based paint will also clean off easily with water alone and dries much faster than oil-based paints. It is available in a large range of colors. However, water-based deck paints will be more expensive.
---
Features of a Good deck Paint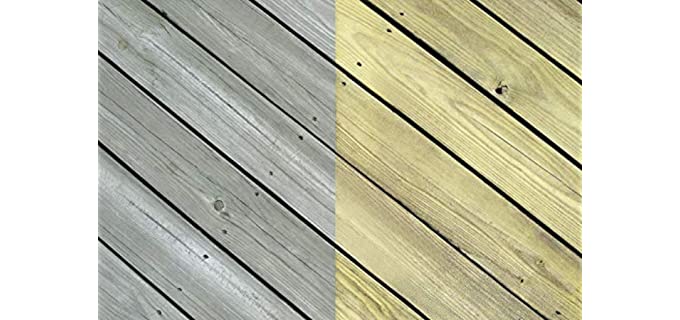 Oil or Water Based – You can choose between a Volatile Organic Compound Oil-based deck Paint or an Acrylic-based Water-Based Deck Paint.
Stains and Colors – Deck paint comes in a variety of color options. The Paint option is usually available in white, grey, and neutral colors, although other options can be found. For wood stain paints specifically for wood decks, you will find natural stain colors that give your wood a more seethrough and light tint.
Texture – There are deck paints that offer stain-soft or velvet textures and those that offer a more gritty natural texture. The texture will depend on your personal preference.
Size Options – You will need to check on the paint itself for how large an area it can cover per gallon and get the appropriate amount of paint. Always get a little extra for touch-ups in between.
---
Trending Deck Paint Sprayer
---
Reviews: The Best Deck Paints
---
1
SaverSystems deck Wood paint is ideal as a solid color option and sealer for all wooden decks.
You can choose from many neutral and natural wood color options in this painting.
The paint gives a lovely opaque finish that completely hides wood grains and provides maximum protection.
The paint is water-resistant and safe and protects against fading, graying, and damaging UV rays.
The paint will act as a color stain and a sealant for your wood deck.
The paint likewise has a lower odor and is water-based, so it is much easier to clean up and dissolve.
You can use it on lumbar wood, pine, cedar, fir wood, redwood, mahogany, and other woods.
---
2
The Ready Seal Deck Paint is also a paint and sealant ideal for all wood deck types and comes in many color options.
The Pain comes in a large 5-gallon option and much natural wood and more neutral color options from which you can select.
The paint requires no primer and will act as a stain and sealant.
As you will see, the color will be very dark the first 14 days after painting and then settle into a more natural stain.
The sealant will protect our wood against weather elements and fading.
It comes in a handy spray option that requires no thinning, wet-line application, or back brushing.
---
3
We have a water-sealing deck Paint that waterproofs your deck and offers a light stain color from Thompson's.
The paint and sealant will protect your deck against damage and UV rays and completely seal it from water and water damage.
The advanced polymers used in the formulation provide a fade-resistant color.
The Coating will also resist mildew and mold.
You can easily apply the paint stain to fresh, y cleaned, damp, or dry wood decks.
The paint is also ASTM D-4446, rated as waterproofing wood paint.
---
4
The Defy Extreme Wood Stain and Paint for Wood Decks and Fencing come in delightful colors and provide optimal protection for your wood deck.
This is a water-based semi-transparent wood stain or paint that is environmentally friendly.
The semi-transparent quality shows the wood grain slightly while giving a natural tint to your deck's wood or fencing.
Water-Based paints are easy to clean and dissolve using water only, emitting much less hazardous fumes, making them much safer.
The paint's quality is quite good, extremely durable, and long-lasting in all weather conditions.
You can also choose from quite a few available color options.
---
5
The Kilz Over Armor Deck Paint is ideal for concrete and wood deck types. And comes in three gorgeous color options.
You can choose between a gritty textured finish paint or a smooth and silky texture, and there is a light woody brown, a red terracotta brown, or a medium grey color option available in the paint.
The Solid color paint offers excellent weather protection and will bring your wood or concrete deck back to life,
The Solid color also aids in hiding unsightly stains, textures, and cracks in your deck.
Moreover, the textured paint offers a more slip-resistant, natural-looking surface.
---
6
The Quart White Floor, Latex Satin enamel, gives your deck or patio a bright and fresh new look from Valspar.
The Paint can be used on various floor surfaces for your deck, porch, patio, and other items.
The deck paint offers a luxury Latex satin Finish that is highly durable and stylish in appeal.
You can also enjoy excellent protection and weather resistance because of the sealing qualities of the paint.
This specific paint model, however, only comes in a solid white color and satin finish.
---
7
From INSL-X, we have reliable and quality deck paint.
The paint has an anti-slip texture and is skid-resistant.
It is ideal for high-traffic areas and very durable.
The paint is enough to cover 80-120 square feet.
---
8
The SaverSustems deck paint is also a favorite on our list.
The deck pant has an opaque finish and hides wood grain.
The solid color stains and protects wood decks.
It has a very low odor and dis water-based clean-up.
---
9
From the LR store, we have the liquid rubber deck paint.
It is an innovative and protective deck coating with liquid rubber polyurethane.
The deck paint is straightforward to apply and covers 100 square feet per gallon.
Protects your decks and docks.
---
10
The ready seal deck paint is a 5-gallon option.
It requires no primer and takes 14 days to reach its true color.
The sealant protects and stains your deck to a cedar color.
It requires no wet-line application and blends itself.
---
Index Table: Top Rated Deck Paints
---
---