Some of the links in this post are affiliate links. This means if you click on the link and purchase the item, I will receive an affiliate commission at no extra cost to you. All opinions remain my own.
A good quality and well-constructed gardening cart can be quite a handy tool for avid gardeners.
The best gardening cart will have a low center of gravity, as well as a flat bottom design and wheels with tires that will not go flat.

---
The Gardening Cart
A garden cart is basically a straight-sided small vehicle that has two to four wheels and a storage area in which you can tote garden tools and items, as well as a push or pull handle.
Garden carts come in a variety of shapes and sizes, with different weight capacities, and they can also have two, three, or four wheels, as well as a handle that you can either push, pull, or both.
---
Types of Gardening Carts
Garden Carts are available in different shapes, designs, and sizes, for different purposes.
There are essentially six basic types of gardening carts with different tasks for which they are best suited to;
Hand Trolleys – The hand trolley or hand truck is a cart that has an upright design and two wheels, used for heavy loads and much more precise placement. Gardeners use the hand trolley to move large branches and boulders into place. They also come in handy for moving large crates, appliances, and other equipment in your garage or workshop.
Electric Gardening Carts – Electric gardening carts are the more expensive and high-end side of gardening carts. They are self-propelled and walk behind designs that require electrical power. These powerful carts are ideal for heavier loads, and they may also come with manual or electric dump beds. Most of them have an electrical motor that runs on rechargeable batteries which usually last between half an hour to an hour at a time.
Foldable Gardening Carts – Foldable Gardening carts are ideal if you lack space or storage and only need a gardening cart every once and a while. They can fold up ad can be easily stored away for use next time. They also most likely consist of durable but very lightweight materials and are not the most heavy-duty of designs.
Flatbed Gardening Carts – These are basically flat platforms that run on wheels. Some may have convertible or removable side panels so that they can function as a cart or a flatbed all in one device. Flatbeds offer easy removal when you load them with bags of soil, mulch, or trays of plants. They are also very easy for loading oversized items.
Utility Wagon Gardening Cart – This form of the gardening cart is a general all-purpose and heavy-duty garden cart design that is used to handle anything from plants to the soil, bricks, and garden debris. They operate manually, or they may have an electric motor similar to that of a lawnmower. Most Utility wagons have a fixed bed with sides and can include a dump bed to tilt and empty contents.
Dump Gardening Carts – Dump Carts for gardening are the four-wheeled design carts that have a hinged bed and an independent tilt function of the frame, similar to a dump truck. They are designed to make offloading bulk materials such as soil, leaves, weeds, and garden debris much easier. Most will consist of a smooth plastic that cleans easily and also empties easily without snagging in branches and other materials. Metal Dump Carts are more ideal for larger items such as rocks, firewood, and branches.
---
Features of a Good Gardening Cart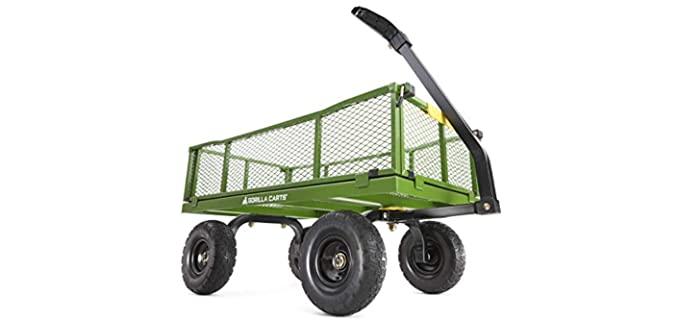 Materials – Most heavy-duty gardening carts will consist of a strong metal with a rust-resistant coating, whereas the lighter-duty carts can consist of plastic. The tires will often be rubber or plastic and ideal for performing on all sorts of terrains. Materials used are durable and weather resistant, designed for outdoor and garden use.
Capacity – Garden carts have a weight capacity of the maximum amount of weight they can hold, as well as storage capacity for the items that you need to carry. They are usually a minimum of 200lbs and a maximum of 750 lbs in weight capacity for the more heavy-duty designs.
Wagon Or Cart – Traditionally, a Gardening Wagon has four wheels and a single handle at the front that you pull the cart with. The cart will have two wheels and one handle at the front or the rear that can be pushed or pulled. Although there were these differences among the two, most people make use of the word wagon and cart somewhat interchangeably, so all the two and four-wheeled devices are seen as carts or wagons, either way.
The Handle – The handle, whether it's a pull or push gardening cart, needs to be comfortable and highly functional. A thick handle with a cushioned or padded ergonomic grip is ideal and comfortable for a long day in the garden. The handle position needs to be the right height to push or pull comfortably, and you should not have to bend over to handle the cart.
---
Reviews: The Best Gardening Carts
In our list we have a variety of some of the best gardening carts for all purposes;
---
1
From Gorilla Carts, we have their heavy-duty steel cart that has removable sides.
The cart has a weight capacity of 1000 lbs which is quite hefty.
It has removable steel mesh sides making it quite versatile for carrying much larger loads.
The convertible two-in-one handle is padded for your comfort.
---
2
The Suncast Resin cart with wheels has a multi-purpose design.
It is a 15.5-gallon size and has two wheels.
The cart consists of very durable heavy-duty resin plastic that is also extremely easy to clean.
There is a telescoping handle that extends for comfort and compatibility for all users.
---
3
Another addition from Gorilla Crats is their heavy-duty poly yard dump cart.
The two-in-one design has a convertible handle that can be used for push and pull functions.
It has 13-inch pneumatic tires and a heavy-duty rust-proof bed.
The handle is padded and comfortable to use.
---
4
The Timber Ridge is a foldable and collapsible gardening Cart.
The cart has a large capacity when unfolded and a large storage bag.
It is quick and easy to set up with no assembly required.
The 360 degree rotating front wheels are elementary to haul.
---
5
From Worx, we have the Aerocart gardening cart.
The Gardening cart has a 200lbs capacity in weight and is a smaller and more compact design.
It has a turbo lift function that provides leverage when you need to lift larger loads.
The tires are a flat-free design that will always give you a very smooth ride.
---
6
The Last entry from Gorilla Crats is their Large Steel Utility wheeled cart.
The cart has a 10 inch no flat foam filled, maintenance-free tire set.
The large bedroom has an 800lbs load capacity and is very durable.
There is a two in one convertible handle that allows it to be trailered along with a lawn tractor or ATV.
The frame has a new and improved design.
---
7
The Juggernaut is the ideal Gardening cart.
The cart is a steel utility wagon.
It has a 400lb load capacity.
The cart has 10-inch pneumatic tires.
---
8
The VivHome Garden Cart comes in quite a few color options.
It is a Heavy duty Garden cart.
You can easily fold it for storage.
The cart consists of durable alloy steel.
---
9
From best Choice, we have two options in gardening carts.
It is a heavy-duty design with a 400lb weight capacity.
The cart has removable sides and a longer handle.
Multi-Purpose and very durable.
---
10
From Gorilla Carts we have a more lightweight garden cart.
It can carry a 300 lbs load.
The cart is impact-resistant and can handle tough jobs.
It is quick and easy to assemble and use.
---
Index Table: Top Rated Gardening Carts
---
---