Some of the links in this post are affiliate links. This means if you click on the link and purchase the item, I will receive an affiliate commission at no extra cost to you. All opinions remain my own.
Whether you have outdoor lighting or other features, and whether your lighting is for security, for festive seasons, or just for enjoyment, it is always a good idea to invest in a good Outdoor Timer.
The outdoor Timer can be plugged into the time operation of a few devices outdoors, such as Christmas lights, security lights, Fountain Lights, pool and pond pumps, and many more.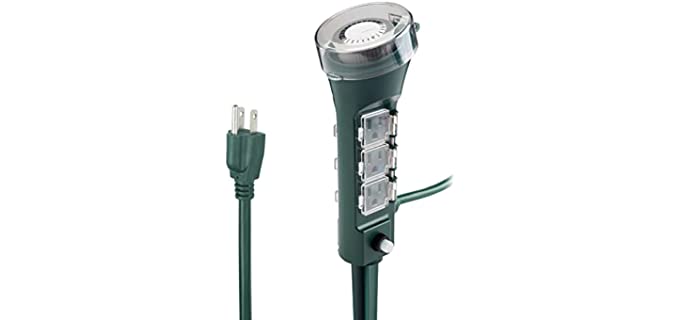 ---
How an Outdoor Timer Works
Outdoor Timers work at 24-hour times at different intervals that are programmable to switch devices on and off to save you on costs of electric bills and energy. They are a very effective method of controlling outdoor electric devices.
Outdoor timers come in many types that are controlled digitally or that have a remote control for easy management that you can use from 100 feet or more away.
Outdoor timers are ideal for outdoor security lights to switch them on at night and off during the day, especially when you go on holiday.
They are ideal during Christmas for switching Christmas outdoor lights on and off.
You can also use some outdoor timers on devices such as your pool and pond pumps and cleaners.
---
The Benefits of Outdoor Lighting with Timers
Having Outdoor lighting is an excellent security measure and can also be decorative for your garden and outdoor areas such as decks or patios. You do not want to spend too much money on electrical bills and have your outdoor lights on day and night.
Some other devices, such as pond and pool pumps and cleaners, may also benefit from an outdoor timer as they can easily be operated at certain times and controlled when you are not home on holiday.
Here are a few benefits of having outdoor lights with timers;
Conserves Energy – Using an Outdoor timer will help you greatly conserve energy and cut costs involved with electricity, outdoor lights, and other electrical devices.
Security – Having outdoor lighting will generally ward off burglars and offer a safer view of your property at night, should there be any trouble. The outdoor timer can help you keep a handle on energy usage by turning lights on at night and off in the mornings. Outdoor timers are also ideal for controlling outdoor and indoor lights when you are away from home on holidays. They work at programmable intervals that you can set at different times to confuse burglars.
Landscaping Features – Outdoor Timers make it easy for you to install decorative and landscaping electric features and lights that will be turned on and off at certain times.
Energy Saving – Outdoor timers are an excellent way to save on energy and cut costs, they allow you to easily and safely turn the lights off during the day and will keep them on at random times during the night as a safety measure, or all night.
–
---
Features of a Good Outdoor Timer
Programmable – Most Outdoor timers are programmable at different intervals for 24 hours.
Waterproof – Outdoor timers will have a waterproof cover and will be durable and weather-resistant.
Outlets – Outdoor timers will come with two or more grounded outlets and long cords to enable you to use them with outdoor devices. There are also some wireless options available.
---
Reviews: The Best Outdoor Timers
In our list, we have some excellent options for outdoor timers that are perfect to use for controlling outdoor lights;
---
1
The BN-Link Outdoor Powerstrip Timer is a mechanical timer that is programmable.
It comes with a timer, a yard stake, six grounded outlets, and a 6-foot cord.
It is weatherproof and suitable for outdoor lamps and lights, and even pond and waterfall lights.
It is a heavy-duty and durable design that is ETL-listed safe, and reliable.
---
2
Here we have the compact-sized BN-Link outdoor mechanical programmable timer.
It is a 24-hour programmable outdoor timer with dual outlets and an easy plug-in design.
The timer is waterproof and suitable for outdoor use with a protective cover,
It consists of heavy-duty materials and has a two-grounded, safer outlet design.
Two three-prong grounded outlets will be suitable for pool pumps, outdoor lights, fountain lights, and many more.
It has easy-to-use, easy settings for the timer and is ETL listed.
---
3
The Tiffcofio is a durable 24-hour outdoor timer.
It offers excellent weatherproof performance and consists of waterproof materials for outdoor use.
It is CSA listed for safety, and it is reliable.
The outdoor timer is easy to use with uncomplicated programs that automatically control your devices.
It is a heavy-duty and very durable device that is ideally suited to be used outdoors in all weather conditions.
There is a daily repeat 24-hour timer with 48 different settings from which you can choose so that you can vary times to use as a security measure for security lights.
---
4
The Bn-Link is an Outdoor timer that is Photoelectric with Photocell Light sensor technology.
It is fully water resistant and has a 2, 4, 6, or 8-hour countdown function.
The timer has three grounded outlets and can easily be operated with remote control.
Ideal to use indoors and in your garden with a 100ft range that offers you a larger range space that is more convenient.
---
5
The Dewenwils is an outdoor Power stake Timer that is durable and waterproof.
It is fully waterproof and very durable for outdoor use.
The outdoor timer has a 100 ft wireless remote control for operation and comes with six grounded Outlets.
It has a 6-foot extension cord and Photocell technology.
The outdoor timer is UL-listed safe, and reliable.
---
6
The Plusmart is a 24-hour outdoor timer for all your needs.
The outdoor timer has a daily repeat of 15-minute intervals for a total of 48 On and Off options in 24 hours.
The Outdoor timer comes with a rain-tight cover that is durable and fully waterproof.
It has a heavy-duty ETL safe listed design and conforms to UL standards.
It is very easy to use with pins on and off and a slide switch.
---
Index Table: Top Rated Outdoor Timers
---
---