The Cordless Trimmer and Blower combo is a unique combo that you can use to keep your garden in tip-top shape.
The combo will come with a Cordless weed and grass trimmer and a powerful leaf blower in one set that may include the battery or charger.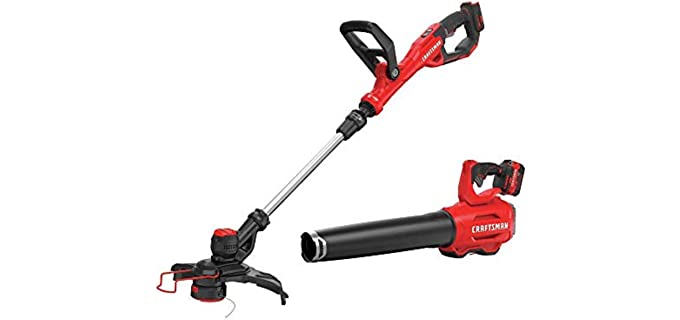 ---
What Makes one Blower and Trimmer Combo Better than the Other?
The best available cordless Trimmer and Blower combo is the one that works together almost like a beautiful symphony. They aim to use one powerful battery for the trimmer and the blower together.
You want to quickly trim around your yard and driveway and then quickly pop off the battery and place it on the blower to blow away leaves, dirt, and debris.
The effect is efficient, seamless, hassle-free, emission-free, quick, and easy. These tools are available and make your life quite a bit easier.
---
The Benefits of a Cordless Blower and Trimmer
The Cordless Blower and Trimmer combo will be operated with a rechargeable battery which usually comes included, or you might have to purchase it separately.
There are many exceptional benefits to having a cordless Blower and Trimmer Combination. However, I want to discuss each unit and its unique benefits;
Benefits of a Battery-Operated Blower – Leaf Blowers are available in cordless, electric, or gas options from which you can choose. Though, this article will focus on the cordless battery-operated Leaf Blower. The Cordless leaf Blower is operated with a battery that needs to be on the device. Thus it is slightly heavier in weight than the gas or electric options. The Cordless leaf blower, however, has no hassle regarding cords in the way or too short so that you can use it anywhere and on any sized area. The Cordless Leaf Blower likewise has no emission or need for refueling that may get dirty as with the gas-operated Leaf blower.
Benefits of a Battery-Operated Trimmer – The Battery-operated trimmer has no cord that can get in the way or limit your yard size or area that you need to Trim. It is also a much better option in terms of maintenance, requiring very little maintenance compared to an electric and Gas operated trimmer. The Gas operated Trimmer will need to be refueled and maintained regularly, and it can get messy. You will need to crank it a few times to get it to start. The Battery-Operated Trimmer is as easy as popping on the battery, and you are ready to go. You will need to keep the battery well-charged for use, though.
---
Features of a Good Cordless Trimmer Blower Combo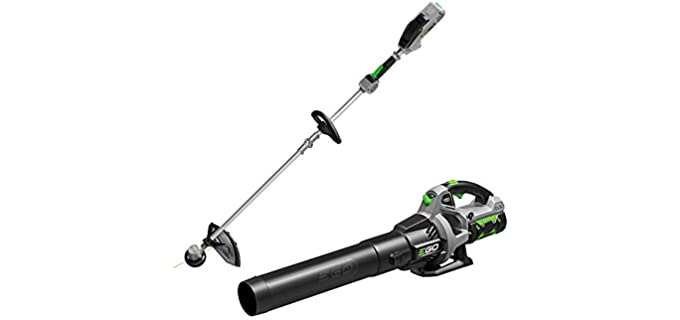 Unit Size – You will need to consider the size of the trimmer and the leaf blower in the combo set and compare them with your lawn and cleaning area size. You will require much more time with smaller units if you have a large yard. Thus, compare the size to that of your yard. Also. You need to consider the cutting quality of the trimmer and the blowing pressure of the blower regarding the work you need to be done.
Power Capacity – The Trimmer and Blower will each have a motor on the inside that creates a rotational force to be utilized by the machine to operate in the case of the trimmer, and for the blower, the motor rotates fins that push pressurized air out of the nozzle. Power capacity is a major factor for both machines, with more high-powered options being much more efficient and faster.
Cordless – All the cordless Trimmer and Blower Combos will have a battery that will be rechargeable. Most come with one or two batteries. You will need to consider that the Blower and trimmer's power output will depend on the battery. Some batteries run longer than others and may require less frequent charging. Cordless Trimmers and Blowers will also be heavier in weight than corded options.
Warranty – Always ensure that your product comes with a good warranty to ensure quality and after-sales service. Most Combo Leaf Blowers and trimmers will come with a one-year or longer warranty for free repairs and replacements within the agreed terms of use.
---
Reviews: The Best Cordless Trimmer Blower Combos
In our list, we have quite a variety of some of the best available Cordless Trimmer and Blower Combo sets;
---
1
Here we have the Greenworks Cordless string trimmer and leaf blower all in one handy combination.
The leaf Blower is powerful and has a clearing performance of 350 CFM air flow and 110 MPH air speed.
The Leaf Blower has variable speed options with a trigger and a cruise control option to control airflow where you need it the most.
There is a 12-inch string trimmer that cuts through the toughest grass and weeds, with a 12-inch path, and a 065-inch line, with an auto-feed head for quick and easy line advancement.
The combo kit is a 40V design that will quickly clear pathways and keep grass and weeds trimmed.
It is easy to use with a push-button start and comes with a rechargeable battery.
---
2
The Craftsman Cordless leaf Blower and Trimmer combo kit have an extended run time and two-speed settings allowing you to adjust the speed easily.
It has a trimmer that can be used for trimming and edging.
An automatic line advance system feeds the 0.065-inch line automatically with no bumping needed.
The Blower has a Brushless motor and axial fan that is much more efficient.
The Blower also comes with a variable speed trigger so you can switch between more power and run time as needed.
The Combo kit comes with a 3-year warranty for quality.
---
3
From Dewalt, we have an exceptional quality Cordless Trimmer and Leaf blower set that is durable and innovative.
There is a 13 Inch Cutting swath Trimmer with and 0.080-inch line.
It has a gear drive transmission that easily powers through overgrowths.
The Blower has up to 400 CMF of air volume and a 90 mph speed to clear out debris fast and effectively.
The Blower has a Highly efficient Brushless motor that maximizes motor life and runs time.
The Axial fan in the Leaf Blower will maximize air output and run time.
---
4
The Worx Brushless Leaf Blower and String Trimmer Combination is an exceptional cordless option.
There is a Trimmer and Edger that easily converts with a pivoting head.
The same battery can power over 75+ 20V, 40V, and 80V of another lifestyle, garden, and power tools.
The Trimmer has a push button line feed, and the Leaf Blower has a Turbine Technology Jet Engine design for better efficiency.
The entire design is very lightweight and compact for anyone to operate easily.
---
5
The EGO Power Cordless Leaf Blower and Trimmer are efficient and easy to operate.
The Blower has a high-powered Brushless motor with 530 CMF air and a lightweight, compact design that is easy to operate.
There is a 20-inch steel mower deck with weather-resistant constriction.
Included is three-in-one mulching, bagging, and side discharge system.
A 15 Inch Trimmer has a rapid reload head to quickly and easily load the trimming line.
The power tools are compatible with all EGO Power and ARC Lithium batteries for superior power delivery.
---
6
The Black and Decker Blower and Trimmer combination is fully cordless and effective.
A two-in-one design String Trimmer and edger rotates 180 degrees for versatile uses.
The handle has a soft grip design and is fully adjustable for comfort.
The Trimmer has an AFS Automatic feed spool. You continuously feed the trimmer line without bumping.
For debris removal, there is a lightweight sweeper and quiet operation blower.
The two included 1.5 Ah 20V MAX Powerconnect batteries ensure that you have a continuous charge.
---
Index Table: Top Rated Cordless Trimmer and Blower Combos
---
---