Some of the links in this post are affiliate links. This means if you click on the link and purchase the item, I will receive an affiliate commission at no extra cost to you. All opinions remain my own.
Gardening shears come in so many types and varieties, and choosing the best gardening shears for your specific gardening purposes is vital.
This article will explain a bit about the different types of gardening shears and their uses to help you choose the perfect gardening shears for your specific gardening needs.

---
---
Garden Shears and Their Uses
Gardening shears are used to prune and cut branches and stems to keep plants neat and healthy.
Gardening shears come in designs that can trim, prune and cut hedges, flowers, branches, and various plants. Some can even be used to cut and arrange flowers.
You will most definitely need the proper gardening shears at some or another stage for any gardening work.
---
How to Choose Gardening Shears
There are a few basic aspects to look at when choosing gardening shears;

Type of Gardening Shears – You will need to establish what precisely you will need your gardening shears for or if they are to be a multi-functional item. According to this, there are a few types of gardening and pruning shears that I have explained in the features below and their purposes.
Materials – Gardening shears will have a steel blade and steel or plastic handles with rubber as a grip.
Handles – The handles of your gardening shears need to have a comfortable and ergonomic design that you can easily grip and hold and that you can easily use with the amount of strength you have in your hands and wrists.
Blades – The blades need to be sharp, reliable, and suitable for the type of cutting needed.
Quality – I always advise investing in a good quality brand and design for gardening shears, as this is a heavy-duty appliance you want to last reliably.
---
Features and Types of a Good Gardening Shears
Under the features, I have included some of the designs of gardening shears that you get, with their main purposes;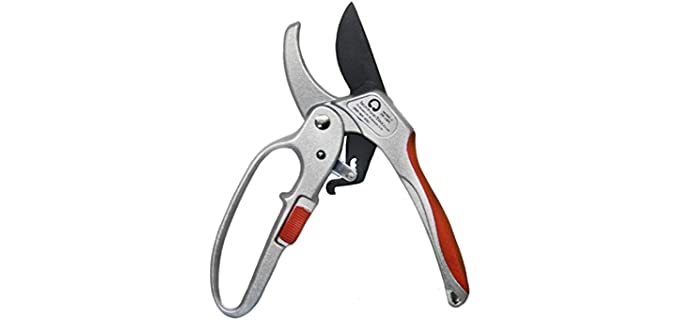 Basic Pruning Shears – Pruning Shears or Hand Shears mainly cut through small branches, stems, and twigs. They are small and handheld with two blades and are the most common gardening shears and are small and handheld with two blades.
Thinning Shears – Thinning shears are extra small and designed to cut much smaller and more delicate plant types. It is designed to cut various spent flowers and shrubbery, and The Blades are short and small. However, the instrument is similar in size to a pruning shear.
Bypass Pruners – A Bypass Pruner has two blades. The top is extra sharp, and the bottom has an unsharpened hook. Because of how these blades are positioned, the plants you trim will have less crushing damage and a cleaner cut.
Anvil Pruners – Anvil pruners have a very sharp blade that comes down on a flat, heavy edge. They are ideal for cutting much thicker branches if you apply even pressure on both handle sides. Anvil Pruners make contact on both sides of a branch you are cutting.
Lopping Shears – Also called Loppers. Lopping Shears, these can cut branches that are up to one and a quarter inches in diameter. They are ideal for specific tree types, such as crepe myrtles and others with unusually large branches.
Hedge Shears – Hedge shears have the sole purpose of being able to trim hedges; they have very long blades and long handles. They can make long straight cuts and cut through more than one branch at a time.
Pole Pruners – These shears are the toughest type of shears that you will get. They can trim and cut trees and operate with a control rope. The long handles also allow you to easily reach high trees and shrubbery without needing a ladder.
Parrot Beak Shears – These shears get their name from the two blades resembling a parrot's beak. They work by trapping branches between the blades like parrots crush their food. They are reliable shears that are ideal for cutting and arranging flowers and smaller plants.
Ratchet Pruners – If you are someone that lacks strength in their wrists or hands, then the Ratchet pruner is what you need. A ratchet pruner has an extra part that allows you to chop and trim a branch in steps rather than one smooth motion requiring much strength. Once you squeeze the shears, they will latch, and then you can release and squeeze a second time for cutting.
Speciality Pruning Shears – Speciality Pruning Shears are designed for specific and more detailed tasks such as snipping and clipping fruits and vegetables, among other plants. They are designed for a singular specific task.
---
Reviews: The Best Gardening Shears
Here are a variety of shears and pruners that are the best in their categories;
---
1
The Fiskars shears are soft-grip Bypass pruners.
They are ideal for pruning green plants and ornamental shrubs and trees.
The razor-sharp blade has a precision-cut design with less resistance than thicker blades.
There is a low friction coating for rust resistance and smoother gliding when pruning.
---
2
From Felco, we have their classic, all-purpose hand shears and pruner.
The shears have an anvil blade and a sap groove.
There is a hardened bolt and nut to ensure more exact adjustment of the cutting and anvil blades,
In the handle, there is a rubber cushion and shock absorber.
It has lightweight metal handles and high-quality hardened steel blades.
---
3
This is the Lever Anvil pruner from Fiskars.
It has an anvil blade ideal for [pruning dry and dead growth and stripping small logs and branches that have died over the wintertime.
The Power lever technology maximizes leverage and makes cutting much easier.
The blades are razor-sharp and cut very precisely, with less resistance.
---
4
The Thanos Extendable Anvil Loppers are ideal for thicker branches and handling branches that are hard to reach.
The blades are very sharp and durable and coated with Japanese Teflon.
The extendable Aluminium handle has a telescopic rod that you can adjust.
It is very lightweight, durable, and sturdy in design.
---
5
The Oara shears are hedge trimming for trimming borders, boxwood, and bushes.
They are high-quality 65MN carbon steel with a sharp edge that easily cuts all branches.
The design is very ergonomic and easy to use.
The handles have shock-absorbing bumpers, and the blade has a Teflon coating for better slip.
---
6
From Ironwood, we have Ratchet Pruning shears.
They are ideal for weaker hands and wrists and can cut up to an inch thick.
The non-stick coating on the high-strength carbon steel blade makes cuts precise and easy.
There are handguards for easy reach and mobility that can be extended.
The grip is ergonomic, with more lightweight aluminum handles.
---
7
The Gonicc garden shears are of premium quality.
They are Titanium bypass pruning shears,
There is a drop-forged body and handle.
The shears have a very ergonomic design.
---
8
The Fiskars Shears are of perfect quality.
They are Power level 8 Inch hedge Shears.
Ideal for tripping all types of hedges.
A patented self-sharpening blade and comfortable handles.
There is also a low-friction coating,
---
9
The Mr. Pen pruning shears are another top favorite.
They are 8-inch garden shears with an ergonomic design.
The handle is non-slip and very comfortable to use.
Easy to get in between plants for shearing and pruning.
---
10
The Work Pro Pruning Shears are a two-piece set.
You ger a Bypass garden shear and handing pruner with steel straight blade.
Both are durable professional gardening tools.
The blades are steel and the handle offers a comfortable grip.
---
Index Table: Top Rated Gardening Shears
---
---