Some of the links in this post are affiliate links. This means if you click on the link and purchase the item, I will receive an affiliate commission at no extra cost to you. All opinions remain my own.
Watering your lawn or garden is a tedious and thankless job, and that is why many of us invest in a proper sprinkler system.
Sprinklers and irrigation systems have made home watering much easier for many years. Yet there is always the issue of forgetting to turn off the sprinkler or sprinklers running while it is raining, which can take a bite out of your pocket when you get your water bill at the end of the day, not to mention wasting water.
The best sprinkler controllers have been around for quite a few years, and they might not be the most elegant devices, but they surely save you water and money at the end of the day on your water bill.

---
---
What is a Sprinkler Controller and How Does it Work
The Sprinkler or irrigation controller is a device that automatically operates your sprinklers and irrigation systems in basic simplicity.
The Sprinkler controller allows you to set certain schedules for your sprinklers or irrigation systems to start up and shut down. Many also have sensors that can sense the weather so that the sprinklers switch off when it starts to rain.
You can control your sprinklers directly off the device. However, with advancing technology today, you get some sprinkler controllers that can be operated via an APP that works on any mobile device.
---
Benefits of a Sprinkler Controller
There are so many benefits to having a proper sprinkler controller. Here are only a few;
Environmental Benefits – Water irrigation systems and sprinklers with proper controllers and timers actually control the amount of water used for your garden and have sensors that detect when water is needed and when not. This saves plenty of water, which a waste of can hurt the environment in general. Some areas also have water restrictions, and in this regard, a proper sprinkler s Controller system will help quite a bit.
Financial benefits – Well-cared-for beautiful gardens cost a lot, take time, and water can also become expensive, especially when wasted. The Sp[prinkler controller allows just the right amounts of water to be used at the right times, saving you on your water bill at the end of the month. Trust me, and you will see quite a difference in your water bill when you invest in a good sprinkler controller.
Aesthetic Benefits – For those of us who are reluctant to turn the sprinklers on because of water limits, costs, or other reasons, sacrificing the beauty of our gardens, the Sprinkler controller is just the answer. You can enjoy a beautiful well-watered garden with much less water and added costs.
---
Features of a Good Sprinkler Controller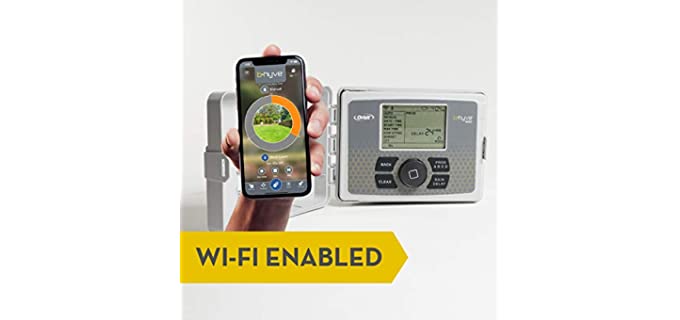 On Device Controls – There are two basic water sprinkler controllesr, one with an on-device control and display, and one that you can operate with an app on your phone. So you will need to decide on which one of the two will work best for you at the end of the day.
Smart Home Hub Support – If you have smart home hub support, you can tie your sprinkler system to that if compatible, although few of them connect to anything today. However, Amazon's Alexa is quite compatible. Smart-home hub support: Want to tie your sprinkler system into your smart-home hub? Sounds great, but the reality is that most smart sprinklers exist as islands today: Only a few connect to anything at all, though Amazon's Alexa has a fraction of support. Expect this to change as these products mature.
Smart Scheduling – Whicvere device you choose, an On-device Operated or App Operated sprinkler controller, make sure that it has a flexible smart schedule function, where you can set the times and dates for sprinkling water and that it is flexible enough to change and adapt.
Notifications – Some devices will send you a notification when your sprinkler is running when it stops, or of other issues.
Number of Zones – Every sprinkler controller has a certain amount of zones or areas that it can cover, so make sure that you get a device that covers the number of zones that you need.
Indoor and Outdoor Mounting – Controller comes in indoor and outdoor mounting devices. You will need some coverage for the outdoor devices when it rains.
---
Reviews: The Best Sprinkler Controllers
---
1
the Orbit 12 zone is the largest in the Orbit range of sprinkler controllers.
It has wifi and timer control with the free and easy-to-use B-Hyve app.
It uses WaterSense smart technology to water based on the conditions of the watering site, sun, shade, and area.
It is extremely easy to install and use.
The B-Hyve technology is EPA WaterSense approved to save water and money on water bills.
---
2
The Rachio 3 is an 8-zone sprinkler controller with smart technology.
It will save you plenty of water and money on water bills.
With this smart water-sensing technology, you can now avoid watering in the rain.
The installation is quick and easy, and it is compatible with Alexa and Apple.
The app is very easy to use and allows for plenty of options.
You can also choose your package and what you need from a few available options.
---
3
the Orbit XR smart is ideal for indoor and outdoor use.
It is easily programmed with the free B-Hyve app to create watering schedules and alerts.
The device will automatically adjust to the weather and give more water in dryer times.
It has a quick control Multi-Color LED light ring and three full-color digital displays.
---
4
The Netro Smart Sprinkler control has weather-aware technology to stop sprinklers when it rains.
The Lifetime cloud service connects to your wifi and monitors and controls all your sprinkler systems.
It is an eco-friendly device that saves you outdoor water usage and money on your water bill.
The device installs in 15 minutes and replaces with no tools required.
---
5
This model from orbit has the ultimate Wifi and timer control with the B-have app that is functional on most smart systems.
It is extremely easy to install and use with a swing panel for easy operation.
You will save tons of water and money, and it is EPA WaterSense approved.
The device can also work with Alexa voice control.
---
6
You will save so much money on your water bill with the Rachio Sprinkler controller.
It is a smart technology device that operates using Alexa.
The free and easy-to-use app lets you control your sprinklers from anywhere.
The Rachio 3e installs easily within 30m minutes or less.
Control your sprinkler time, pause, start and run.
---
7
The Rainbird is a Wifi Sprinkler and irrigation controller system.
The system is operated wirelessly with Wi-Fi.
It is quick and easy t install outdoors.
There are easy-to-use advanced features.
---
8
The Wyze is a smart controller for your sprinkler system.
It allows you to water from anywhere manually.
There is also a smart schedule that makes sure every zone is watered on a timer.
Easy DIY installation with a full manual.
---
9
This is the four-zone controller from Orbit.
It is a WiFi-capable controller.
Gives you live weather feds and has a manual override function.
Multifunctional and can operate with or without Wi-Fi.
---
10
The Hunter Sprinkler Controller is a six-station controller.
It provides better water management and is user-friendly.
An indoor device with memory for storing programs.
Can water up to size stations.
---
Index Table: Top Rated Sprinkler Controllers
---
---