The Trash Pick-Up Stick or Grabber is a very handy and versatile device that you can use to pick up Trash from your garden or any area and pick up multiple items.
In this article, we will look at the specific Trash Pick Up Stick with a sharp point at the end to pick up items, as well as the Pick-Up stick with a grabber end that can grab heavier items of Trash and debris.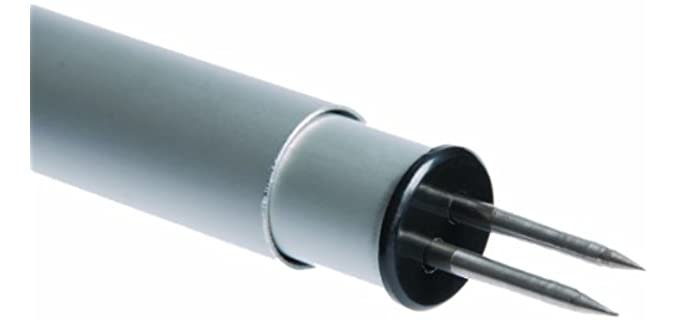 ---
Benefits of the Trash Pick Up Stick
If you need to keep a business or facility clean, your home or garden clean, it is so much easier to have a long stick to pick up Trash and leaves than having to bend down every time to pick something up.
The Trash Pick-Up Stick is a heavy-duty device with a shaft around 31 to 43 inches long, usually made of lightweight aluminum that is light for you to carry.
At the end of the stick will be a sharp steel point long enough to pierce through papers, cans and leaves to pick them up and discard them.
I have also included Grabber tools with a trigger handle with a rubber or plastic handle at the end that grabs items such as Trash and other heavier items.
---
Who Needs a Trash Pick Up Stick
The Trash Pick-Up Stick can come in handy for everyone. However, these individuals may benefit much more from them;
Companies – the Grabber tool is perfect for companies and warehouses with very high shelves and need to get things from the shelves. The Trash Pick Up stick can likewise be ideal for picking up Trash around company grounds to keep the area looking clean.
Volunteering – In tIn trying to create a better, cleaner, and greener earth, many individuals volunteer to pick up Trash on a large scale from their towns and certain areas. In this scenario of picking up Trash for long hours, the trash pick-up stick is almost vital for comfort, convenience, and better performance.
Safety – In recycling plants or areas where individuals work with garbage, there may be sharp, dangerous, and even toxic chemical items that make it much easier and safer for them to use a trash pick-up stick.
Seniors – The Trash Pick Up Stick and even the grabber tool is perfect for seniors and disabled individuals who struggle to bend down to pick up items r can not easily reach items. For them, I would largely recommend the grabber tool.
Regular Use – The Trash pick-up stick or grabber can be ideal for keeping your home and garden clean and free from Trash or leaves and debris.
---
Features of a Good Trash Pick-Up Stick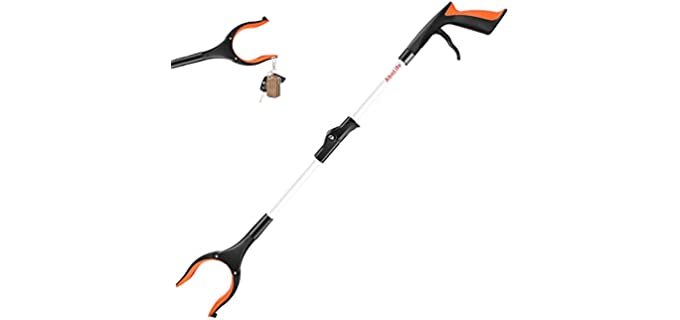 Grabbing Mechanism – Some Pick-Up sticks may have a claw-like grabber at the end of the shaft, often with a rubber grip for easier grip or with suction cups. However, most Pick-Up sticks will have a long,, strong, shaped metal pick at the end that may be magnetized to Pick-Up nails, coins, and smaller items and sharp enough to pierce through leaves and papers.
shaft Length and Materials – To reduce fatigue and make the handle and device easier, look for sticks with an aluminum handle that is the most lightweight. The shaft should be long enough to stand up straight and grab or pick something up.
Handle – The handle of the Pick-Up stick should be ergonomic and comfortable fir you to work with, Many handles are cushioned and have grippy materials to prevent the stick from slipping from your hands.
Rotating Head – If your Pick-Up Stick has an easy 360-degree rotating Head, it can easily reach narrow and hard to reach spaces. It may be ideal to consider a Pick-Up stick with a rotating head that you can easily lock every 90 degrees.
---
Reviews: The Best Trash Pick-Up Sticks
In our list we have included some of the best available Pick-Up Sticks and Grabbers, for picking up Trash and other items;
---
1
The PikStik is a lightweight Aluminium Trash Pick Up Stick with a 42-inch-long shaft and a durable rust-resistant design.
The Pick-Up Stick has a stainless-steel Double point design for picking up Trash.
It has a comfortable and ergonomic handle.
The aluminum shaft is lightweight and durable, with a rust-resistant coating.
The stock has a protective sleeve for that sharp point to store it safely.
---
2
The Upgraded Grabber ad Reacher tool makes for the ideal trash pick-up stick.
It has an angled arm and can rotate the Head 360 degrees to reach small and narrow spaces,
The jaw is wide and has a strong grab to take hold of Trash and other items.
The tool is very versatile and can even pick up heavier items.
The arm is extendable to give you the most comfortable reach possible.
---
3
The Ettore Trash Picker is a Multi-Purpose Pick-up tool with a pick at the end rather than a grabber.
It has a long 43-inch shaft that is lightweight and durable.
There is a four-inch sharp stainless-steel tip that you can use to pick up waste and debris.
The grabbing design is simple and easy to use and reduces the need for ffor or bending and stretching.
The handle is ergonomic and comfortable, with a hole for hanging for easy and convenient storage.
---
4
The Unger Trash Picker is a comfortable and durable Pick-Up Stick for Trash and other items.
It can easily spear leaves, cans, pape,r, and other Trash.
The shaft is 42 inches long and lightweight but durable aluminum.
There is a comfortable ergonomic handle that will not slip.
The pin is sharp and long for easy picking up multiple Trash items.
---
5
Here we have the two-pack trash Pick-Up set, grabber, and reacher design.
The grabbers have a rotating jaw making it easier to reach items at all angles.
There is a 32– and 19-inch-long grabber tool in the package for all your needs.
The shaft is lightweight, rustproof aluminum, while the internal wire is a more durable steel cable.
The jaw rotates easily, and the grabber is a durable and grippy rubber.
---
6
The AboLife Trash Pick-Up Stick and Grabber tool is versatile and easy to use.
It is foldable and very easy to carry and store.
The Gripper can rotate and has a magnet for picking up small metal items.
The shaft is durable aluminium with a rust-proof coating, and the handle is comfortable and ergonomic.
The shaft is 31 inches in length.
---
Index Table: Top Rated Trash Pick-Up Sticks
---
---