Some of the links in this post are affiliate links. This means if you click on the link and purchase the item, I will receive an affiliate commission at no extra cost to you. All opinions remain my own.
Natural tanning, if done safely, can give you a glowing and natural bronze skin color that is desirable and will last quite a while.
Tanning on a towel or regular chair can cause nasty tan lines and be extremely uncomfortable.
Therefore, if you enjoy spending a little time in the sun, we highly recommend a proper tanning chair or outdoor lounge chair that you can easily adjust to your needs and get an even sun tan on.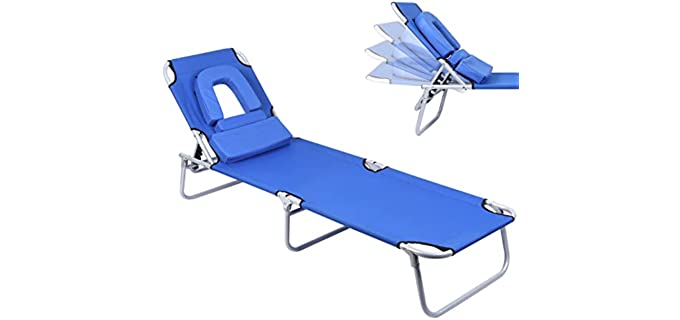 ---
Benefits of a Tanning Chair
A tanning chair is versatile and ideal for spending some time outdoors, by a pool, or at the beach.
It is an excellent item to have in the summer for lounging in the sun and getting a sun tan that is even and beautiful.
Tanning in Comfort – The Tanning Chair allows you to get a more even suntan in a very relaxed position that will not cause stiffness or painful muscles. Many models come with a head cushion or face hollow so you can lie on your stomach face down in comfort while getting a tan on your back, with your face well protected.
Relax and Enjoy – Tanning Chairs are not just for tanning but also for relaxing and lounging outdoors by the pool, in your garden, or at the beach. You can spend time with family and friends relaxing outdoors.
Healthy – Spending some time in the sun is healthy and good for you, as you get Vitamin D, a sense of relaxation, and less anxiety. However, you should wear a good sunscreen and not spend too much time in the sun, as it may damage your skin.
Enhances Your Home. A stylish and elegant-looking Lounge tanning chair can be a welcome enhancement to your patio or pool area and create an inviting appealing, functional, and aesthetic area.
---
Choosing the Best tanning Chair
A tanning chair is an elongated chair in which you can fully lie down flat in. It will have an adjustable head and shoulder area that you can recline to different positions. Many tanning chairs also come with other additions.
Weight Capacity – Tanning Chairs come with a certain weight capacity, which you will find in their description. Most of them have very strong frames that can handle heavy weight capacities.
Comfort – Most tanning chairs are designed with comfort in mind. They have comfortable fabrics and designs, and some are even cushioned so that you can lounge in a comfortable position.
Durable Materials – Most Tanning Chairs will consist of heavy-duty, durable materials designed specifically for outdoor use. The materials will withstand most weather elements, such as wind, rain, and heavy sunlight, without becoming worn out.
Foldable – You get fixed tanning chairs that are more for home use and foldable and portable options that fold compactly for use when going on vacation or outdoor trips.
Additional Features – Some Tanning Chairs come with additional features such as a supportive head pillow or a face-down hollow so you can lie on your stomach, and there is a hole in which you can comfortably place your face. Almost similar to massage beds. Some models have additional cup holders and side tables for you to place items on.
Adjustability – Tanning chairs have an adjustable back or reclining back that usually gives you two or more positions where you can lie or sit and tan.
---
Features of a Good Tanning Chair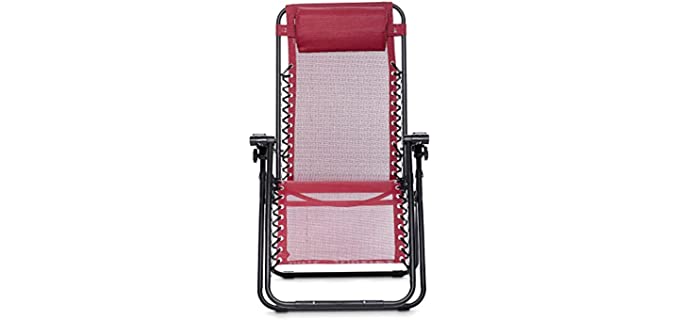 Frame – Most foldable tanning Chair options have rust and weatherproof metal or an aluminum frame with a powder coating. The stationary rattan or wicker models consist of PE material, plastic for the frame, or frame cover.
Fabric – Most tanning chairs have a swing design fabric with bungee cords fastening them to the chair, and some are sturdier with padded cushions and head pillows. The cover may be an Oxford fabric or weather and wear-resistant outdoor type fabric.
Weight Capacity – Most tanning Chiras will have a maximum weight capacity of 200 and 300 pounds.
Design – You do get portable and stationary designs. The portable designs are foldable with a much lighter weight and frame for easy storage and traveling.
Options – Many of the brands we have features offer you quite a few options in fabric colors and frame colors.
---
Reviews: The Best Tanning Chairs
In our list, we have some superb models of portable and fixed tanning chairs that will be ideal for you;
---
1
The Ostrich tanning chair has a Chaise Lounge design for comfortable tanning anywhere.
The chair consists of lightweight aluminum with a durable polyester fabric cover.
It is fully foldable and portable, ideal for travel and uses anywhere you go.
The tanning chair has a 250-pound weight capacity and is very durable.
It offers you four adjustable positions of recline.
---
2
The GoPlus tanning chair is comfortable to lounge on with many features.
It has a very sturdy and durable aluminum frame that is wear resistant.
The chair has a multiple recline position adjustable backrest so you can enjoy your time in the sun.
It has a face cavity and a comfortable pillow to rest your head on when tanning.
The foldable design makes it quite versatile and easily portable.
---
3
From Crestlive Products, we have an adjustable Lounge chair for tanning on.
It is a Chaise design lounge chair with an outdoor design for your yard, beach, or pool.
The tanning chair has a durable and rust-free frame that is powder coated.
The sling seat design has an ergonomic shape and allows for maximum comfort.
There are five different adjustable reclining positions for your comfort.
It is a comfortable and lightweight chair that is easy to assemble and use.
---
4
From Amazon Basics, we have the top-selling tanning chair.
It is a Zero-Gravity design outdoor chair that allows you a stress-free weightless feel.
The steel frame is powder coated for durability and is very lightweight.
A double bungee support system connects the weather-resistant fabric to the frame.
It has a 200-pound capacity, a comfortable padded headrest, and contoured armrests.
There are a few more colors available from which you can choose as needed.
---
5
Something more fixed and gorgeous for your patio or outdoor space is the wicker design Waroom tanning Chair.
It has a durable aluminum frame with an all-weather PE rattan that is solid and comfortable.
There is comfortable padding and pillows for your head, with a weather-resistant fabric cover, available in more colors.
The chair has adjustable recline positions for your comfort.
There is also a shelving board on the right side of the lounge chair where you can place small items.
---
6
First, we have a foldable and portable tanning chair that you can use at home or when traveling.
The tanning chair has a sturdy but lightweight aluminum frame and portable and foldable design that is easy to carry and store.
Four adjustable backrest positions are ergonomic and comfortable.
It is covered with durable and comfortable oxford fabric that is weather resistant.
---
Index Table: Top Rated Tanning Chairs
---
---