The Impact of Impulse Sprinkler is a handy device that you can use for large to medium gardens and lawns to keep them well hydrated, especially during hot and dry months.
You can sit back and relax while the impact sprinkler works, keeping your garden lush and green.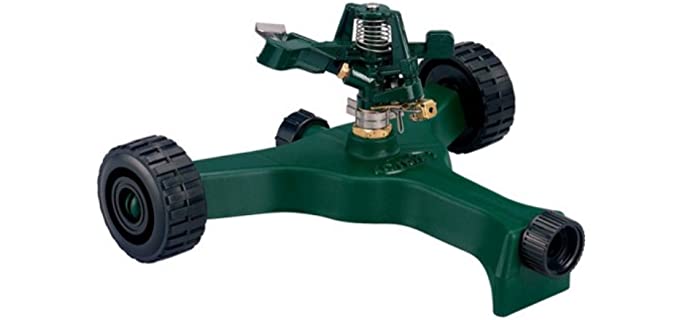 ---
The Impact Sprinkler and How It Works
The Impact sprinkler is a type of irrigation sprinkler with a head that is driven in a circular motion by the force of the outgoing water, and it pivots on a bearing on the top of its threaded attachment nut.
When the head of the Sprinkler is driven in a circular motion by the force of the outgoing water, one or more arms are extended from the head. They are repeatedly pushed back and forth, striking the water stream to enable more uniform water for a certain area.
Many full circle impact heads have a second short-range opposing spreader nozzle that will fill the closer ranges with water.
You can adjust the position of the limiting collars so that the water flow can be directed from a full-circle pattern to one with less coverage.
Because of the uninterrupted flow path of the impact heads, they are less vulnerable to damage and clogging and much easier to clean. They are suitable for systems that are well-fed by water and need a pipe thread.
Most Sprinkler heads will be metal, such as brass.
Uses – Because impact Sprinklers have such a long spray radius and more uniform water distribution, they create an effect of natural rainfall and are suitable for larger gardens and lawns.
Variations – You get underground pop-up versions of impact sprinklers that will pop up at set times or when switched in. Though most Sprinklers are above-ground Impact designs or sprinkler gun designs.
---
Oscillating VS Impact Sprinklers
The two most commonly sold sprinklers are Oscillating and Impact sprinklers.
Impact Sprinklers spray water around in a full or half circle using two arms that rotate. The Longarm sprays water further, and the shorter arm closer range. They are suitable for large and medium-sized lawns and gardens with plenty of obstacles.
Oscillating Sprinklers spray water out in fan-like patterns that can cover large to small areas with every pass. The water is pushed up and then falls, similar to rainfall. However, oscillating sprinklers are recommended for lawns in square and rectangular gardens with no obstacles and other trees or plants on the way.
If you like, you could get a combination of Impact and Oscillating sprinklers that will give you the advantages of both sprinklers for your garden and lawn area.
---
Features of a Good Impact Sprinkler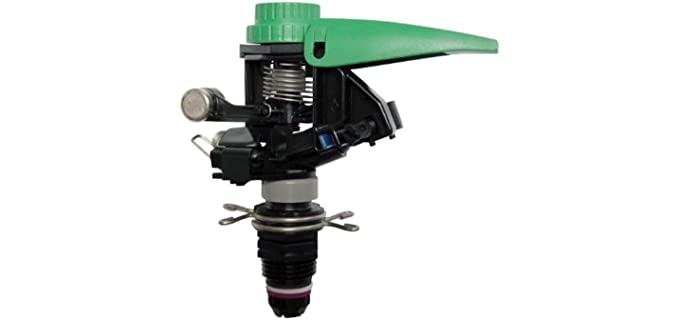 Cost – The price of Impact Sprinklers will vary according to additional features, quality, and brand. You can rather opt for a good quality design and brand with fewer features to save on costs.
Durability – make sure the Sprinkler you choose is good quality, durable materials that will last long, especially in outdoor weather conditions.
Maintenance – Most impacts sprinkles are hassle-free and easy to clean and maintain.
Dimension – Every Impact Sprinkler has a specific dimension that it sprays, and you need to consider the area of sprinkling where the stream will reach.
Safety – Look for impact sprinklers with safeguards, especially if you have small children and pets
---
Reviews: The Best Impact Sprinklers
These are some of our top choices in impact Sprinklers that are available;
---
1
The RainBird is a brass Impact Sprinkler that is fully adjustable.
It is available in 20 to 41-inch or 23 to 50-inch spray distances.
A Brass sprinkler on a metal stake has a classic impact sound.
The Sprinkler has brass, bronze, and stainless-steel construction for durability.
It is easy to install and has a full 360-degree or part-circle coverage with infinite pattern adjustments.
There is an adjustable deflector flap so that you can adjust the radius of the spray.
The Sprinkler has a high gallonage output and requires a ½ inches pipe thread connection.
---
2
The Orbit Impact Lawn Sprinkler can be adjusted from a partial to a full circle spray radius.
It can spray large lawns for up to 80 feet in diameter,
The Sprinkler has a spiked base for stable positioning and a brass head for dependable water coverage,
There is a full coverage design for consistent watering.
---
3
The IrrigationKing is a Mini-Gun style impact sprinkler that is aluminum.
It includes a 10mm, 12mm, 14 mm, and 4 mm nozzle set.
There is an aluminum pressure die-cast body and arms for durability.
The unit is a heavy-duty brass nut and tube with a nozzle and diffuser screw.
There is a stainless-steel pivot pin and springs, as well as nuts and bolts in stainless steel.
The sprinklers operate in full and half-circle dimensions.
There is a Jet breaker screw to change the water jet from heavy droplets to a finer spray.
---
4
The Orbit Zinc Impact Sprinkler comes in a set of two spikes sprinkler heads.
It is ideal for large grass and lawn areas with a wide spray dimension.
A deflector shield allows for complete spray over 80 feet in diameter.
The slide friction collars adjust the spray patterns from a full to a circle radius.
The base of the spike is metal and allows for very stable positioning.
It is suitable for outdoor use with cold water.
---
5
The Rain Bird Plastic Impact Sprinkler us an adjustable design that is high quality.
It has a double brass weighted arm to slow down rotation and improve water coverage.
There is a diffuser screw that creates smaller water droplets for more uniform coverage.
The water saver Brass weight PJ spray guide arm will control the stream and prevent side splashes on your surrounding buildings.
The Bayonet nozzle is removed for easy cleaning.
The Sprinkler offers full and half-circle sprinkling.
---
6
The Orbit Zinc On Plastic impact Sprinkler is an easy-to-use base sprinkler.
It is ideal for large laws and can be adjusted for full or half-circle spray.
There is a deflector shield for softer droplets through the jets and a ti-backsplash arm to protect your buildings and other areas.
The Sprinkler is a Zinch and Platic model that is durable and high quality.
---
Index Table: Top Rated Impact Sprinklers
---
---