Some of the links in this post are affiliate links. This means if you click on the link and purchase the item, I will receive an affiliate commission at no extra cost to you. All opinions remain my own.
The Mini Cordless Chainsaw can be a very handy device around your home, especially for camping and hiking expeditions.
The Mini Cordless Chainsaw easily cuts through small branches and grasses and can also be an excellent gardening tool.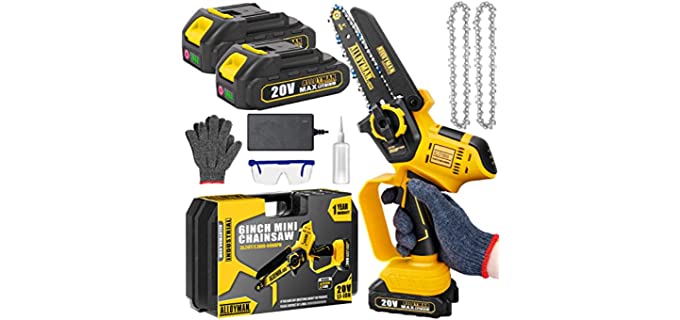 ---
Uses for a Mini Cordless Chainsaw
We normally reach for an Axe or a chainsaw when we need to fall, trim trees, or dice up some logs. These tools can be incredibly practical for clearing trees and dicing up large pieces of wood.
However, for smaller applications, such as cutting through wood and branches while camping, hiking, or cycling off the road, you need something more lightweight, such as a mini cordless chainsaw.
A Mini-sized cordless Chainsaw is an ideal tool for small gardens where you need to trim trees and branches or cut up smaller pieces of wood.
---
Using Your Mini Cordless Chainsaw
tension – Always ensure that you have the proper tension on your chain.
Wood Only – Mini Chainsaws are suitable for cutting through medium and small sizes of wood and pieces of branches and grasses only.
Avoid Kickback – If the tip of the Chainsaw comes into contact with an object awkwardly, it causes a kickback that may injure you. Ensure the Guide bar of the Chainsaw is 1-2 inches longer than the diameter of the item you are cutting.
Sharpen the Chain – Sharpen the chains to ensure that it works efficiently and regularly.
Careful with Clothing – Even when using a small chainsaw,, be careful with loose sleeves and jewelry that could get caught in the chain and cause an injury.
never Touch the Chain – The Chains are very sharp so never try to touch the chain even when it is stationary.
Lubricate – Make sure to lubricate the chain regularly to prevent rusting and to keep a steady flow on the chain.
---
Features of a Good Mini Cordless Chainsaw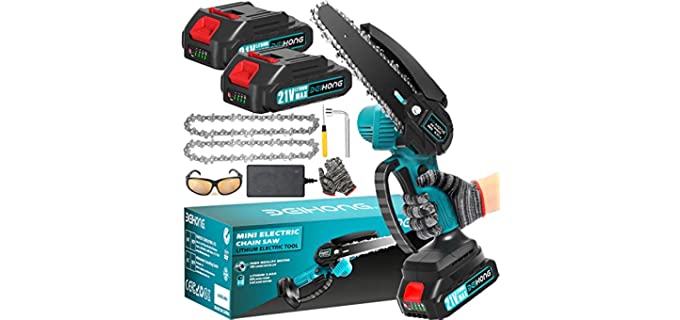 Material – Most Mini Chainsaws have high-carbon steel blades that mix carbon and steel. The higher the carbon, the harder the blade and the sharper the edges.
Teeth – Most mini chainsaws have blades that link together to form a chain. Some models have typical blades that only move in one direction, while others have bidirectional teeth that can cut in both directions.
Length – Most Mini Chainsaws will be around 26 to 36 inches. The 36-inch-long mini Chainsaw allows longer pulling strokes because the operator can make longer strokes with every pass, which is easier for thicker woods. However, the shorter length is suitable for thinner woods and grasses.
Weight – Mini Cordless Chainsaws are designed mostly for more primitive camping and smaller tasks, which is why they need to be more lightweight and not take up too much space or weight in a backpack when hiking or going on expeditions. They should weigh around 6 to 7 ounces, including their carrying case.
Handles – The handles of a mini–Cordless Chainsaw are quite important; they need to be large enough for you to comfortably grip them, with the strength to saw through wood and other things easily. The handle needs an ergonomic design that you can easily use, and many mini Chainsaws also have nylon loops so that you can wrap the handle around your arm or wrist.
Additional Features – Many Mini Cordless chainsaw come withrable nylon or polyester fabric storage pouches that make them emake portable. Some models may have more functions, such as survival tools in their design, while others may havothers may have a parachutet you can unravel as an emergency cord.
---
Reviews: The Best Mini Cordless Chainsaws
In our review list, we feature some exceptional mini sized Chainsaws that are all portable and cordless options;
---
1
The Zeeksaw Mini Cordless Chainsaw is a very useful tool to have that is featherlight at 1.92 pounds and has a 15-inch-long cordless super saw.
It has a 22ft/s super high chain speed and can cut through 5-inch branches within seconds.
The Chainsaw s safe and durable, with an ergonomic design and handle.
It has a chain brake for extra safety.
You get a full kit with your Chainsaw that includes; 1x Chainsaw, 1x 6 inch Chain, 2x Chains, 2x Batteries, 1x Charger, 1x Screwdriver, 1x Quality Storage and Carry Box, 1x Super Easy to Read and Detailed Manual for Instruction, 1x Oil Bottle, and additional pair of Protective Gloves and Goggles.
---
2
The Alloyman Mini cordless Chainsaw is a 6-inch chainsaw with a 26.2ft/s chain speed and a 775 powerful motor.
The Chainsaw has a tool-free bar and chain adjustments. With a small handheld design.
You can use it with one hand as it is slim and very lightweight.
You get a 2-piece large-capacity battery Level AAA that you can recharge many times.
The Chainsaw is safe and very reliable.
---
3
The Bei and Hong Mini chain saw is fully cordless and comes with two batteries.
It is a 6-inch chainsaw that has a security lock, and that is a lightweight handheld design.
The Chainsaw has and updated copper wire high-efficiency motor with more torque and longer running times.
There are three security measures that ensure the Chainsaw is safe and reliable.
The light 0.75 kg weight allows you to use the Chainsaw with one hand only.
---
4
The hijack Chainsaw is small and very easy to operate with one hand.
It is safe and reliable, with a safety bezel and emergency brakes.
The small Chainsaw has a large 24V capacity and is very powerful, with removable and rechargeable Lithium batteries.
It is efficient in cutting through larger tree limbs and is a 6-inch mini chainsaw.
With your package, you get; 1 x chainsaw, 1 x lubricating oil, 1 x oil brush, 2 x spare chains, 2 x batteries, 1 x pair of gloves, 1 x charger, 1 x screwdriver and 1 x instruction manual for easy use.
---
5
The New Huang Mini Cordless Chainsaw Kit includes everything your need for east tree trimming and branch wood cutting.
It has a large 21V capacity battery pack that is removable and rechargeable.
You can use it with one hand because of the light weight and comfortable anti-slip handle.
It has an upgraded copper wire high-efficiency motor for longer run time and more power,
There are two additional high-wear chairs added for your convenience.
---
6
The Gocheer is a Mini Cordless Chainsaw that is portable and handheld, with rechargeable batteries.
It is ideal for branch wood cutting, tree trimming, and for camping expeditions.
The mini Chainsaw comes with all accessories and full instructions for use and installation; 1 Chainsaw Box, 1 Mini Chainsaw, 2 Saw Chains, 22500mAh Batteries, 1 Guide Plate, 1 Charger, 2 Screwdrivers, one pair of Protective Gloves.
The Mini Chainsaw weighs only 1.54 lbs and has a continuous use time of 40-60 minutes.
---
Index Table: Top Rated Mini Cordless Chainsaws
---
---