As a gardener myself, as a hobby, I know there are many things my hands come into contact with that I would rather avoid, as well as the effort it takes to clean my hands and nails after a good gardening session.
Good gardening gloves make a difference and are quite comfortable and easy to use.
However, here are the best gardening glove options you should consider.

---
---
How do gardening Glove Protect You
Well, let me tell you there are many more things than just thorns and insect bites that gardening gloves protect you against, and here are a few;

Keep your hands and Fingernails Clean – Gardening Gloves help to keep your hands and fingernails clean and also protect your fingernails from getting damaged and your hands from bruises and abrasions.
Injury Protection – Good gardening gloves will protect your hands from punctures by thorns and hard rocks or branches, as well as from insect and even snake bites, which are rare but possible.
Protection Against Diseases – Did you know that Sepsis and Tetanus can be contracted from animal manure used in your plants if the animals are infected? Then there are also bacteria that lurbacteriour bacteriaa lurking in water puddles, still standing water, and the soil, which can cause diseases such as Legionellosis. The Rose Gardener's disease can be contracted from a fungus in the soil that thrives on plant matter, including sphagnum moss, hay, roses, and soil.
---
Choosing the Best Gardening Gloves
There are a few options in glove types when choosing the best gardening gloves, and you get lightweight cotton gloves that keep your hands clean but not puncture-proof. Then there are waterproof rubber and synthetic gloves that provide good protection but are also not always puncture-resistant. On the other hand, leather gloves are very durable, puncture-resistant,d water-resistant, but they can become very hard and stiff over time.
All in all, a good fit is important, and some flexibility for you to use your hands to the full extent.
I recommend a puncture-proof gardening glove for roses or thorny plants. If you work in very wet conditions, a more waterproof glove would be greatly appreciatedA more waterproof glove would be greatly appreciated. On the other hand, for regular gardening, vegetable gardening, and similar, a cotton garden glove is more than adequate.
So, all in all, it depends on personal preference and the type of gardening you will be performing.
---
Features of a Good Gardening Glove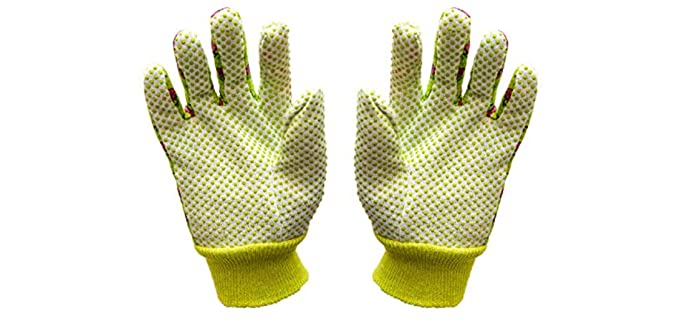 Materials – You get cotton and polyester gardening gloves that keep your hands clean but are too puncture or waterproof. Then there are more waterproof neoprene and nitrile gloves that do not offer much puncture resistance. For better puncture resistance, a thicker rubber or leather gloves are advised. They are also usually waterproof and durable.
Design – Garden Gloves come in the wrist and full-length options for more protection. They are designed for heavy-duty use or basic gardening.
Fit – Most gardening gloves do offer some size choices. They should fit snug and comfortable for optimal use of your hands.
Styles and Colors – depending on the brand and model, you may be able to choose from some color or printed options in gardening gloves.
---
New Trending Gardening Gloves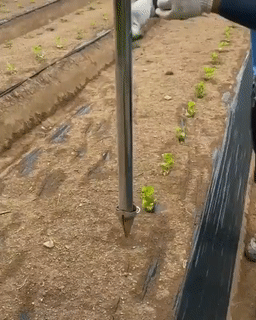 Just watch how comfortable these amazing gardening gloves.
These awesome gardening gloves are trending on Instagram with hundreds of good reviews.
It offers a breathable and odor control fabric.
Here is a Link to buy from Amazon.
---
Reviews: The Best Gardening Gloves
These are some of our favorite picks in gardening gloves for all levels of gardening;
---
1
The Pine Tree Tools gardening gloves are made of breathable bamboo that will keep your hands clean and comfortable.
They offer a snug fit, and there are more size options available to you.
You can enjoy comfortable and optimal hand protection with a glove that feels like a second skin.,
The gloves also provide good abrasion resistance.
---
2
Here we have proper rose pruning gloves from Exemplary Gardens, designed to fit men and women alike.
The gloves are 100% natural goatskin leather, offering the best puncture resistance and protecting our hands from scrapes and scratches.
The gloves ate pliable and flexible to allow maximum dexterity and fine motor tasks such as planting seeds.
They also have an ergonomic design thumb for easily gripping garden tools.
---
3
The HydraHyude gloves are specifically designed for their exceptional water resistance and protection as a durable garden or work glove.
This model is designed specifically for ladies and is available in women's sizes only for ladies and is available only in women's sizes.
The HydraHyde glove is water-resistant leather that wicks away moisture to keep your hands dry and comfortable.
They offer excellent puncture and abrasion resistance and have an elastic wrist to keep out dirt and debris.
The gloves are ideal for gardening, construction, and framing work.
---
4
From Digz, we also have a gardening glove shaped specifically for women and in women's sizes alone.
The gloves are made of durable and touchscreen-compatible fabric.
They offer good performance and have touchscreen-compatible fingertips.
There is also a terry cloth patch on the back of the gloves for wiping away sweat and moisture.
---
5
The VGO Gardening gloves ate a synthetic long-length gardening glove set ideally designed for tending to and pruning roses.
They are also ideal for dealing with other thorny plants, such as cacti, and in environments with more puncture and abrasion risks.
The gloves are touchscreen compatible and have an ergonomic and comfortable fit.
They consist of synthetic leather with an elongated cuff.
Synthetic leather is durable and offers excellent water and stain resistance for gardening and wet environments.
---
6
The G and F gardening gloves are soft Jersey gloves for general gardening in less hazardous scenarios.
They are 100% soft cotton jersey material and come in assorted options.
The gloves have a lovely flower print and cuffed knit wrist.
There are also PVC dots on the palms for improved grip, which is also very durable.
These gloves are ideally designed for ladies, have more feminine prints, and are available in smaller size options for ladies' hands.
---
7
The Perfect Leather Gardening Gloves.
The gloves are multipurpose for work and gardening.
Leather is durable and flexible, perfect for gardening gloves.
The gloves are breathable and also provide some water resistance.
---
8
The Ozero leather gloves are perfect for gardening.
They are Cowhide leather and very durable.
Double thread sewing and elastic wrists.
Also lined with cowhide leather.
Fit for men and women.
---
9
From G and F products, we have a soft Jersey gardening Glove.
The gloves are ideal for lightweight gardening and are designed for women.
They consist of soft cotton jersey material.
The gloves are assorted with floral prints and a knit wrist.
Sold in packs of three.
---
10
The Treedeng Gloves are designed mostly for Rose Pruning.
They offer full protection against thorns.
They have a longer length for arm protection.
The gloves are double layered and have padded palms.
---
Index Table: Top Rated Gardening Gloves
---
---