Some of the links in this post are affiliate links. This means if you click on the link and purchase the item, I will receive an affiliate commission at no extra cost to you. All opinions remain my own.
The Hand Trowel is a simple farm tool with a short handle and a scoop-shaped blade used for small gardening jobs when you are in a seated or squatting position.
The best garden hand trowels offer a solution for many avid home gardeners and farmers.

---
---
Using and Maintaining a Hand Trowel
Hand trowels are small handheld shovels that are a must-have tool for beginners and even more professional gardeners that garden on a smaller scale.
The best garden hand trowel will be made of durable materials such as steel with a comfortable wood or fiberglass grip handle.
Cleaning and maintaining the hand garden trowel is easy; it just needs a good rinse after use. Also, keep it dry, especially if it has a wood handle.
---
Using a hand Garden Trowel for Small Gardening Jobs
When and how to use your garden hand trowel will depend on the job.
Here are a few instances where a garden hand trowel may come in handy;

Digging Small Holes – Garden trowels can be used for digging small holes to plant small bulbs, perennials, annuals, or even transplanting seedlings. It needs to be bigger for digging larger holes for trees or shrubs.
Digging Up weeds – The Garden trowel is also an excellent tool for digging up smaller weeds in your garden. It can dig through pretty tough and even clay-like soil to remove weeds.
Scooping Soil – The Wider Blade Garden Trowel, designed more as a scoop, is ideal for scooping soil. However, because it is still a small handheld tool, it can only scoop small amounts of soil and mulch for potting plants and other uses.
---
Features of a Good Garden Hand Trowel
It is much easier to select the correct Garden Trowel when you follow some simple tips on what exactly to look for in a garden trowel;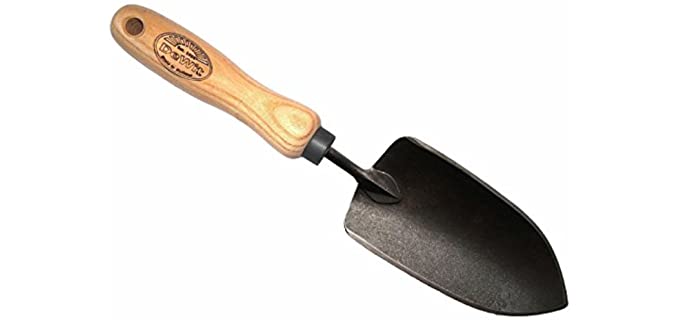 Materials – When it comes to Garden Trowels, the Blade can consist of either stainless steel, which is very strong and rust-resistant, or Carbon Steel, which is unbreakable and rust-resistant. Or aluminum which is much lighter in weight but breaks and bends easily. Wood, Plastic, or Fiberglass can be used for the handle of the trowel. Wood handles are more sturdy if it is a high-quality wood, but not as weather resistant. Plastic handles usually layer a metal handle and can break over time. Fiberglass handles are touch, will not shrink or expand with humidity changes, and is weather resistant.
Blade – The Blade of the Trowel also plays an important role. You get flat, curved, sharp, and even scoop blades. Traditional blades will have a rounded or slightly pointed end. Transplanting blades are longer and narrower to get deeper to dig out roots. Potting blades have a pronounced concave curve to transfer soil from one area to another. Digging Blades have a wider trowel blade with a scoop-like shape. Planting blades have a more pointy tip for digging and planting in a tight space.
Handle – The handle of the Trowel should have a good length and incorporate an ergonomic and firm grip. The length needs to be a minimum of 4 inches. However, 5.5 inches is the recommended comfortable size. The design must allow for an easy and comfortable grip, where cylindrical and oval shapes will be better grip than flat shapes.
Extra Features – Remember that the trowel weight will also affect how you use the tool, and a trowel should not weigh more than 3 pounds. Optimally one pound is ideal. Some trowel handles also have holes at the bottom, allowing them to be hung on a hook for easy storage.
---
Reviews: The Best Garden Hand Trowels
These are the top favorite hand trowels for gardening;
---
1
The Fiskars Ergo Garden handle Trowel has an ideal ergonomic grip.
It is designed for digging when planting and turning up the earth.
The handle has an ergonomic design that reduces wrist fatigue and is much easier to grip.
It can easily and cleanly cut through turf.
The trowel head is polished lightweight aluminum.
---
2
The Edward Tools garden Trowel is a more heavy-duty design.
This is the strongest available Carbon steel blade garden trowel.
It has, and ErgoGrip handles with rubber for comfortable use.
The Blade is rust, bend, and break-proof with an indestructible design.
The Trowel also comes with a lifetime warranty.
---
3
Here we have two Trowels from Fiskars.
They are 11 inches in size and consist of Composite material.
The gardening trowels were ideal for digging tough soils and breaking up hardened dirt clods.
They have an oversized head to displace more soil when working in the garden.
The piece design will not loosen at the neck and is very lightweight.
---
4
The Mr.Pen Smart trowel is a Stainless steel gardening hand trowel.
It has a heavy-duty and durable design that is rust- and weather-resistant.
The garden trowel is ideal for rocky and hard clay soils.
The stainless steel blade is extremely strong and durable.
Likewise, it has an ergonomic handle with comfortable grips.
---
5
From Sinoer, we have a comfortable hand trowel for gardening available in more color options.
The hand trowel has a soft rubberized non-slip handle for your comfort, which is also ergonomic in shape.
The blade is lightweight polished aluminum.
It is ideal for smoothing, digging, and planting small to medium-sized potted plants and beddings.
---
6
The Terra Garden hand Trowel for gardening is comfortable and versatile to use.
It has sharpened edges and a hand-forged boron steel blade.
The handle is hardwood and ergonomic in design.
The Trowel is very user-friendly and easy to use for multiple purposes.
It is quite lightweight, as well as durable and rust-resistant.
The terra Garden Trowel is perfect to use for a variety of gardening jobs, such as digging small to medium holes, scooping up soil and much, as well as potting plants and seedlings for various gardening jobs such as digging small to medium holes, scooping up soil and much, and.
---
7
The Corona hand Trowel is comfortable and wide to use.
There is a three-inch blade and cushioned comfort grip.
Lightweight one-piece design.
Aluminum alloy design.
---
8
The Tierra Garden hand trowel is the perfect design.
It is a quality constructed hand trowel with a boron steel head and comfortable handle.
Ideal for multiple uses.
Extremely user-friendly.
---
9
The CFCT is a larger scoop and hand trowel.
Ideal for planting pot plants.
Very sturdy and durable and has a one-piece aluminum design.
Comfortable and non-slip grip.
Excellent quality design.
---
10
The Stansport hand Trowel is another top favorite.
It is a sturdy and durable design.
Multiple applications with the perfect small size.
The handle is easy to grip and durable.
---
Index Table: Top Rated Garden Hand Trowels
---
---