Gardening is a relaxing and therapeutic experience that many of us enjoy.
However, it can be challenging, especially for those with back pain or limited mobility. Even bending and kneeling for extended periods can become uncomfortable and painful for the healthiest and fittest.
This is why a gardening Stool or bench with wheels can come in handy.

---
---
Why Invest in a Garden Stool or Bench with Wheels?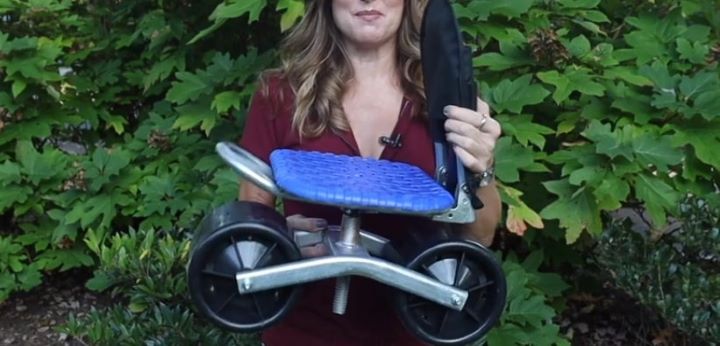 There are two basic reasons why I suggest a Gardening Stool with Wheels for gardening.
Firstly, many types of gardening require that you are bent, sitting in a squatting or crouching position, or even on your knees. Sitting flat on your bottom is only sometimes comfortable because you need to get up to move continuously, and your bottom can get very dirty.
Secondly, older persons with painful backs, legs, and other health issues or mobility limitations may find it difficult to squat, crouch, or stand on their knees.
The gardening stool with wheels provides a low and comfortable seat that allows easy access to plants on the ground or a bit higher, and the wheeled option allows you to move around without getting up every time.
Then again, you also get most gardening stools and benches with a storage tray or compartment, so you can carry gardening tools and items easily while riding along.
---
Types of Garden Stools and Benches with Wheels
The Garden Stool or bench with wheels comes in three basic designs that you can consider;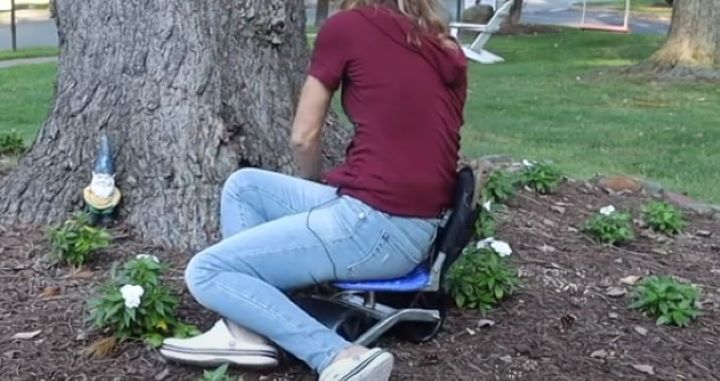 Mini Stool with Wheels – The Mini stool with wheels or rolling stool is ideal for all gardeners. It is a small, comfortable seat that comes with wheels. It may have an internal storage compartment and is generally small and compact.
Stool and Work Cart With Wheels – The Rolling Stool and Cart in one with wheels is a great option for persons with limited mobility or back pain. It is a sturdy framed work cart with a comfortable seat and large wheels that you can adjust in height.
Bench with Wheels – This device has the portability features of a wheelbarrow, a storage compartment, and a comfortable seat. It looks almost like a patio deck box with wheels. It is compact and extremely versatile.
Scooter Design – This is an all-in-one cart, bench, and seat for all your gardening needs. It resembles a small scooter with four wheels, a storage tray, and a comfortable, height-adjustable seat. This is a much larger model that is also easier to operate.
---
Features of a Good Gardening Stools with Wheels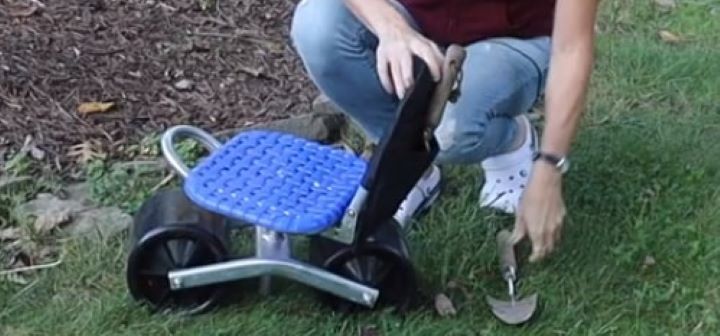 Here are a few features you must consider before getting a Gardening Stoll with wheels.
Construction – A gardening stool with wheels must be constructed of durable materials that can withstand weather elements, wetness, and heavy-duty use. Most metal designs will be powder-coated or have a rust-resistant coating. Then, some plastic models can be quite durable. The Wheels can be pneumatic and non-pneumatic, consisting of plastic or rubber. The wheels may offer 360-degree rotation. Some models have seats that you can adjust the height of to your personal needs. You also get models with a storage tray or internal storage to carry larger and smaller items as needed. Most Stools with Wheels for gardening have storage and a steering wheel in the larger models, making it easier for you to get around the garden.
Weight Bearing Capacity – Some models' gardening stools with wheels can double as a seat and storage cart. You will need to consider its weight capacity, regardless. Most have a weight capacity of 200, 220, 300, or even 400 lbs in heavy-duty designs.
Tool Storage – Many gardening Stools that are wheeled will also come with a storage basket or design for storing gardening tools and other items, and This may be a wire basket in the front or back of the stool, a utility tray, or even an internal storage compartment.
---
Reviews: The Best Gardening Stools with Wheels
These are some of our top favorite Gardening Stools that come with wheels and some with extras;
We hope you love the products we recommend!
We may collect a share of sales or other compensation from the links on this page.
---
1
From Pure Garden, we have a garden cart and stool in one with wheels.
The cart is durable, with sturdy plastic wheels.
There is a tool tray included underneath the seat for your convenience.
It is ideal for planting, weeding, lawn care, and other purposes.
---
2
The Giantex gardening stool with wheels is sturdy and has an adjustable seat.
The swivel seat adjusts in height and is a comfortable design.
There are four rubber wheels under the steel frame.
There is a steering rod and a handle for easy operation,
It has a weight capacity of 330 lbs.
---
3
The GoPlus Garden Cart and stool are ideally multi-functional.
It is well made with powder-coated steel that is rust and weather-resistant.
The set is wide and comfortable, and there is a steering wheel.
The wheels are large and durable,
The ergonomic seat is very comfortable, with an additional tool tray and storage basket.
---
4
The Peach Tree Garden Cart and Rolling work seat us a heavy-duty design.
This design looks almost like a small scooter.
It has a very durable structure with a tool tray and a work seat.
Large and durable wheels offer full rotation for smooth and easy moving.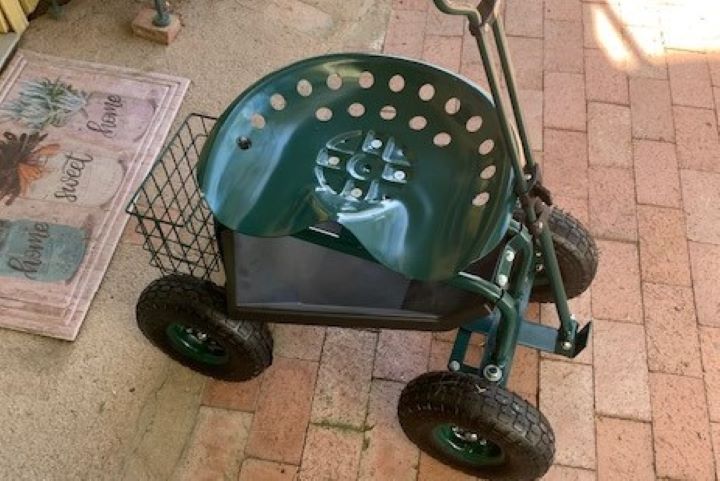 ---
5
The Sunnydaze Wheeled Garden Stool and Tray are durable and ideal.
It has an adjustable seat for a comfortable height.
The frame is heavy-duty powder-coated steel with a plastic storage tray.
Versatile for garden and other uses.
---
6
Here, we have a multipurpose wheeled cart and stool for gardeners.
It is a durable design with non-pneumatic wheels and a steel axle.
The stool is easily moved and has 360 rotational wheels,
The seat is wide and comfortable, and there is a storage tray.
---
7
The Gardening Stool Cart is ideal and can swivel.
It is a stool and cart all in one with wheels.
It can also swivel 360 degrees,
Very durable design and structure.
Comes with a utility basket.
---
8
The Irontron, a rolling garden seat.
It has a Turnbar and wheeled function.
The seat has an adjustable height and swivel design.
There is easy front-wheel steering.
---
9
From Kinbor, we also have a great gardening stool.
The Gardening stool is a cart and has wheels.
It can swive 360 degrees,
The axel is durable solid steel.
---
10
The Deluxe Garden Stool is a rolling work seat.
It has comfortable cushioning in the seat.
It rocks and rolls.
The height of the seat is fully adjustable.
---
Index Table: Top Rated Gardening Stools with Wheels
---
---