When you enjoy gardening, you will know the struggles and frustrations of weeds and keeping your lawn and edges in shape.
A weed wacker is the ideal device to trim lawns and keep weeds at bay; however, not all of us like the String weed wacker, as it may be dangerous and difficult always to replace the strings.
The Weed wacker without strings has a blade or brush design that can cut through thick and thin weeds and bushes and comes in many options.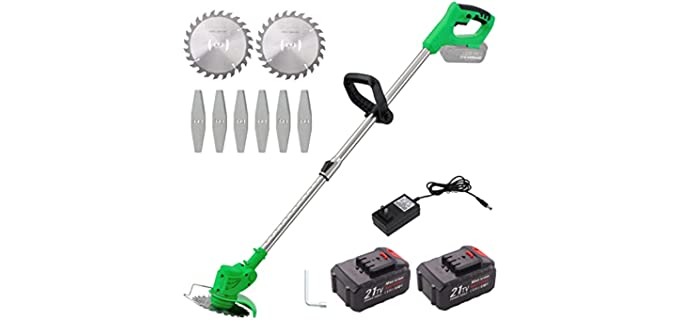 ---
Types of Weed Wackers
Firstly, let us have a look at the three types of Weed whackers and how they compare;
String Weed Wacker – The String weed wacker is the most commonly used for trimming grass and other foliage. Using strings as blades to cut through thinner weeds and grass is safe and convenient.
Bladed Weed Wacker – The Bladed Trimmer, or weed wacker, is similar to a string cutter but uses blades instead of the monofilament lines to cut through grass and weeds. They come with various blades for cutting through different densities more precisely.
Brush Cutter – The Brush Cutter is ideal for cutting grass, trimming hedges, and cutting through growth and thorny bushes or small bushes. It is ideal for denser vegetation and is a much more powerful machine with a longer shaft.
---
Benefits of a Stringless Weed Wacker
Brush and Blade weed wacker offer a much similar function to a string trimmer but are much more durable and ideal for denser foliage.
You can interchange brush and blade heads for more precision cutting or cutting through thicker branches and bushes.
Many weed whackers with blades or brushes are also suitable for cutting grass and double up as an edging tool.
---
Features of a Good Stringless Weed Wacker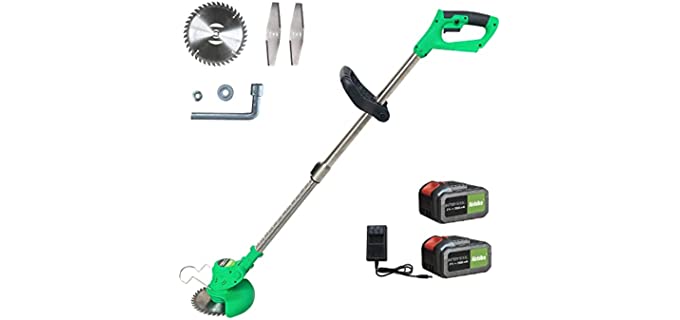 Size and Area – You will need to compare the length of the electrical cord or consider a wireless option depending on the side and area where you would like to use the weed wacker.
Corded or Cordless – You get a corded weed wacker that needs an electrical outlet to function, which may limit your area and movement. There are cordless options that use a battery or gas to operate, though they may be slightly heavier, yet more convenient.
Blade or Brush Model – Stringless weed whackers will have either a brush or a blade for cutting. Usually, a few brushes and blades will be included, and you can purchase replacements.
Weight – The weed wacker should be easy to handle and well-balanced when you pick it up. The weight should be evenly distributed along the length of the machine and not concentrated at the head.
Extra Features – Some weed wacker may be able to handle edging on sidewalks and driveways. Some models also have a guard to protect your plants when trimming grass or weeds.
---
Reviews: The Best Weed Wackers Without a String
In our list, we have a few models of weed wackers that use brush and blades cutters rather than strings;
---
1
The Sanjian Weed Wacker is a cordless weed wacker with a brush cutter.
You get two brush blades and two additional batteries for the operation of the weed wacker.
The weed wacker has an ergonomic design, a steel telescoping shaft, and comfortable handles.
There is a spacer that prevents careless contact with rocks and hard surfaces.
The Wacker is powerful yet lightweight and ideal for thicker weeds and bushes.
The batteries are easily rechargeable, making them an exceptional cordless option.
---
2
The Maxman Cordless Brush cutter is safe, easy to use, and requires no strings.
It comes with a spare battery, and the batteries are quick and easy to charge,
It has a three-in-one Edger and lawn design and is very lightweight.
For your convenience, there are two types of blades that consist of heavy-duty materials, six metal slotted blades and two large metal circular saw blades.
The design is slightly safe and comfortable to use, and there is a handle fixed button setting for uninterrupted operation.
---
3
Here we have another cordless and stringless option, a brush weed eater and weed wacker design for your lawn and your yard,
It has an ergonomic telescopic shaft with a fully adjustable handle for your comfort,
The Package includes two Large 36TV capacity lithium batteries, one charger, two manganese steel saw blades, two stainless steel blades, one 3Teeth Steel Brush Cutter Blade, five plastic blades, one wrench, one screwdriver, and one Spare blade base, everything you need for installation and use.
The weed wacker offers you four cut operations for edging and easy trimming of thicker and thinners weeds and branches.
It comes with two strong-capacity rechargeable batteries for your convenience.
---
4
The Patio weed wacker is also a cordless and stringless design with multiple uses.
It has an adjustable length and angle design in the shaft and a rotating head for tight and awkward spaces.
There are multiple safety controls and dual switches for safety.
The weed Wacker has three blades for tree trimming, lawn mowing, and cutting weeds.
It has an innovative, lightweight brush-cutting design and easily goes to edging mode.
The weed Wacker is powerful and operated with rechargeable batteries.
---
5
The AirBike Brush Cutter is the perfect stringless weed wacker with multiple uses.
It can cut thick seedlings, small branches, and vibes; there is a round blade for shrubs and branches and thicker vines.
The Weed wacker has a very safe and adjustable telescopic pole, handle, and a 90-degree adjustable head to reach all areas.
It is a very powerful and long-lasting operation.
---
6
Here we have an electric gas-operated, stringless weed wacker.
It has three blades for cutting lawns, trimming weeds and small shrubs, and thicker shrubs and branches.
In the Package, you will get the Grass Trimmer with its 2 Batteries, 2 Saw Blades, 5 Rhombus blades, 20 Plastic Blades, 1 Wheel splash guard, 1 Splash guard, 1 Cradle charger, 1 Non-Slip Glove set, one pair of Safety Goggles, and a very user-friendly manual for easy operation.
The Wedd wacker is powerful and safe, requires gas for operation, and has a cordless and stringless design.
---
Index Table: Top Rated Weed Wackers Without Strings
---
---