When you hear the word rake, your thoughts may lead to the large bamboo or plastic fan rake you use to make leaf piles.
Yes, this is true. However, many different garden rakes are used for different purposes.
In this article, e look at some of the best gardening rakes and their ideal uses.

---
---
The Gardening Rake and Its Purposes
A rake is a glorified outside broom.
It is used to scrape dirt, soil, leaves, and other items in your garden together and flatten soil for planting.
A rake is a tool that has been used for so many years by many gardeners and farmers alike,
Today, however, you get so many different types of rakes, even mechanized rake versions used by farmers for larger-scale raking.
However, in this article, we will concentrate mainly on the simple and elegant gardening rake types for general gardening purposes;
---
Types of Garden Rakes
There are two main types of Gardening rakes: the actual hard-design garden rake and the fan-shaped rake for gathering leaves.
However, there are so many more other types of rakes that may also be useful in the garden;

Lawn or Leaf Rake – The Lawn or Leaf rake is designed for raking up leaves from your lawn or gathering them into smaller piles for disposal. The Lawn or Leaf rake has tines that are long and fan out from the with a cross piece of material to hold them into place. The edges of the tines are bent over slightly at around 90 degrees, and the tines are quite flexible with a large span for gathering many leaves with one sweep. The design is specifically so that the rake can pick up leaves and lawn debris without damaging or penetrating the grass.
Garden Rake – The Garden Rake is a more heavy-duty design rake with wide-set tines that are short, around three inches long, and bend down from the head at a 90-degree angle. The Garden rake almost always consists of a metal and may have a wood or metal handle. Garden or soil rakes, as they are also known, are used to turn different types of soil and for other garden tasks. Because they are so strong with widely spaced tines, they can break up lumps and remove unwanted weeds, debris, and larger stones from the soil.
Shrub Rake – The Shrub rake is similar to the Leaf rake. It has a very narrow shape and easily fits into smaller spaces, for example, under shrubs, hence the shrub rake; it is also used to pick up leaves and garden debris.
Hand Rake – The Hand Rake is a small handheld rake around the size of a trowel. They are usually made from metal and designed for heavy-duty gardening. They almost resemble miniature Bow rakes with only a few long, pointed tines. They are ideal for digging and moving around soil in smaller garden beds and areas.
Thatch Rake – The Thatch Rake is similar to a bow rake but has blades on either side. You use his rake for breaking up and removing thicker thatch in lawns. It scratches the surfaces of the soil and scarifies your lawn, removing moss and thatch. This rake has sharp tines that can cut through tough roots and shoots. However, it will still pick up debris easily.
Landscape Rake – The landscape rake is designed to level various ground covering materials in fairly large areas. This rake has a fairly large head wide head to cover larger areas and smooth over the surface.
---
Features of a Good Gardening Rake
When choosing any gardening rake, there are a few things that will need proper consideration beforehand;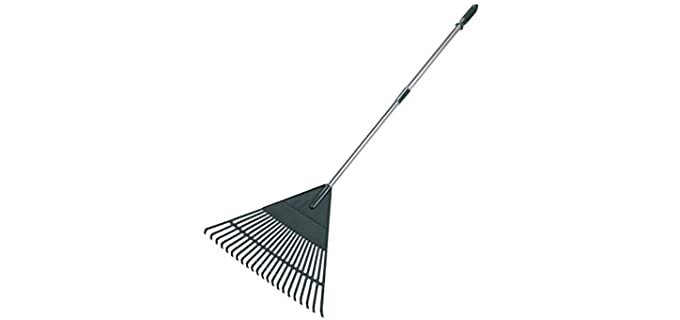 Handle Length – You will mostly use the rake standing up, except for the handheld models. A good handle length should reach the bridge of your nose from the floor up. This is a comfortable height for almost anyone to use. When holding the rake, you need a comfortable distance between your hands. That is why you need a long-length handle.
Head Width – The Head width will largely depend on the rake type and its specific purpose. For gathering leaves or covering a large area, you need a much wider head width, whereas smaller areas require a more narrow head width.
Weight – The rake needs to be sturdy and heavy enough to perform the explicit duties intended for, nevertheless not so heavy that you cannot easily handle and hold the rake. Wood and steel rakes are among the heavier and more durable designs, whereas plastic and aluminum rakes are much more lightweight but less durable.
Materials and Durability – Rakes can consist of steel, aluminum, fiberglass, or plastic and may have a wood, steel, or plastic handle. Steel for the tines is the toughest, and wooden handles the best option. However, fiberglass is also quite a good choice.
Comfort – You can look for a rake with a softer grip on the handle if you find it uncomfortable to use or causes blisters; you do get models with a more ergonomically design and handle grips.
Uses – Choose your rake wisely for its specific purpose as we have discussed going through the different types of rakes, and also consider the size of the area for it to be used in.
---
Reviews: The Best Gardening Rakes
These are our Top choices in a variety of Gardening rakes;
---
1
The Fiskars rake is a durable, regular gardening rake that is durable aluminum.
You can choose from other garden tools available in this range.
It features an extruded aluminum handle and double-bolted connections for strength and durability.
There are hardened metal tines that will resist abrasion and bending.
The head is welded with triple metal rods for added strength.
---
2
The Orientools brings you their garden rake that is lightweight and adjustable.
This is the perfect rake for shrubs.
It has an adjustable handle and a narrow design head for raking underneath shrubs.
It consists of steel poly materials and plastic and is a very lightweight and compact design.
---
3
The garden Guru brings you their steel hand rake for those small garden jobs.
It is a must-have garden hand tool for every avid gardener.
It has stainless steel prong and a comfortable ergonomic handle.
The small tool has so many versatile uses in the garden.
---
4
The Truper is a Tru Trough Steel Leaf rake for cleaning up your lawn.
It has a 54-inch lacquered handle that is strong and durable.
The 24-inch wide head allows for quick clean-up of large areas.
It has clear-coated green finished heads and is easily spray-cleaned with a garden hose.
---
5
The Midwest rake is an aluminum landscaping rake.
The rake has a full wood handle and long, rounded teeth on the rake itself.
It has a solid aluminum plug in the head to connect the handle.
To maximize head stability, the rake has strong wrap-around bracing and heavy-duty double rib constriction.
---
6
From True Temper, we also have an Adjustable Thatching rake.
It has a proper Hardwood handle that is 54 inches long.
The rake has a 15-inch head and cured steel teeth for cultivating the soil.
The handle has a comfortable cushioned grip.
---
7
The Corona Gardening Rake is a Tine Shrub rake.
A fixed design for quick clean-up.
Bi-Curved bow and very durable.
Easy to grip handle.
---
8
The Coconut Garden rake is ideal for lawns.
It consists of stainless steel with a stainless steel handle.
Ideal for loosening soil and debris.
Humanization is easy to use design.
---
9
The WeFaith rake is a heavy-duty rake.
Ideal rock rake with stainless steel handle.
Heavy duty with 14 times for your yard.
Silver in colors.
---
10
The Inflation rake is a 72-inch leaf rake.
It is a heavy-duty yard rake with an adjustable handle.
Consist of very durable metal and has a long reach.
Easy to store when not in use.
---
Index Table: Top Rated Rakes for Gardening
---
---