There is no doubt that gardening is an extremely rewarding experience, as well as a messy experience.
You also have to do with plenty of small tools or gloves and will need other small items easily at hand.
So why not invest in the best gardening apron to provide these features?

---
Why You Need a Good Gardening Apron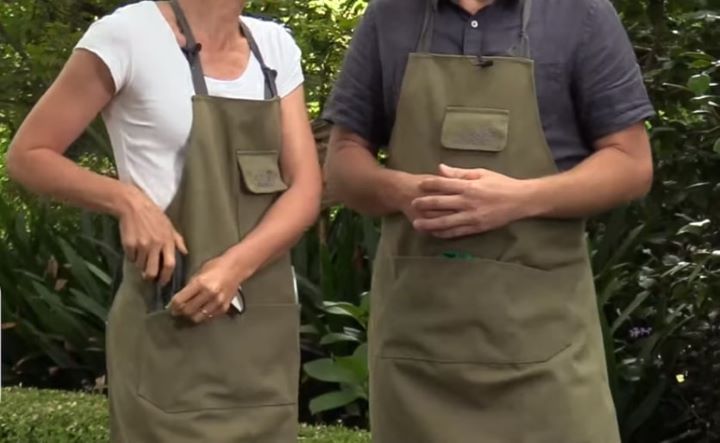 With a garden, that extra protection that an apron provides is always welcoming, not to mention a place where you can quickly wipe your hands.
Most garden aprons come with small pockets that you can carry gardening tools and accessories around without any hassles, allowing your hands to be free. Other than that, you can carry some drinking water and a snack for when you need it.
The gardening apron will keep your clothing clean and protect you from wetness from splashes and sprinklers.
Besides that, I find it the perfect way to wipe the sweat from my forehead or my hands quickly as an additional feature.
---
Choosing a Gardening Apron
Choosing the best gardening apron is another task on its own, so here are some tips and what you should look for;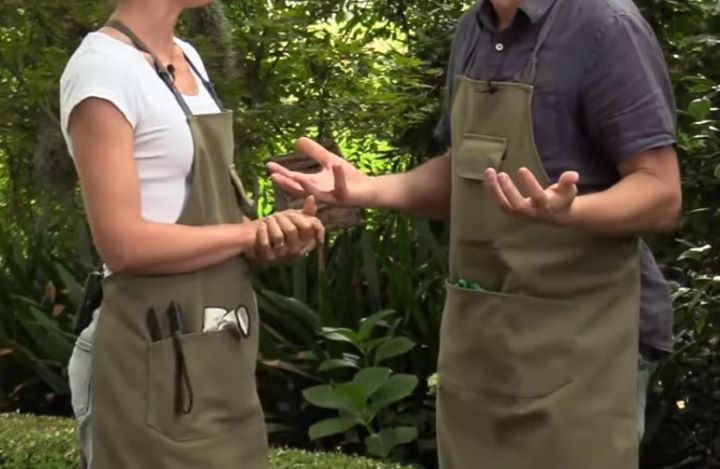 Find a Strong Materail – You will need a gardening apron with heavy-duty and durable materials that will not easily tear or break. The material must also be water-resistant or waterproof to some extent and weather-resistant for sun protection. Pick a quality material and look for proper and durable construction that will last, as you do not want seams and hems coming loose all over or pockets tearing off.
Pockets – Pockets in the apron are essential for carry tools and other accessories around. So, look for a design that has pockets ideal in size for what you need to carry around. Also, look for strong and durable pocket construction.
Adjustability – Choose an apron from which you can adjust the shoulder and waist straps to get the right fit.
Colors – Believe it or not, this is quite important. Remember that bright and lighter colors will also show stained much easier. Then again, you might also want your apron to blend in with your clothing, or on the other hand, if you are like me, you will want something more colorful and printed. Overall, darker colors show less stain, and solid colors blend well with your outfits.
---
Features of a Good Gardening Apron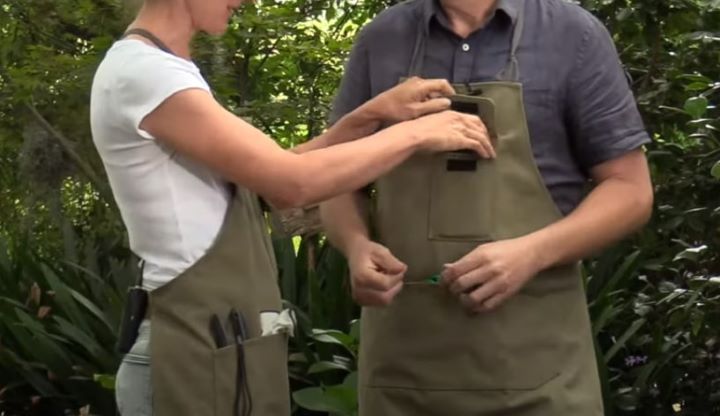 Materials – Most gardening aprons consist of durable materials such as canvas, rubberized materials, denim or cotton, and polyester.
Easy to Wash – Gardening aprons are generally very easy to clean, either easy to wipe down materials or machine or hand-washed.
Adjustability – As most gardening gloves do not exactly come in many size options, they do have adjustable straps so that you can get the best fit.
Colors – Gardening aprons are available in solid and printed color options, so the preference is all yours.
Pockets – Most garden aprons come with durable pockets for storing small items and garden tools.
---
Reviews: The Best Gardening Aprons
Here are some superb choices in the best available Gardening Aprons;
We hope you love the products we recommend!
So that you know, We may collect a share of sales or other compensation from the links on this page.
---
1
The Readyware gardening apron is wax coated Canvas Utility apron that you can use for work or gardening.
The apron consists of quality waxed coated cotton canvas material and have cotton and polyester blend straps.
The apron has three pockets, two at the waist and one in the chest area, to store small items.
The straps are adjustable for a customized fit, and the neck strap is also adjustable.
The gardening apron is versatile for multiple uses, waterproof, and easy to clean.
The cotton canvas fabric is very durable and long-lasting.
---
2
The Roo Garden Gardening Apron is a garden, Kitchen, and Harvest smock with a bib, storage pockets, and a canvas collection pouch.
It is ideal for harvesting fruits and vegetables as it has a lathe pouch.
The gardening apron is water-resistant nylon with a storage pouch and pockets for storing tools and gardening items.
There are plastic hooks that allow easy release of the pouch for storage.
The straps are self-adjusting so that you can get the perfect fit.
---
3
The Homegrown Gardening apron is also ideal for Gourmet Harvesting.
It is a one size fits all design with fully adjustable straps for the right fit.
The gardening apron has four deep gusseted pockets for storing tools and small items. One of the larger pockets can store products and even your gloves.
The apron consists of commercial-grade canvas and is completely waterproof.
It is also very easy to clean, rinse, and quickly dry.
---
4
From Mydays, we have a Canvas Garden Tool and garden workers' apron designed specifically for ladies.
It is premium quality and handcrafted waxed canvas apron that is waterproof and easy to rinse clean.
The apron has four pockets on the waist and one chest pocket.
The universal design fits most ladies, and the straps are fully adjustable for your convenience.
It has many users and is also ideal for gardening applications.
---
5
We have a Gardening apron with pockets and a harvesting pooch from Parva Garden for all your gardening needs.
The apron is comfortable, lightweight, and very functional.
It consists of soft, water-repellent fabric that keeps your clothes dry and clean.
It has plenty of large pockets for storing garden tools and items, as well as for harvesting easily,
Furthermore, it is fully machine washable and quick drying.
---
6
The XT Gardening Apron consists of a durable Oxford cloth and comes in three colors with one floral printed option.
It is a Waterproof garden apron consisting of very high-quality oxford cloth materials that are also quite breathable,
The fit is fully adjustable for your comfort and convenience.
Furthermore, it has various pockets for holding garden tools and harvesting.
---
7
This is a Gardening Apron and Knee Pad Set.
It is a heavy-duty and waterproof design.
The apron has pockets and consists of nylon.
The knee pads are water-resistant and cushioning.
---
8
This is a set of matching aprons for you and your child.
It consists of denim materials, and there are a few color options.
The aprons ate durable cotton with multifunctional pockets,
Various size options are available for adults and children.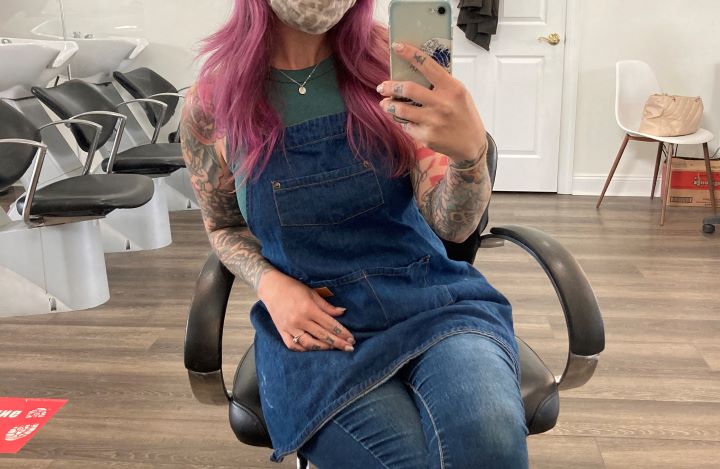 ---
9
The Tour is an Adjustable artist's apron you can use for gardening.
It is durable in canvas materials.
There are enough pockets for utility.
The apron has a cross-back design and adjustable straps.
---
10
The Roo consists of industrial stretch cotton.
Ideal for gardening and other purposes.
It is water-resistant and nylon with many storage pockets.
The straps are self-adjusting for a comfortable fit.
---
Index Table: Top Rated Gardening Aprons
---
---