Unless you are lucky enough to be a knowledgeable gardener or surrounded by someone with gardening knowledge, we all need a little help to start, and we can always learn more.
Some may choose to use Google, but if you are anything like me, there are better gardening books to help you with this endeavor.

---
---
Why Invest in a Good Gardening Book
So why should you rather invest in a good gardening book?
Today everything is instant and easily accessible, instant noodles, rice, instant dry nail polish, and instant information.
However, your garden is one thing you cannot speed up or change. The tips used before are still in use today, and a garden is a natural element that needs time, proper preparation, and nutrition to flourish.
Whether you use newer books or even antique books, you can achieve a healthy and flourishing garden equally.
So why not just use Google? Well, overall, you can. However, the information out there may only sometimes be as trustworthy as a book written by specialists in this area. On the other hand, a book is so much easier to use rather than having to search on a mobile device or computer all the time.
Overall, it is personal preference and what your specific needs are.
---
Types of Gardening Books
Then again, what I love about gardening books is the fact that there are so many choices available.
So here are a few simple choices that should be sufficient for most gardeners, keeping in mind that you get specialized gardening books.
Gardening Books for Beginners – Most likely the most sought after by most of us initially. The gardening book for beginners I a good place to start for general gardening tips and as a basis for gardening.
Specialized Gardening Books – These are gardening books for specific types of gardens, such as a Rose Garden, vegetable garden, or more general flower garden. They aim to provide information on how to grow specific plant types or groups of plants.
Organic Gardening Books – The Organic Gardening book is aimed at helping you grow completely organic gardens for specific or a variety of plants that are completely free of any chemicals, pesticides, or chemical fertilizers. They help you to use natural substances t make your fertilizers and compost.
Advanced Gardening Books – There are more advanced gardening books for more intricate information and advancement in gardening and professionals. However, most of them are specialized for specific plant types or categories.
---
Features of a Good Gardening Book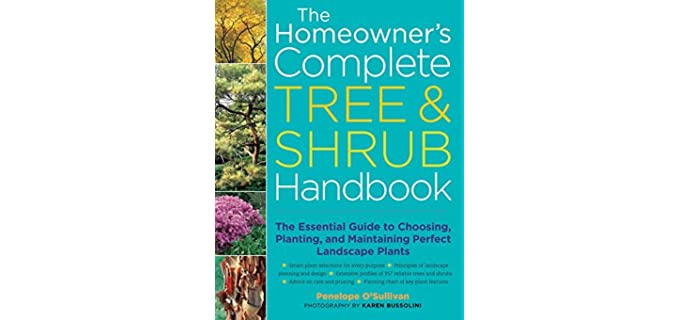 Size and Space – Gardening books can come in large and small sizes, depending on how much reading you want to do and how much space you have available on your bookshelf.
Durable Materials – Gardening Books come in different options, hard or soft covers, your hardcover books being more durable. The pages can be regular or glossy, more long-lasting, and water-resistant.
Type of Gardening Book – You get gardening books for beginners and professionals and specialized gardening books for growing specific plant types.
Easy to Read and Understand – The lettering and language can be large and easy to understand or smaller and slightly more complicated, depending on the actual book and how it is written.
---
Reviews: The Best Gardening Books
These are some of the top available Gardening Books for beginners and more advanced gardeners;
---
1
This is the ideal gardening book to get you going in order first to understand how plants work, what they need, and where to get started.
The book is a fully illustrated paperback and very easy to read.
It is published by Timber Press and written by Linda Chalker-Scott.
It includes everything you need to know about fertilization and the inner working of plants today.
---
2
This step-by-step manual helps you understand Annuals, perennials, and bulbs and how to grow them successfully.
The book is a paperback design with over 600 photos and 40 step-by-step routes for different purposes.
There is helpful advice for you to care for the soil, start growing, and care for plants in containers.
There is also essential information on creating a garden in general.
---
3
The Truth About Garden Remedies helps you to understand "What Works, What Doesn't, and Why," as the book states when it comes to gardening understand "What Works, What Doesn't, and Why," as the book states regarding.
There are some unlikely tips and home remedy treasures inside that you can use for your plants.
It is written by a horticulturist Jeff Gillman that assesses new and historical advice and tips to reveal what works, why it works, and whatnot.
The book is an easy-to-read paperback design.
---
4
The Perennial Care Manual is a gardening book that tackles plant by plant and tells you exactly what they need and does not need.
The book helps you to keep your perennial beds looking their best.
Nancy J. Ondra writes it. It provides an in-depth and plant-by-plant guide with their profiles, including 125 popular perennials and helpful information on every specific plant's soil, water, and light needs.
The book is more of a guide and quite easy to follow.
---
5
The Vegetable Gardener's Bible is written by Edd Smith's for all North American Garden Regions.
It includes wide rows, organic methods, and how to do raised beds, and it comes in a deep soil paperback design.
The book is fully illustrated and was written in 2009.
Gardeners of all levels thoroughly enjoy this gardening book.
---
6
From Penelope O'Sullivan, we have "The Homeowner's Complete Tree & Shrub Handbook," which is an essential guide on choosing, planting, and Maintaining these type of plants essential guide on choosing, planting and Maintaining these types.
This is a first-edition and a paperback book written in 2007.
The book contains all the information you need to grow trees and shrubs successfully and how to plant them in your garden for optimal use of your garden space.
It also includes information on summer fruits, autumn foliage, and winter greens.
---
7
This is a gardening book for raised bed gardening.
It is an easy-to-read paperback book.
The guide offers an introduction to raised bed gardening.
It is also ideal for beginners.
---
8
The Modern Homestead is a favorite gardening book.
It helps you become self-sufficient with all forms of gardening at home.
The paperback came out in April 2021.10.10 It offers excellent advice and information.
---
9
The Chef's Garden is a Vegetable Gardening book.
It advises growing a variety of common and rare vegetables.
It helps you grow vegetables, especially for cooking.
An illustrated paperback book.
---
10
This is a General Gardening Guide.
It is complete for planting. Sowing and growing.
The guide has a hardcover and came out in 2020.
It offers very informative and comprehensive advice and guidance.
---
Index Table: Top Rated Gardening Books
---
---