I am sure we have all gone through the frustration of a garden hose being knotted and laying all over your backyard in the sun, looking extremely untidy, especially when you have to pull and tug untie knots when you need to use them.
An invention that is truly a superb idea to invest in is the best garden hose reel.
This equipment will help you keep your garden hose neat and tidy and so much easier to use.

---
Using a Garden Hose Reel and Why You Need It
So let me start by explaining how the garden hose reel works and why you need it.
As you know, trying to put away an unruly garden hose is not much fun, and neither is trying to untangle an unruly hose for use afterward. You can also not just leave it outside in your garden as it looks untidy and will also wither in the sun.
There is absolutely no better way than to keep it on a proper hose reel. Garden hoses are generally not cheap, and leaving them lying around can damage them. That is why you need a garden hose reel to keep them clean, protected, and long-lasting.
On the other hand, as we have said, trying to fold or reel a garden hose manually is close to impossible and can get you pretty dirty, so why not just take the easy way and use a garden hose reel.
In the Video and below steps, I will show you how to use most models of hose reels
Prepare the Hose Reel – To Prepare an old hose reel, you will need to extend your hose until you see the hose connection fitting inside the drum at the center of the actual reel. You will need to disconnect the hose by hand and discard it. For a new hose reel, you need to follow the instructions given and place all the attachments.
Prep the New Hose – Unpack your new hose, as you will need a relatively new one. Locate the female end and place is nearest to the hose reel. Stretch out the rest of the hose away from the reel, so it softens a bit.
Feed and Connect the Hose -Take the female connector supplied with the new garden hose and geed it through the guide opening that is on the reel. Screw it onto the water coupling connection that is on the drum of the hose reel. Now tighten the fitting with some pliers, so it does not leak. You can also insert a rubber washer into the bottom area of the hose decoupling before you connect it. To avoid leaks.
Wind The Hose – Now, you can start winding the hose onto the drum of the reel and coil the hose evenly back and forth across the drum as you wind. Ensure to keep the hose quite snug to the drum to avoid gaps that could take up to much room or snag. If you are using an electric-powered hose reel, you may need to push a button or pedal that will automatically retract the hose onto the drum of the hose reel.
Connect the Feeder Hose – You will now connect the shorter feeder hose that exits the hose reel to your closet's water facet spigot. You may also have a reel with a drainage hose which you can empty into a safe location, depending on the hose reel model.
---
Considerations When Choosing a Garden Hose Reel
There are a few factors to consider when choosing the best garden hose reel;
Type of Hose Reel – You will need to consider the amount of manual work you want to do o and the space you have available. You get manual and electric hose reels, and they come in different sizes.
Capacity – The capacity of the hose reel refers to the size hose that it can hold, so you will need to check the capacity of the hose reel with regards to the length and size of your hose.
Leader Hoses – Some reels will include a leader hose which allows you to place the reel farther from the spigot that is easier to use the full length without the hose kinking. They generally range from 3 feet to ten feet or longer.
Storage Pots – For small flexible hoses, I would recommend rather getting a smaller storage pot that is decorative.
Wall Mounted Hose Reels – You also get sturdy wall-mounted hose reels that have an arched structure over which you loop the hose. Some come with handles for easy storage.
Hose Boxes – A Box with a reel is the easiest design to use for heavy and very long hoses. They usually have handles for cranking the reel and guides for guiding the hose easier.
---
Features of a Good Garden Hose Reel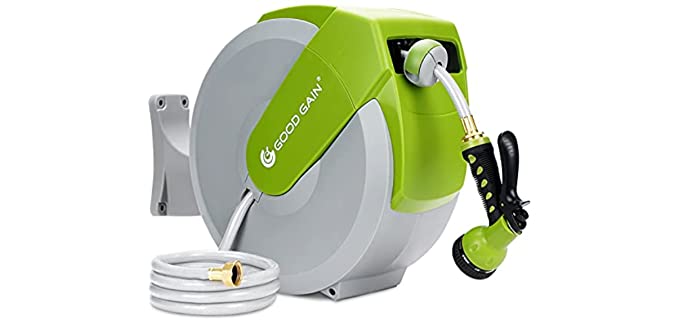 Sturdy Materials – the garden hose reel should consist of sturdy and durable materials for the drum, or frame and the attachments. Steel, other metals and plastic is mostly used.
All Attachments Included – Most models come with all their attachments and accessories needed for operation and installation included, along with clear and concise instructions.
Electric or Manual – There are both automatic or electric hose reel options available, as well as manual hose reel options, from which you can choose.
---
Reviews: The Best Garden Hose Reel
These are some really excellent brands and models of electric and manual hose reels;
---
1
The Giraffe retractable Gardening Hose Reel is a heavy-duty design with any length lock design.
It is a 1/2″ x 130 ft capacity garden hose reel with a prolonged return system for safety and durability.
There is also a very stable auto rewind system for your peace of mind.
The hose reel has a high-grid garden hose that is flexible and abrasion-resistant.
---
2
The Bluebird Garden Hose Reel is retractable with a hot and cold water rubber hose and 5/8″ x 50′ + 6′ Lead-in + 9 Pattern sprayer rubber hose nozzle.
It comes with a fully retractable hose that can support a 500 maximum PSI allowing you to tackle various projects.
The Garden hose teel has an auto retract function for your convenience and keeps excess hose out of your workspace, locking it in place in different intervals.
It is very lightweight and quite durable with flexible hose handles and a UV and Kink resistant design.
---
3
The Liberty Garden Hose Reel is a Multi-Purpose steel garden hose reel that you can easily place on the floor or mount on your wall.
It can hold up to 200 feet of a 5/8 inch garden hose which is not included.
The garden hose reel is an industrial-grade, heavy-duty, and solid wall-mounted or floor-standing design that is made with tough 13 gauge steel that has an industrial-strength powder-coated finish and is fully weather resistant.
You also get 5 feet of leader hose included,
The mounting hardware is unfortunately not included and needs to be purchased separately.
---
4
The TO gardening hose reel is a retractable 1/2" x 100+6.7 FT hose design that can be wall-mounted or stood on the floor.
The hose reel auto rewinds and has different length locks to keep the excess hose out of your way.
It has a 10-degree swivel design and an 8 pattern hose spray nozzle for your convenience.
The nozzle is solid brass, and the hose is a polymer material.
---
5
The Giraffe Metal Hose Reel box is a heavy-duty, and easily retractable harden hose reel and hideaway with a more appealing design to fit in with your garden décor.
The steel box is enclosed and has a large capacity holding a 5 feet leader hose that can store up to 130 feet of a 5/8 inch sized hose easily or 200 feet of an ½ inch hose.
The box is very sturdy and durable, consisting of strong rust-resistant metal.
It is a manual winding garden hose heel that comes with an easy-to-use manual crank.
---
6
G Good Gain has a retractable 82+7ft Auto Rewind Water Hose reel and Holder with a 180°Swivel Bracket function and can also be Wall Mounted with a Slow Return System, and an Any Length Lock, as well as a 9 Patterns Hose Nozzle sprayer.
You can stop anywhere with the lock mechanism, and nit has an excess hose in your way.
The whole garden hose reel is fully adjustable without the need for any extra tools or gadgets.
It has an excellent ½ and inch and 180-degree swivel design, a quick-release system, and a slow return system.
---
7
The Liberty Garden hose Reel is an Industrial design.
It is a four-wheel garden Hose Reel and cart in one.
It can hold 300 feet of 5/8 inch hose.
The garden hose reel is ideal for larger gardens.
---
8
The Yard Butler is a handy garden hose Reel.
It has a Low profile and is portable.
The reel can be used on the ground or mounted on a wall.
Easy to assemble and use.
---
9
The Ames Hose reel is perfect for your garden.
The reel is plastic and comes fully assembled.
It is wall-mountable and holds up to 100 feet of 5/8 inch garden hose.
There is a hose clip and integrated hose guide.
---
10
The Yestar garden Hose is retractable.
It is a heavy-duty design with a slow auto return system.
The hose reel can be carried by hand and is lightweight
It is also wall-mountable.
---
Index Table: Top Rated Garden Hose Reels
---
---