Depending on the area you live in, and the number of trees surrounding your home, leaves or flowers may become a problem in the fall and winter seasons.
In this case, it may be a good idea to consider a Leaf Blower for your garden to get rid of leaves and other dirt and debris.
A Good Leaf Blower will have a powerful, efficient motor and nozzle that will allow sufficient air passage, with a comfortable lightweight and grip design.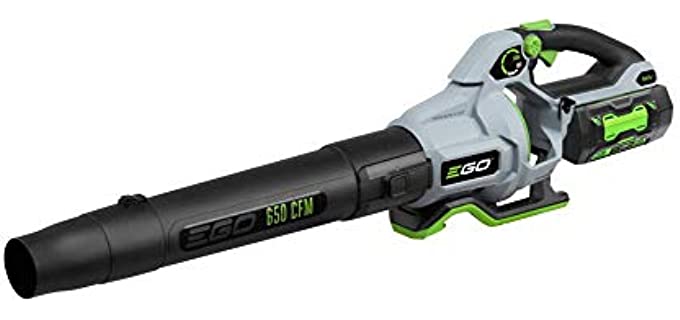 ---
Types of Leaf Blowers
When searching for the best Leaf blower, numerous options are available, and you need to choose the power option you want and design.
The Perfect model will rely much on the frequency of use and specifically what use you need it for.
Some Leaf blowers are more suited for lightweight leaves and dust, while others can blow through heavy wet leaves, dirt, and debris.
Gas Operated Leaf Blowers – the Gas Leaf Blower model is the most powerful and efficient for heavy-duty jobs. So the gas option is ideal if you have heavy wet leaves, heavy dirt and debris, and a large area to Blow. However, the Gas Blower can be messy and need to be refueled, and very noisy.
Electric Leaf Blowers – The Electric or Corded Leaf blower is almost as powerful and efficient as the Gas Leaf blower, very lightweight, and likewise ideal for medium and small areas and heavy-duty jobs. However, the Corded Leaf Blower has limitations regarding the length of the cord, and the cord is always in the way. You will also need a suitable and close electric outlet to operate it from.
Cordless Leaf Blowers – Cordless Leaf blowers come with a rechargeable battery. Some models will come with batteries, so you always have a battery on hand. The Cordless leaf blower is extremely convenient for lighter jobs and large or small spaces. Because you need to carry the leaf blower and battery, it will not be as lightweight as the electric leaf blower.
---
Other Uses for Leaf Blowers
Did you know that a leaf blower can do much more than clear leaves?
You can use it to clear up a variety of dust and debris from your yard besides just leaves. You can likewise use a leaf blower to dry your car quickly.
You can also use a leaf blower inside your laundry dryer to rid the exhaust of lint, which could lead to a fire hazard in your home.
Then for fun, a leaf blower and some bubble liquid can create the most exceptionally large bubbles for your children to enjoy!
[/super_list]
---
Features of a Good Leaf Blower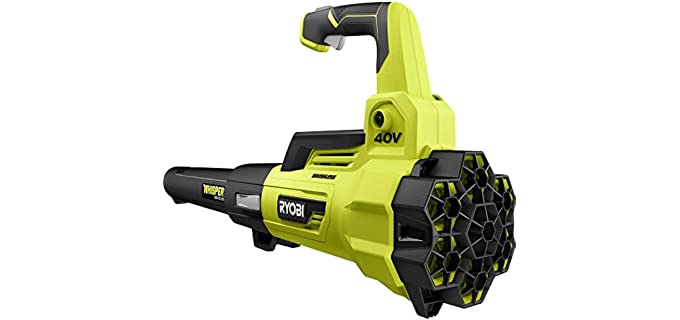 Leaf Blower Design – You get corded electric leaf blowers that need to be plugged into a standard electric outlet that is easy for smaller yards. Cordless leaf blowers give you more freedom but have less power, and large batteries add weight. Gas leaf blowers require fuel and are very loud and uncomfortable to use. Handheld leaf blowers are the most popular, easy to use, and lightweight. Back Pack Leaf blowers allow you to keep the blower pipe in your hand, with the motor in a shoulder harness that you carry on your back. The Backpack leaf blowers are ideal for larger yards. Walk-behind leaf blowers are also ideal and a larger option for large yards.
CMF – CMF measures how much air the blower will put out, while the MPH measures how fast the air moves out of the Blower. A High CMF level will allow you to blow many leaves at once, whereas a higher mph will easily move heavier debris and wet leaves as it is more powerful.
Comfortable Handling – You will need to look for a leaf Blower that you can easily handle and hold that feels balanced in your hands. The Leaf blower needs to adjust easily, and the controls must be in easy reach.
Nozzle Size – Leaf Blowers with a wider nozzle will be excellent for lightweight leaves, while a more rounded nozzle is more powerful for heavier dirt and debris. Some Blowers will allow you to swap out nozzles and come with more nozzle options.
Noise Level – Leaf Blowers are usually quite loud. However, you do find particular brands that are quieter than others. So check the decibels of the noise levels before you make a purchase.
Maintenance – Your Electric Leaf Blowers require little maintenance, only a wipe down now and again. Walk Behind Blowers with more moving parts will need quite a bit of maintenance and cleaning. Your Gas operated Leaf Blower will require a yearly tune-up and need to keep fuel on hand for it to operate.
---
Reviews: The Best Leaf Blowers
Here you will find a variety of Leaf Blowers that you can choose from, all from reputable brands that are of excellent quality with many different features;
---
1
From Greenworks, we have a 24V Brushless Axial Blower that is battery operated.
The 4Ah Battery and charger are included.
The 24 V Brushless Blower is efficient and very powerful. It is perfect for cleaning leaves and debris off hard surfaces and patios.
It has Trubrushless motor technology with twice the torque providing more power and longer running times.
There is a variable speed trigger for maximum power and moving heavier objects.
It is lightweight, with cruise control for better handling and less fatigue.
---
2
The Toro PowerJet is an electric handheld powerful leaf blower.
It is an extremely lightweight handheld device that is easy to operate and has a speed of 140 Miles per hour.
The leaf Blower weighs a low 0.69 kilograms and has a capacity of 725 cubic feet per minute, making it very efficient.
It is corded and needs an electrical outlet, but it will also not lose power.
---
3
The Worx Turbine leaf Blower is extremely powerful and effective.
It has Turbine Fan technology that is extremely powerful yet quiet in comparison.
It is twice as fast as most professional blowers, so you can get the job done quickly.
There are two available speeds so that you can choose which suits you best for which areas.
An extension cord retainer helps the cord not disconnect or get snagged.
You can also easily operate it with one hand, which is very lightweight.
---
4
The Greenworks Pro is an 80V Cordless Backpack Leaf Blower that is battery operated.
It comes fully equipped with a 2.5Ah battery and Charger that is included.
It offers 18 minutes of continuous run time at high speed of 80 volts.
The design is perfect for yards up to one acre and has advanced brushless technology that will deliver more torque and less runtime needed.
The high-quality comfort grip design allows superior control, and the lightweight reduces fatigue.
It is trigger-activated with various speed controls from which you can choose.
---
5
The EGO Power Cordless Leaf Blower has Variable speeds and is fully battery operated.
The Leaf Blower has a Turbo Button that will deliver 650 CFM.
The Variable speed control can deliver 250 to 500 CFM.
It has over 90 minutes of run time which is very long, and 15 minutes in Turbo.
The Leaf Blower has a flat tapered nozzle attachment that is included. And a more powerful Brushless motor.
It is fully weather resistant in design and ergonomic for better balance and comfort when handling.
It comes with a rechargeable battery for operation.
---
6
.
It is one of the quietest Leaf Blowers in the industry at only 59dB.
The Leaf Blower has a brushless motor that helps to increase power and run time.
It has a Jet Fan that allows for increased airflow.
The Ryobi is a 40 Volt Bare Tool Cordless Leaf Blower with a Jet fan.
It is battery operated. However, you will need to purchase the battery and the charger separately.
It is 550 CFM and has a 125 MPH clearing force with gas-Like power
---
Index Table: Top Rated Leaf Blowers
---
---