Some of the links in this post are affiliate links. This means if you click on the link and purchase the item, I will receive an affiliate commission at no extra cost to you. All opinions remain my own.
Solar Powered Grow Lights are an excellent option for indoor and outdoor growing of plants where you need artificial Light, without the heavy electrical bill.
Solar Powered Grow lights offer an energy-efficient, environmentally friendly method of providing Light that mimics sunlight for plants indoors and in greenhouses.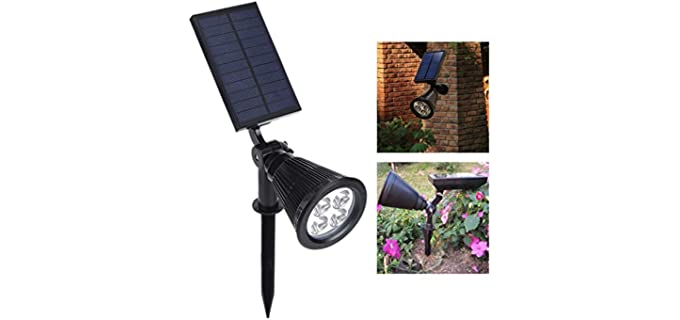 ---
Grow Lights VS Sunlight
While the sun is the ultimate source of natural light for plants to grow, the earth's rotation may also cause the sun to constantly change positions which means some areas may be too hot or too cold to grow plants because sunny days may be too short and far in between.
You may also not have a garden or the space for outdoor plants, or you may need Light for a greenhouse or indoor plants.
Keep in mind that when the sunlight reaches the ground or plants, it is essentially "white Light," a blend of every known wavelength of Light. However, plants only have red and blue Light receptors and do not process the rest of the Light spectrum.
Solar Grow Lights are mainly LED lights that are solar powered. LED lights are powerful and energy efficient; they have a lower heat output, making them perfect for indoor growing. LED lights can give plants the same Light wavelength and consistent directional Light as they receive from the sun.
---
Why Choose Solar Grow Lights
Solar Grow Lights are growing lights powered by a solar panel that generates power for the Light to operate.
Solar grow Lights Mimic Sunlight – Solar power offers more than enough energy for grow lights to operate daily. They can easily mimic the natural schedules and rays of sunlight.
Reduce Costs – For growing indoors, you will need constant and consistent Light with full spectrum wavelengths, which could quickly increase your electrical bill. Using an electrical outlet will be expensive, and you will need an outlet and long enough cords. Solar-powered grow Lights save you on electricity and are a much more portable option depending on the design.
---
Features of a Good Solar Powered Grow Light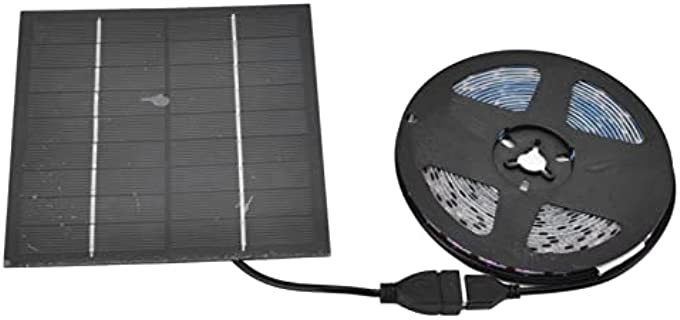 Types of Solar grow Lights – You get LED Solar grow lights that use less energy and have a greater intensity. However, they generate less heat. Fluorescent Solar powered grow lights are energy efficient but will not work for larger flowering plants; they are useful for small grows and seedlings.
Vegetative and Bloom – You should be able to set the light spectrum and duration as it needs to vary during the flowering and vegetative stages.
Light Spectrum – Light from the sun contains the entire light spectrum from Ultraviolet to infrared. Thus the Light should also offer a full spectrum of Light.
Light Intensity – Different plants need different light intensities, so you must ensure that the solar-powered grow Light that you choose offers the right light intensity for the specific plants you are growing.
Duration – You may need to later the light cycles during the duration of growth of the plants and opt for a light with auto switch on and off functions during the day and night.
Energy Use – The Grow Light will use solar power to energize the Light and may need quite a bit of energy to operate throughout the life cycle of the plants.
---
Reviews: The Best Solar Powered Grow Lights
These are some great choices in solar-powered grow lights for indoor or outdoor gardens;
---
1
Here we have Solar Powered plat grow strips that are eco-friendly and have a long lifespan.
The strips offer LED high luminous flux and excellent heat dissipation to promote the growth of plants at all stages.
The Light strips are easy to install and require no electricity; they are 3 meters long and can be cut to the length you need.
You can easily use them for indoor plants and greenhouses for many plants.
---
2
The BSOD Solar Grow Lights are widely used for indoor and outdoor plants, hydroponics, and greenhouses.
They come with a one-year guarantee for quality and service.
The lights charge fast with a Polycrystalline silicon solar photovoltaic panel system and fully.
Charges within four to 6 hours.
Solar power means you will save quite a bit on your electrical bills, and they are more eco-friendly.
The Solar lamp is waterproof and provides outdoor Light and growing Light for plants.
It is an LED lamp that offers full spectrum Light for your plants at all stages of growth.
---
3
The BestDrop grow lights are solar-powered 1339 LED lights that offer full spectrum light for your plants.
The grow lights are easy to install and come with a 33ft cable that you can fix the solar panel on a wall or roof.
It has an automatic and manual mode for easy operation and is controlled with a remote for your convenience.
The Solar Grow light has a warranty and is ideal for multiple uses.
It offers Full Spectrum Sunlight Light and a 139 high-efficiency LED system that offers full spectrum 390nm-780nm, 4200K warm white, and ideal color-rendering for up to 98; this, in turn, is equivalent to a 100w halogen bulb.
The Grow light provides 3000 lumens of brightness, similar to natural sunlight, providing the light conditions your plants need from germination to flowering and yielding fruits.
---
4
The Oreilet Solar grow Light for your plants is fully waterproof and ideal for indoor and outdoor use.
It has an easy plug-and-play design that is equipped with a ground insert and installs kit, which you can mount on a wall or place in the ground,
The device comprises quality ABS materials, with an IP65 waterproof design and rainproof cover.
It automatically turns on and igg and works for long hours.
The Solar Powered LED lights have an automatic charging design and intelligent light control.
The lights are red and blue spectrum grow lights.
---
5
Here we have 16 LED waterproof solar-powered grow light for outdoor plants that offers 12 pieces of red Light and four pieces of blue Light.
It is a full spectrum high efficiency 2835 SMD and LED light set that provides excellent wavelengths for growth performance.
The Light is solar-powered and will save you on electricity.
It has an all-weatherP65 design and is heat-resistant.
The solar panels come with a built-in 1200mah rechargeable lithium battery.
---
6
The Cuei Solar Powered Grow lights are ideal for indoor potted plants and outdoor greenhouses.
The LED Grow light consists of durable materials with silicon and plastic traps.
It has a high Luminous Flux and excellent heat dissipation.
The Light promotes natural growth and germination and has wide applications.
The Solar powered operation will save you on electricity and is highly efficient.
---
Index Table: Top Rated Solar Powered Grow Lights
---
---